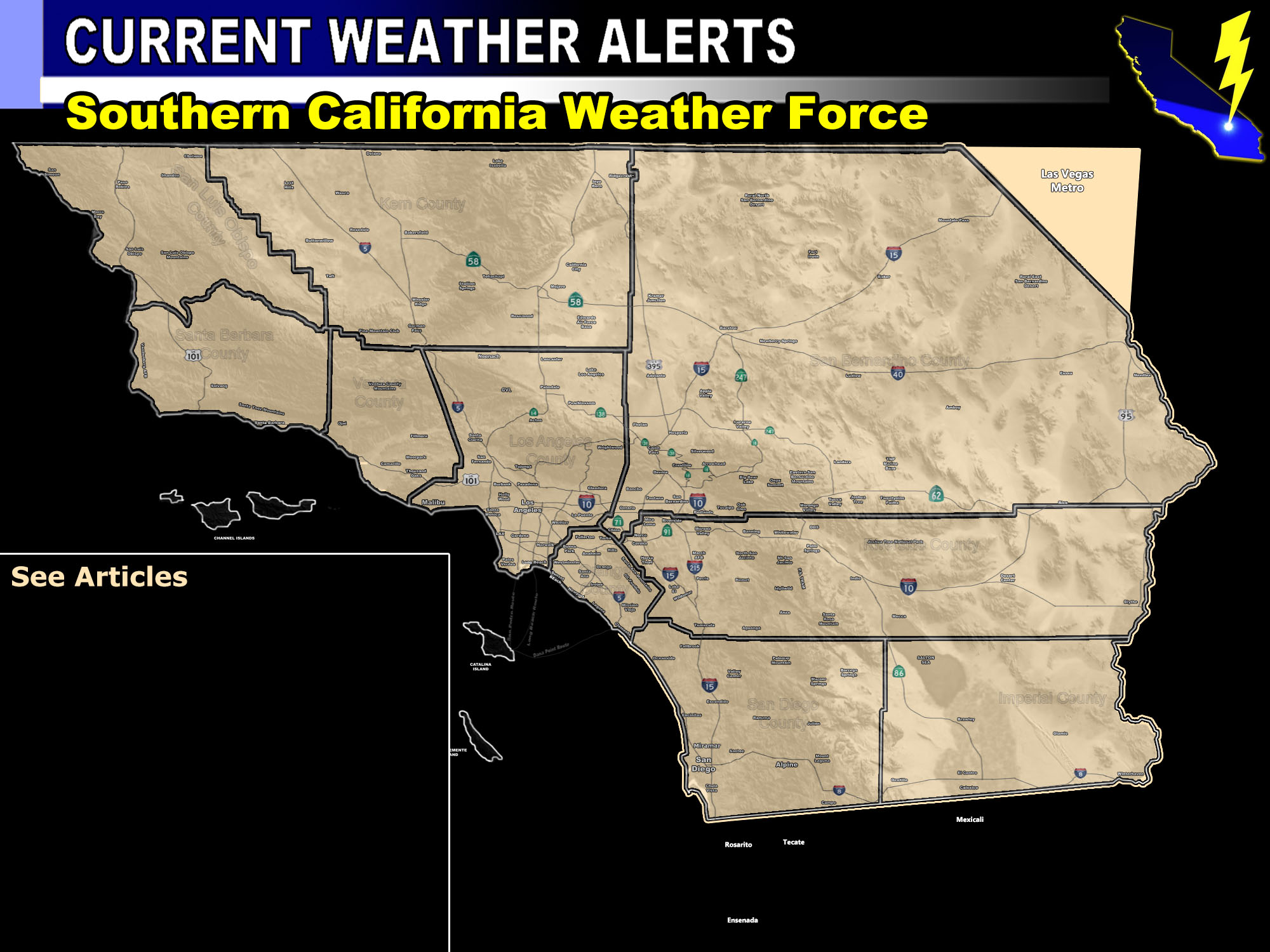 Issued Zones:  Los Angeles Coast/Basin/Valley … Orange County … San Diego Coast/Valley … The Inland Empire …
Site:  Southern California Weather Force has issued a Weather Advisory for rain, chance of thunderstorms, and upper valley snow chances …
Date:  2/26/18 at 1:35pm PT
When: Tonight into Tuesday …
Forecast: A very cold and potent storm system is moving down into the region starting this evening and going through Tuesday.  The main impacts will be two separate zones with the main front tonight and the post-frontal zone convective activity on Tuesday. 
The system reminds me of the exact track of the early 90s Valentine's Day storm system.  This system dropped down in a similar track and brought a lot of upper lift with it. 
Based on what I see, the front will develop the strongest over Whittier into OC around 10pm tonight and shove eastward from there.  Still, because the rainfall is expected to be moderate to sometimes heavy on the LA Coast, I've included you in this advisory.  The front will move across the region tonight. 
Because of the upper level divergence, there is a risk of thunderstorms associated with the main front.  There are a couple dynamics missing at the moment but if the instability can be overcome by the upper divergence then I don't see why there won't be thunderstorms with it.  Low level shear is adequate for small spin-ups along it that could mimic small 'tornadoes'… but the advisory level instability has not been met for a real large concern. 
Over the day on Tuesday we will see post-frontal zone convective activity for renewed shower and thunderstorm chances in the area. 
The advisory zone tonight will have a snow-level of 4,000 FT, dropping to 1,700 FT by sunrise Tuesday morning and any left-over post-frontal zone activity then could bring flakes to some upper valley locations at and above that snow-level with a mix as far down as 400 FT …    The snow level over the day on Tuesday will push up after 9am to 3,000 FT where it will stay for most of the day.  Flakes down to 2,000 FT will be possible with a mixing down to 1,500 FT with any activity over the day. 

With this, a dusting of snowfall is possible through both fronts in the Santa Ana Mountain Range as well as the Upper Mentone, Highland, and Yucaipa forecast areas. 
Snowfall maps here at SCWF show a dusting in Hemet as well, close to Valle Vista and San Jacinto with less the further west you go. 
Acton should have a dusting of snow with this event …

PREMIUM MEMBERS – Click here to check out what is updated today in the SCWF member area …
Join A Micro-Climate Group On Facebook For These Alerts – Click Here To Find Your Location Served By SCWF Today!
10 mile rule:  These alerts issued on this site means that within your zone and 10 miles from you will see the event forecast for.  You may or may not see the event but it means you are in the zone or 10 miles from where someone will.
Forecaster: KM