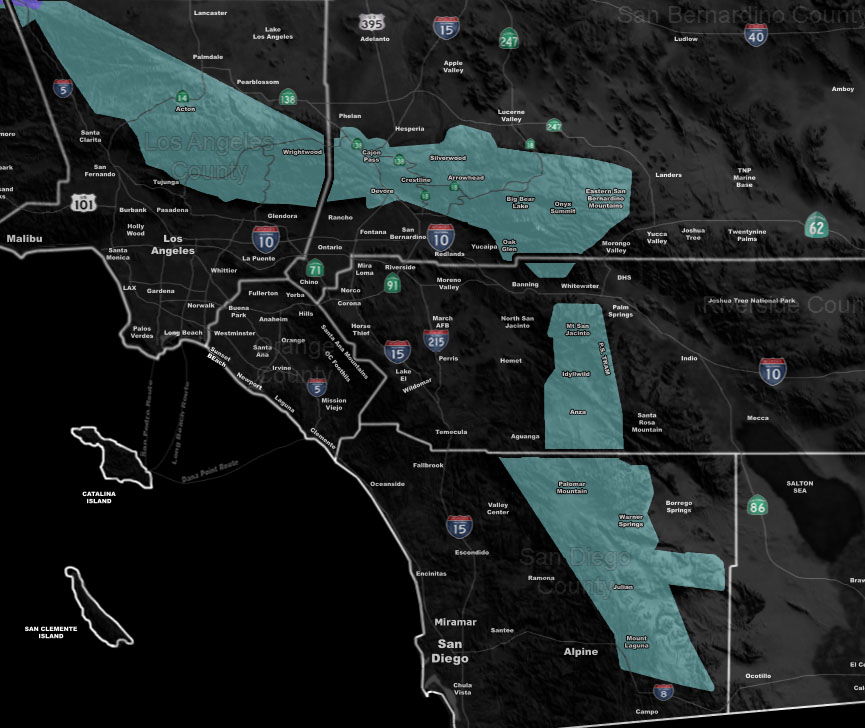 Issued Zones:  Los Angeles, San Bernardino, Riverside, San Diego Mountains above 4,000 FT …
Site:  Southern California Weather Force has issued a Winter Weather Watch effective later Thursday into Friday … with mentions of the Las Vegas travel on I-15 to and from Vegas, especially Sunday's danger …
Date:  3/6/19 at 2:45 pm PT
Forecast: A system will come into the region later Thursday evening into mostly Friday.  This system will bring snow levels to 4,000 – 4,500 FT and thus bringing a dusting to the Cajon Pass at the 4,200 FT level.

It is not expected to bring a ton of snow to close nor make an issue for travels, just be aware.  The timing of the system for the Cajon Pass will be the Friday early morning commute around sunrise for the best guess.  Given it is mostly moisture started, off and on rain showers will be likely for a prolonged period of time from Thursday evening through Friday, but no snow is expected below the summit.  As always, dense fog will happen. 

As for the rest of the mountain areas, expecting a dusting to 2″ in Wrightwood, Anza, and the 4,000 FT elevation points of the San Diego County Mountains.  Do think that because this system will have somewhat of a west-southwest flow that the 'catcher's mitt' will be the San Bernardino Mountain Rim, therefore we could easily see 6″ or more along Highway 18, which will also include the neighboring Idyllwild areas.  Big Bear I'll keep you at the 2-4″ mark with the lower amounts because you are further back in the range. 

Because of the amounts, we could be seeing 'thundersnow' with this event, which is thunder and lightning associated with snow at the snow level and above …

MOUNTAIN PASS FROM I-15 TO VEGAS – This will remain open.  This storm is moisture starved in that area so if you have plans to travel I-15 through state-line, keep the plans as you will be fine… but remember… I have snow in my forecast for the Sunday/Monday system and by Sunday afternoon/evening we will have snow on the pass AND in the High Desert … Travel safe and get back early …

A Winter Weather Watch is a product of the Southern California Weather Force that means that a Winter Storm Warning would be issued for parts of it and a Winter Weather Advisory for the rest, but the watch combined will work.

PREMIUM MEMBERS – Click here to check out what is updated today in the SCWF member area …
Join A Micro-Climate Group On Facebook For These Alerts – Click Here To Find Your Location Served By SCWF Today!
10 mile rule:  These alerts issued on this site means that within your zone and 10 miles from you will see the event forecast for.  You may or may not see the event but it means you are in the zone or 10 miles from where someone will.
Forecaster: KM