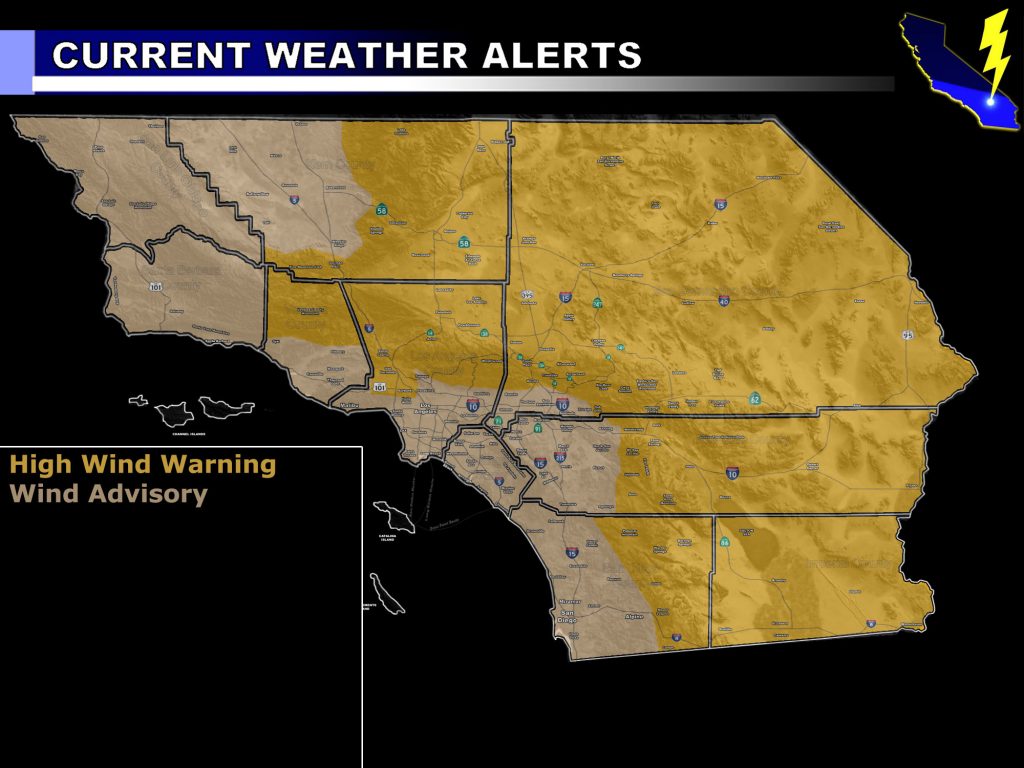 Issued Zones:  Entire Southern California area …
Site:  Southern California Weather Force has issued a Wind Alert effective later Monday, peaking Tuesday, and fading over the day on Wednesday …
Date:  4/7/19 at 3:40 pm PT
Forecast:  A dry cold front for many will come in later Monday night, peaking on Tuesday, and out of here sometime on Wednesday.  This cold-front will bring colder air aloft and with this a stronger mid/upper-level jet will surface out of the west and northwest.  The High Wind Warning wind criteria for over 45-60 mph wind gusts will be for ALL Mountain and Desert regions on Tuesday.  This warning will include the Santa Clarita and San Fernando Valley zones as well with the strong northwest flow I like to call a classic I-5 corridor wind event. 

In addition to the warning, a widespread wind advisory is now in effect here at Southern California Weather Force for the metro zones of San Diego, Orange County, The Inland Empire, Los Angeles, Ventura, Santa Barbara, San Luis Obispo, and yes even all the way up in the Kern County Valley zones for Tuesday.  Wind gusts well over 30-45 mph in widespread fashion will happen so if you have any outside plans then keep an eye on those winds. 

Blowing sand and dust will be likely in the desert zones. 

Precipitation during flows like this will remain confined to the Kern County valley and mountains areas, where Bakersfield will see some rainfall and especially up on the Gorman Pass, where over a half inch will fall I believe.  Furthermore, light rain is possible up on the Cajon Pass and against the southern slopes of the San Bernardino Mountains on your Tuesday, including small spurts possible in the western slope zones of the Riverside and San Diego County Mountains.  This is called onshore flow upslope pattern and will not affect the metros.
After this we move into an inside slider pattern for Friday the 12th, much in-line to the official April 2019 forecast 'pattern change' issued almost a week ago.  Click here to read that.  That pattern should bring the chance of mountain snow back to the area so keep an eye on future forecasts here. 

The rain/wind models have been updated on the main page so check those out. 

EMAIL ALERTS:  Get these to your e-mail by upgrading to a full member.  It pays for itself in just ONE weather event:  Click Here To Learn More
Additional Models:  Visit the main site to see what was updated in terms of rain/snow/flood risk and more – Click Here
Join A Micro-Climate Group On Facebook For These Alerts – Click Here To Find Your Location Served By SCWF Today!
10-mile rule:  These alerts issued on this site means that within your zone and 10 miles from you will see the event forecast for.  You may or may not see the event but it means you are in the zone or 10 miles from where someone will.
Forecaster: KM