[vc_row][vc_column][vc_column_text]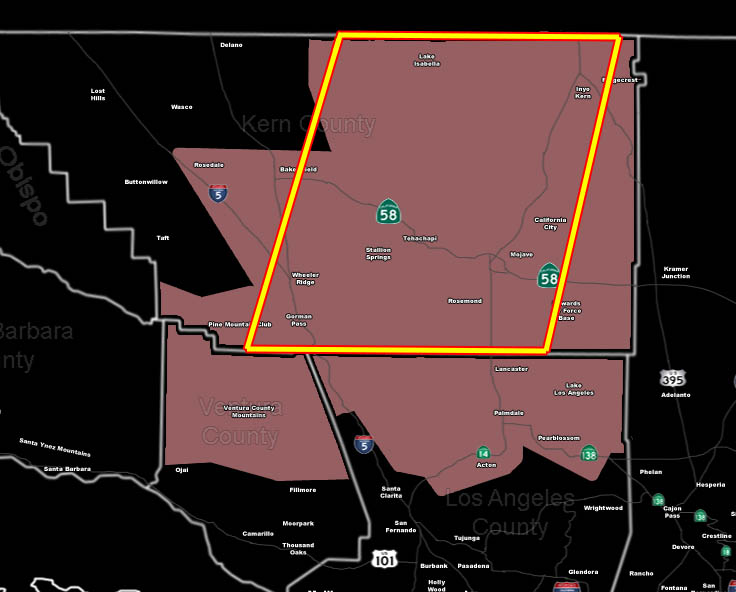 [/vc_column_text][vc_column_text]Issued Zones:  Eastern Kern Valleys near Bakersfield … Kern Mountains and Deserts … including PMC … Gorman Pass .. Ventura Mountains … Antelope Valley …
Site:  SouthernCaliforniaWeatherForce.com has issued a Thunderstorm Watch effective today …
Date:  9/28/16 at 10:30am PT
Forecast: An upper level low over the Inland Empire will swing in an area of upper divergence through the Kern County zones, south to the Antelope Valley and Gorman/PMC region into Ventura's Mountains later today. 
This area has very strong upper divergence and with the deep-layer moisture in the area .. thunderstorms will be likely .. with gusty winds … flooding in the mountains in some storm cells … and some hail. 
Storm movement will mainly be from north-northeast to south-southwest … so along the orientation of Highway 14 and the Tehachapi Mountains.  The hardest hit I believe will be in the box … the Tehachapi Mountains … Regardless… if you are in this watch then a thunderstorm is expected over or near you … 
Those areas in the Antelope Valley that are on the southeast corner of the watch may have a dust storm as well …

10 mile rule:  These alerts issued on this site means that within your zone and 10 miles from you will see the event forecast for.  You may or may not see the event but it means you are in the zone or 10 miles from where someone will.
Forecaster: KM[/vc_column_text][/vc_column][/vc_row][vc_row][vc_column][vc_column_text]
If this doesn\'t say "you like this" below then click the LIKE button if you thought this was good information! This helps spread the word by just ONE LIKE … Do it every time if you enjoy these … Thanks for helping!
[/vc_column_text][vc_facebook type="button_count"][/vc_column][/vc_row][vc_row][vc_column][/vc_column][/vc_row]