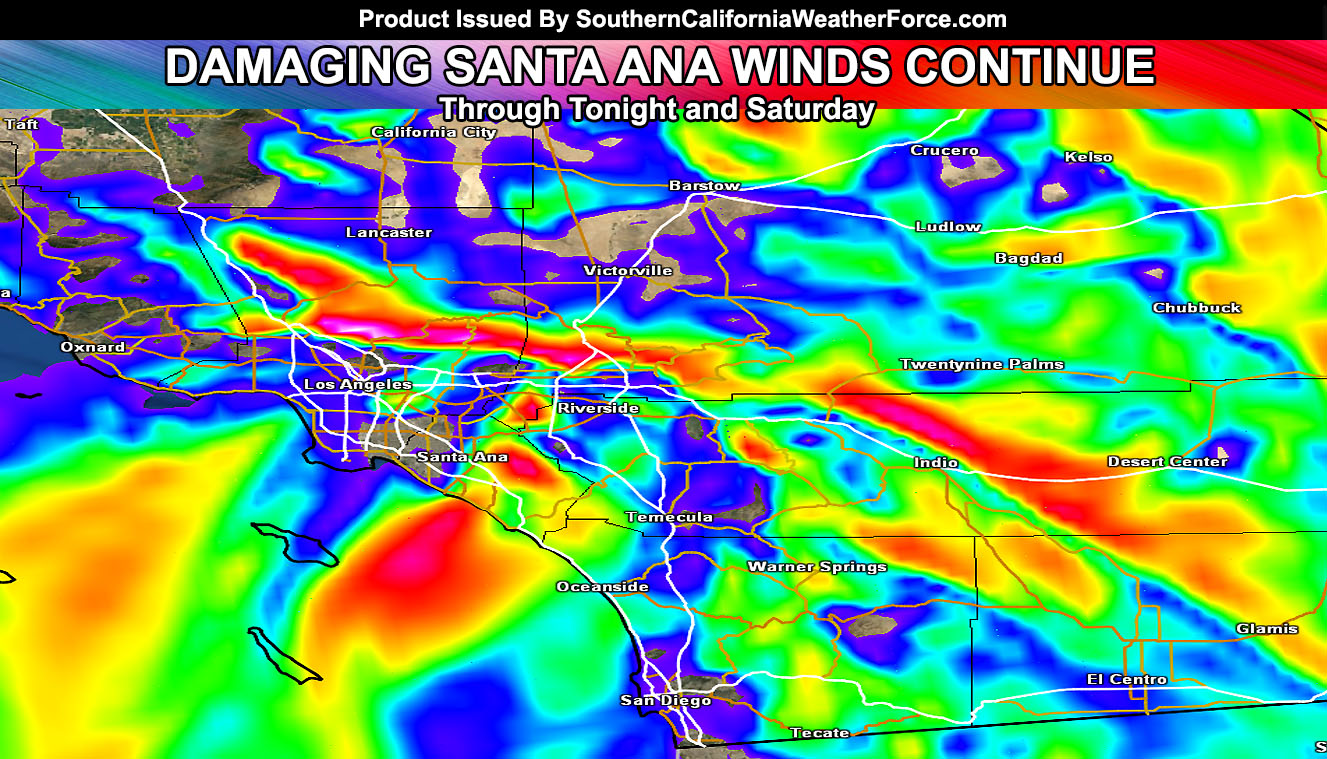 Extremely strong Santa Ana Winds are being felt across the prone zones below passes and canyons today and this will last through tonight and into Saturday, with the strongest winds yet to come for some.  Read on for details.
The Southern California Weather Force Santa Ana Wind Watch will remain in effect all day today, tonight, and into Saturday.  The flow is strong with a 100 mph mid-level jet overhead and sinking air values transferring those gusts all the way to the surface.  The flow in the low/mid-levels will turn more north-northeasterly overnight tonight, likely between the hours of 7pm and 2am.  This would line-up the favored passes and canyons of nominal Santa Ana Wind Prone zones and give even stronger winds to those areas … areas such as the Ontario Airport will be hit real hard tonight.
Winds will be 'less' widespread overnight tonight with the inversion forming, however they'll be way stronger for the areas that do get hit … mainly along I-15 from the Cajon Pass to Corona, another very strong area coming out of the Santa Ana Mountains through the Central/Southern end of Orange County.
Gusts of Hurricane Force and higher will be likely, with isolated areas in the prone pass areas seeing 100 mph wind gusts or higher.  Damage is likely in many spots for this event.
There are indications on my model that a brief 1-3 hour period of gusty winds will hit an unusual spot for Santa Ana Winds. .. coming out of the Canyon near Duarte before 10pm tonight and going into the Whittier areas … The SCWF Santa Ana Wind Watch does include that rare zone …
The winds will relax overnight on Saturday into Sunday morning …