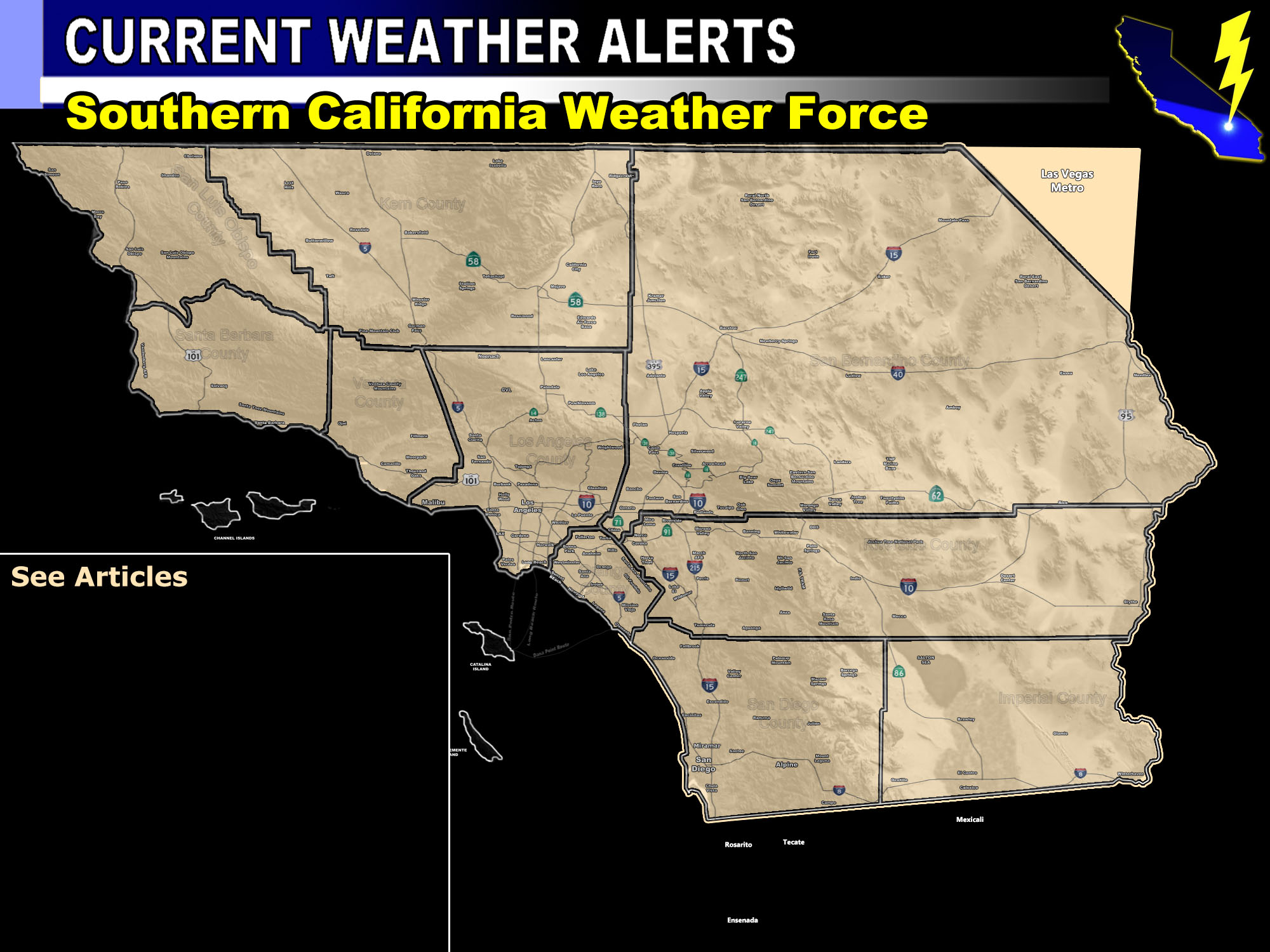 Issued Zones:  Kern Mountains … (Gorman to PMC) … Los Angeles and San Bernardino County Mountains … Antelope Valley to Metro High Desert …
Site:  Southern California Weather Force has issued a Squall-line Warning effective now for Saturday
Date:  2/1/19 at 3:45pm PT
Forecast: A powerful storm front will move into the region on your Saturday, starting by morning in the VT/Kern Zones and shoving eastward over the day toward the Los Angeles and San Bernardino County Mountains, including the Antelope Valley and Victor Valley to Lucerne Valley regions.

This front is potent and has high snow levels.  I do NOT see low enough snow levels for a Winter Storm Warning on any part of this front.  Toward the end of the front, my snow models clearly do see the level dropping to both Wrightwood and Big Bear Lake for a couple hours or so.  Should this happen we could see 1-3″ of snowfall.. but NOT enough for a warning and most certainly not when the winds are gusting at what they will be… 60-75 mph … As they will fast diminish after the front's main center passes.

I will assess this again on Saturday and I will issue a Winter Weather Advisory if the level does drop toward the end of the front to the main mountain cities .. but again … I am not going Winter Storm Warning with this.

Onyx Summit over 8,000 FT … you, however, will be under a Blizzard east of Big Bear Lake so travels in THAT AREA should NOT be made.  Use the snow charts below for your area as these are what I use in experiment now to forecast your areas.

I have Gorman/Frazier/PMC, Big Bear, and The RIM …  The rest of the warning zone for the high desert will be for damaging winds and rain with wind gusts out of the south easily at 45 to 55 mph.  Downed poles and trees are possible …

PREMIUM MEMBERS – Click here to check out what is updated today in the SCWF member area …
Join A Micro-Climate Group On Facebook For These Alerts – Click Here To Find Your Location Served By SCWF Today!
10-mile rule:  These alerts issued on this site means that within your zone and 10 miles from you will see the event forecast for.  You may or may not see the event but it means you are in the zone or 10 miles from where someone will.
Forecaster: KM