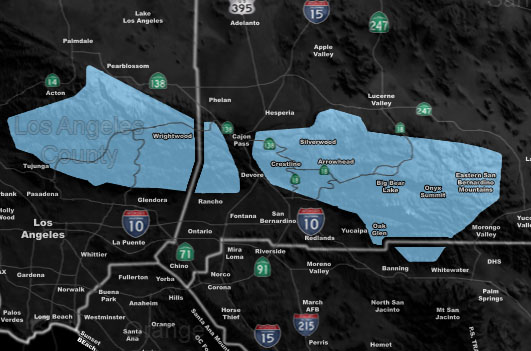 Issued Zones:  Los Angeles and San Bernardino County Mountains …
Site:  Southern California Weather Force has issued a Blowing Snow Advisory effective now for Sunday …
Date:  2/16/19 at 1:40pm PT
Forecast:  A very cold system will come in out of the northwest by Sunday.  This system will bring gusty winds and snowfall at times to the advisory area.

This WILL be a problem near the top of the Cajon Pass and the Oak Hills zone and  escorts could be needed.  The earlier issued WINTER WEATHER ADVISORY will take care of that, click here.

For now going to go with a widespread 2-5″ of snowfall across the LA Mtns and RIM to Big Bear Lake areas, including Oak Glen.  6+ inches is expected on the Mt. San Gorgonio zones.

SNOW MODEL – Click Here and into the "Snow' tab to type your address in the search and see what you have.  The key is to the very right of the map when zoomed out.
Join A Micro-Climate Group On Facebook For These Alerts – Click Here To Find Your Location Served By SCWF Today!
10 mile rule:  These alerts issued on this site means that within your zone and 10 miles from you will see the event forecast for.  You may or may not see the event but it means you are in the zone or 10 miles from where someone will.
Forecaster: KM