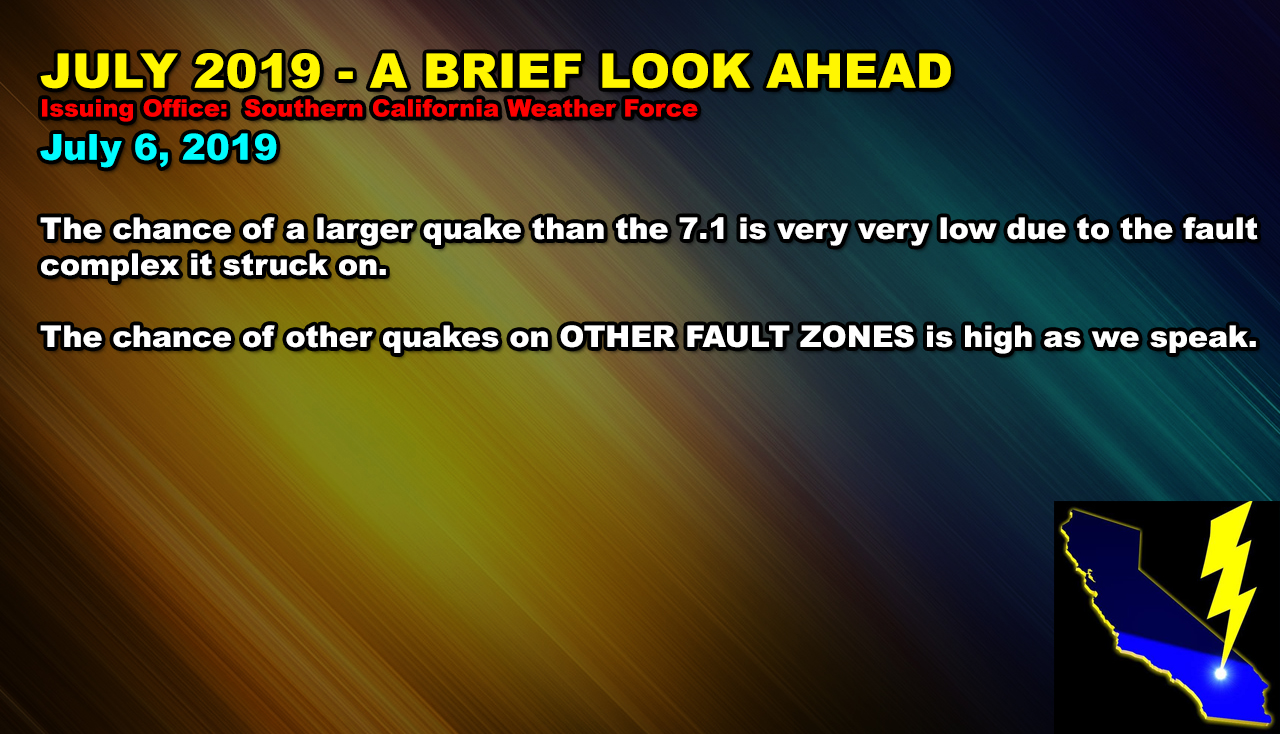 A series of large earthquakes struck the desert of Southern California on July 4th with a 6.4 a day later being the 7.1 main-shock.  If you are receiving this e-mail, please go to the SCWF Facebook Page for the video to this … Click Here to SCWF Main
The California Fault Stress Model (Click Here For The Facebook Page) – I developed first detected the spike back on May 26th of this year. Before I go into it, the nominal readings look like this. This shows what it did for awhile before the detection started. On June 2nd the model looks like this, noting that the values was well into the unstable category and even heading off the charts. By June 7th's update you can see the spike had a 4.3 offshore with a double 4.3 release. The chart remained deep into the unstable field. On June 11th's update the release did not last and started to climb once again. There was a computer crash here at my office and I lost updates in-between that so my latest one was on July 2nd. It noted that the readings were very steep still in the unstable zone with no signs of dipping back into the elevated or even stable zone, which it did so for months prior to May 2019, only climbing every once in awhile before coming back down. In conclusion, the California Fault Stress Model projected detected and predicted the prolonged stress period for just over a month before the major quakes hit, proving again that this system works.
This quake did not happen on the Garlock Fault. It happened on the Little Lake Fault Complex. Since it is not one fault in the complex that can be involved, it is called a fault complex. The aftershock pattern indicates movement toward the northwest and southeast on this system, along it yes. However… one thing to note is that other faults in our region could have been affected. NOTE that this morning we saw poppers ON the Garlock Fault across the city of Mojave and a movement to the southeast from the quake complex skipping that fault. The stress has been shoved into the Garlock Fault as a result whether they think so or not.
Scientists at Caltech back in the 90s dismissed the claim that the Landers quake triggered the Big Bear quake four hours later. Both were on different faults. I pushed the issue at a young age of course to friends and family and now just recently they admit it was linked. So them coming up and saying this will have zero effect on faults in our region is an extremely dangerous statement because it can easily happen. The likelihood of a larger quake than the main-shock is low and with each passing day it gets lower. However, the faults in the region like the large Garlock, San Andreas, Elsinore, Whittier, or San Jacinto faults could easily have been affected by this.
How I can say this is basically if you had an object on the shelf and it moved even a bit as a result and live on either of those faults for location perspective, if it did not slip and fall down it does not mean it wasn't tampered enough to fall off one day, especially if it is on the edge. That is the same mechanism on why it is completely possible for ANY fault system in California, Nevada, or Baja to slip as a result of this down the near-term line. The next 10 days will be crucial to see if that happens but simply saying it WILL NOT happen is extremely dangerous and they should be ashamed of themselves.
But with fault mechanics, this system is close to the Garlock Fault, which is attached to the San Andreas and other larger faults in the region. This is the area I would be watching over the next 10 days and a reason to stay earthquake prepared. It's been 25 years since a major earthquake hit the metros and that means many are not prepared like they should be. Make sure you are prepared in-case a metro quake hits.
My fault stress model is in blackout mode because the area remains unstable and since it was built for magnitude 4.0 and above in detection and prediction, 4.0 is certainly going to happen so the prediction part of my model is not of use right now as we are now within that prediction's core.