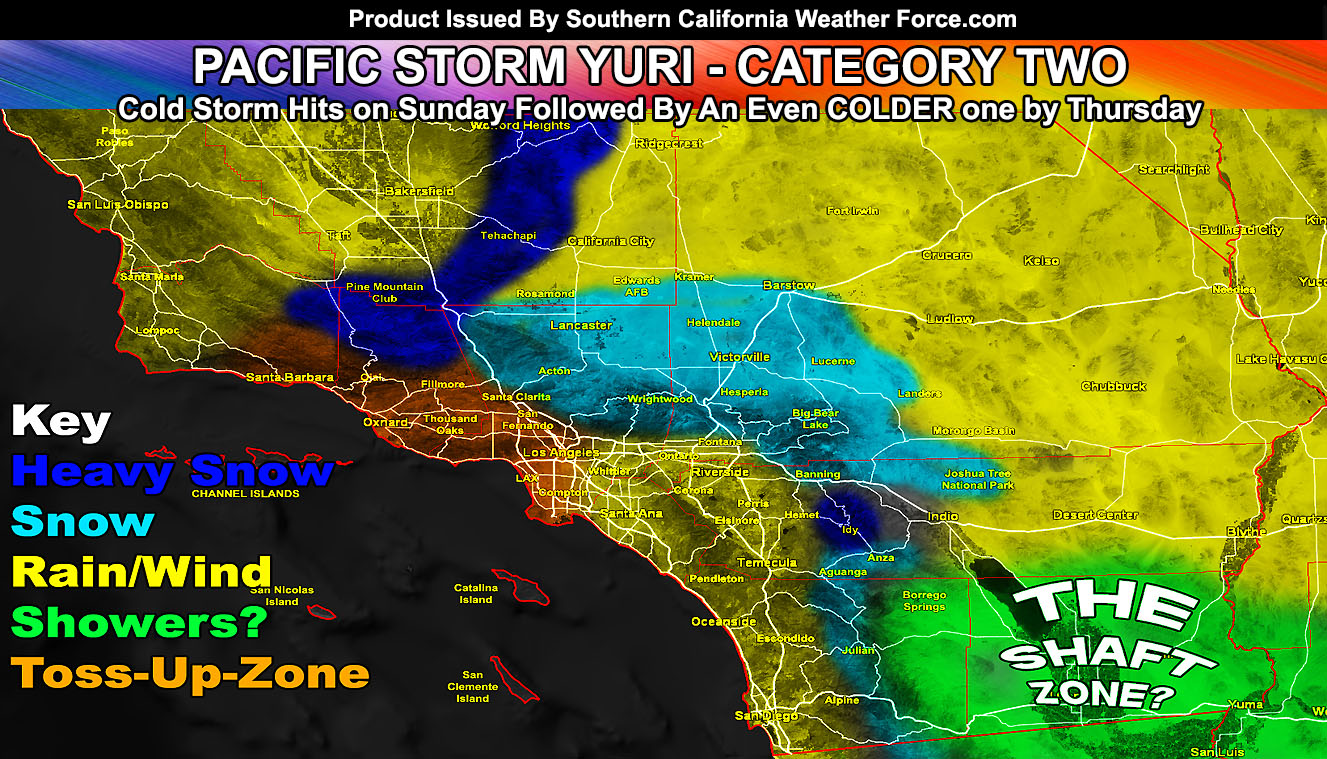 Nearing the end of the storm list is Pacific Storm Yuri, which will be a nominal category two out of six intensity system, but the GORMAN PASS WILL CLOSE WITH IT.  The system will yield isolated thunderstorm dynamics, gusty winds of 30-40 mph in the metros, and a moderate round of precipitation, including lower snow levels.  Many SCWF advisories have been issued and I am still monitoring an even colder storm later Wednesday into Thursday of this week, which could bring snow levels below 2,500 FT, making non-sticking snow possible in the Upper LA/VT/IE valleys while giving the High Desert much more than Yuri will provide so read on for details that and this recent system.
First and foremost I will address something people have showed me.  I recently saw it was declared an El Nino just recently.  Why?  Why do they wait all these months for a disaster system to hit to declare it.  If you are new to reading my forecasts or not new and remember what I said in the summer, I clearly stated that El Nino would be here and even put out an El Nino Watch back in JUNE 2018.  Click Here To Read That
So OFFICIALLY the word declared was already declared by me.  All of you and myself do NOT have to wait for NOAA to declare something if I have the evidence in the forecast.
Yesterday I issued a Winter Weather Advisory for the High Desert locations for Sunday.  It read;  A cold system will move into the region starting Sunday morning and lasting for the entire day for some of the advisory zone.  The system is a quick moving front, but with a harder impact than most of the degree.  It should enter the region early Sunday morning and enhance with moderate snow intensity (heavy at times) in the Cajon Pass and some High Desert regions.  The Cajon Pass may actually receive 2+ inches from this system so this is a hazard for traveling.  This advisory includes 1-2″ for the rest of the High Desert, including the Morongo Basin.  I opted for an advisory simply because it does have the chance of higher spurts of snowfall rates at times.  The snow level will be below 3,000 FT so this will start off as snow on Sunday morning for the entire advisory area.  Another system, likely colder with more lifting dynamics, is scheduled in for February 21st and I'll issue the proper article/alerts for that as it gets closer.  For now, you have that as a warning.
This advisory still officially stands.
Today I issued a number of advisories and I'll start off with the Weather Advisory for the metros.  It reads; Scattered showers are moving across the western forecast area this afternoon and will increase in coverage for the SLO/SBA/KERN County areas this evening and especially overnight.  There are some discrepancies in the intensity of the front for Ventura and Los Angeles County.  Some of me wants to ignore my rain model for these areas and give you a quick round of moderate rainfall rates later Sunday morning in Ventura and afternoon for the LA/OC/IE areas.  A westerly flow means that upslope activity is likely with this and therefore the areas with the most precipitation would be the Santa Ana Mountains, northeast to the slopes of Banning/Yucaipa and southward along the western slopes of the Riverside and San Diego County Mountains.  If this flow does hit, we could be seeing a flood advisory in some burn areas in the IE/RIV zones.  In addition to the round of rainfall, gusty winds are very likely out of the west and therefore could pose another risk of 'downed poles/trees' in the advisory zone.  The wind model on the link below will give you an idea what MPH in gusts I am going for.
I furthermore issued three separate advisories for snowfall in the mountains and passes.  The first one was the Winter Storm Warning for the Kern/Ventura County Mountains.  It reads; A very cold system will come in out of the northwest by later today and last through Sunday.  This system will bring strong winds and heavy snowfall at times to the warning area.  This WILL shut the Gorman Pass (Grapevine) down so make extra plans within the warning period.  For now going to go with 4-6″ in Tehachapi, well over a 10″ in PMC/Frazier and over 6″ on the Gorman Pass itself.  This is a dangerous system and you must not travel in the warning area …
The second alert to go out on the micro-climate e-mail alert system was the Blowing Snow Advisory for the Los Angeles and San Bernardino County Mountains.  It reads; A very cold system will come in out of the northwest by Sunday.  This system will bring gusty winds and snowfall at times to the advisory area.  This WILL be a problem near the top of the Cajon Pass and the Oak Hills zone and escorts could be needed.  The earlier issued WINTER WEATHER ADVISORY will take care of that, click here.  For now going to go with a widespread 2-5″ of snowfall across the LA Mtns and RIM to Big Bear Lake areas, including Oak Glen.  6+ inches is expected on the Mt. San Gorgonio zones.
The last alert for snow to go out was a hybrid alert.  It was for a Blizzard in the Idyllwild and Mt. San Jacinto zones, with a Winter Weather Advisory for the Anza, Aguanga, and San Diego County Mountain areas.  It reads; A very cold system will come in out of the northwest by Sunday.  This system will bring gusty winds and snowfall at times to the warned areas.  This WILL be a problem around Idyllwild and this is where your blizzard conditions will be.  Be advised … For now going to go with a Over 6-10″ for Idyllwild, 2-4″ for Anza, a dusting for Aguanga, 6″ Mt. Palomar, a dusting in Warner Springs 2-3″ in Julian, and 10-12″ at Mt. Laguna.  There is a chance of 1-2″ as far down as Descanso and a dusting along I-8 in Boulevard.
ALL OF MY ADVISORIES CAN BE FOUND ON THE MAIN PAGE (CLICK HERE)
---
PACIFIC STORM ZORDON
The last system on the list before we start over at A again with a new list is Zordon.  Pacific Storm Zordon will be the coldest storm to hit the region since December 2014.  This system will have snow levels below 2,500 FT and even the chance of snowfall in areas of the upper valleys around 1,500 FT for like the Santa Clarita Valley, some Inland Empire areas, and other such zones I will be focusing on so you have that to continue to monitor.  No doubt in my mind that Zordon will put much more snow in the High Desert than Yuri will on Sunday.  So… that is the next on the agenda.
---
As always, stay tuned to Southern California Weather Force for further details.
OPTIONAL:  Southern California Weather Force main page now has models, agendas, the alert map, and other things updated during storm events.  You can bookmark the main site and check back during an event for the latest updates.
Click here to view the main page
EMAIL ALERTS:  It pays for itself in one storm system.  A very affordable e-mail alert system that only gives you SCWF weather alerts in YOUR micro-climate area.
Click here to join
MICRO-CLIMATE ALERT FACEBOOK GROUPS:  Find yours today!
Click here to join
---
SOUTHERN CALIFORNIA ONLY:  if it does not say "Liked"  LIKE The Page Below and join thousands of informed weather forecast viewers in our region for more of the updates! noticeable
BEHIND THE SCENES FORECASTS/UPDATE PAGE:  if it does not say "Liked"  LIKE The Page Below and join thousands of informed weather forecast viewers in our region for more of the updates! noticeable