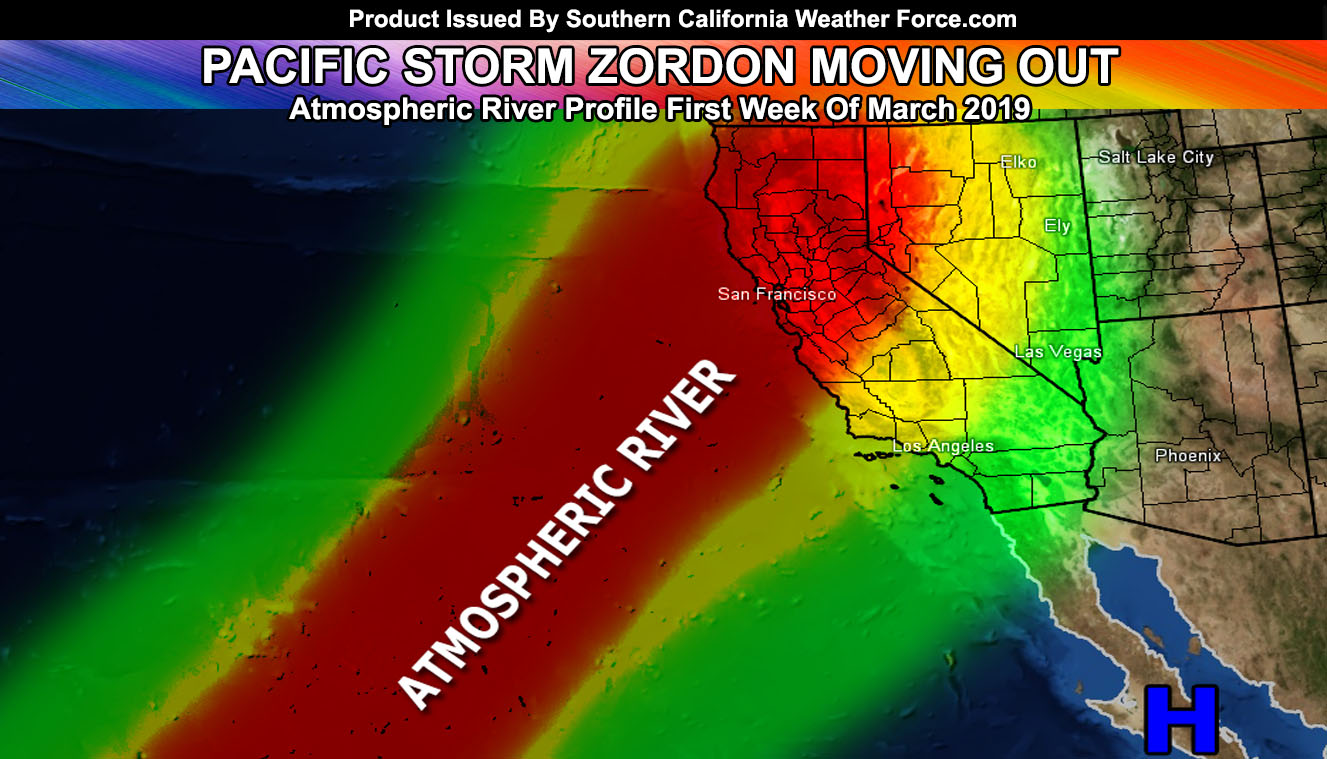 Pacific Storm Zordon moved in and dropped snow and sleet even in lower elevations.  Thunderstorms were reported south of the mountains where instability was adequate and all rain, snow, wind, and thunderstorm forecasts went flawlessly.  What is next?  A look at the next system after a pretty long break in the activity coming up.  Read on for details …
Numerous messages and images are coming into the Southern California Weather Force of low elevation snowflakes and sleet.  It even sleeted in Whittier at an elevation of 300-400 FT.  It sleeted here at the office in Corona as well.  You can post your personal pictures on the SCWF Facebook Page.  As for tonight, cold and freezing temperatures are likely just about everywhere as we lose the low-level clouds later on and the temperatures will drop fast as a result.  Wrap-around moisture could keep light snow chances for the Victor Valley to the Cajon Pass Summit through at least midnight.
The arctic pattern was seen here at the Southern California Weather Force grids as far back as February 5th, posted publicly.  This would make it yet again another extremely accurate long-range forecast.  We are in the midst of another long-range window for the first week of March.  There is another atmospheric river coming to the state of California during that time.  The details I can give right now is that here in Southern California we may be on the southern end, where Los Angeles will see less than say Santa Barbara.  So my warning for this will likely be issued soon, but may excluded the harder hit zones south and east of Los Angeles that the last Atmospheric River hit, causing major damaging across the Inland Empire and surrounding mountain ranges this month.  This would be a relief for you, but not for the areas west of Los Angeles in the burn zones, especially Montecito again.
Confidence in an atmospheric river event the first week of March is elevated at the time.  Location of impact is also in good confidence due to the placement of the ridge to our south, which will help to deflect the river to the west of Los Angeles.  The A-Z list for the Pacific Storm names has ended with Zordon.  We start with the new list when the next storm hits.  For now.. enjoy the break and return to 'normal' Southern California Weather.
As always, stay tuned to Southern California Weather Force for further details.
OPTIONAL:  Southern California Weather Force main page now has models, agendas, the alert map, and other things updated during storm events.  You can bookmark the main site and check back during an event for the latest updates.
Click here to view the main page
EMAIL ALERTS:  It pays for itself in one storm system.  A very affordable e-mail alert system that only gives you SCWF weather alerts in YOUR micro-climate area.
Click here to join
MICRO-CLIMATE ALERT FACEBOOK GROUPS:  Find yours today!
Click here to join
---
SOUTHERN CALIFORNIA ONLY:  if it does not say "Liked"  LIKE The Page Below and join thousands of informed weather forecast viewers in our region for more of the updates! noticeable
BEHIND THE SCENES FORECASTS/UPDATE PAGE:  if it does not say "Liked"  LIKE The Page Below and join thousands of informed weather forecast viewers in our region for more of the updates! noticeable