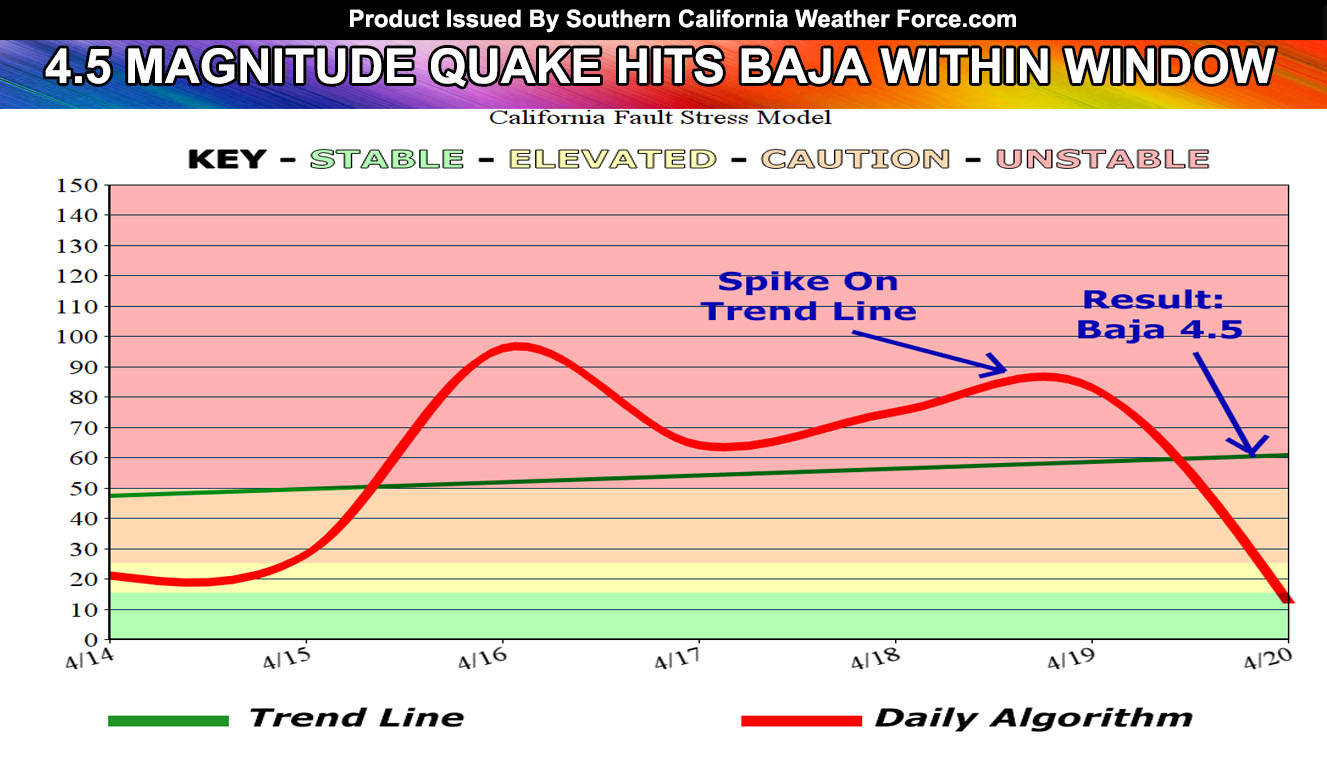 On April 14, 2019, I issued an Earthquake Watch for the region of study. The Earthquake Watch was immediately followed by two 4.0+ Earthquakes on the morning of the 15th, one in the Geysers area of Northern California at 4.1 and one in West Bishop at 4.0.  This verified the Earthquake Watch, however, since we remained on the up with the 'trend line' still in the caution zone the Earthquake Watch remained for more 4.0+ Earthquakes in other parts of the study area, which again is all of California and Nevada to Baja, California.  A 4.5 did hit this morning, April 20th, 2019 in Northern Baja, Mexico.  Read on for details on this project …

In addition to weather forecasting, my abilities in a region for weather is due to knowing pattern and numbers, also known as statistics.  I use this very well in weather forecasting and have produced a project called the 'California Fault Stress Model' serving California, Nevada and Baja, Mexico for 'sizeable' shakers when the algorithm spikes the trend line upwards.  When this happens, an Earthquake Watch is issued, similar to a 'Tornado Watch' out east.
Level of success with the Fault Stress Model is 100% thus far from the issuance of the watch to a quake.
As you can see from this article, I've developed a new page for the California Fault Stress Model study area. You may like and follow the new page at any time because the main Southern California Weather page is usually weather only and IF you want to follow a Fault Stress Model in this region, whether you are in California, Nevada, or Baja, Mexico then you can like and follow the new page.  Click Here To Go To The California Stress Model Page On Facebook
As for the rest of the 10-Day Earthquake Watch Window, we have had multiple 3s and three 4.0+.  The watch window remains till April 24th unless the trend line maintains upwardS.  Today's California Fault Stress Model number is down regardless of the 4.5-magnitude earthquake so some stress may have been released, however, the trend-line is still angled upwards into the unstable zone.  Easter Morning's trend-line will further tell the rest of the watch window, whether we are on the decline in stress or the incline within the served region.
As for the weather, windy conditions today will lead to widely scattered light showers overnight tonight in the LA/OC/SD and Inland Empire zones, diminishing over Easter Sunday Morning.  During the day however it looks like the wind will calm down in all sectors for a very nice day so if you have outside plans, enjoy them.
For The Main Weather Facebook Page Click Here and Join.
End Article
---
OPTIONAL:  Southern California Weather Force main page now has models, agendas, the alert map, and other things updated during storm events.  You can bookmark the main site and check back during an event for the latest updates.
Click here to view the main page
EMAIL ALERTS AND ASK THE WEATHER OFFICE A QUESTION:  It pays for itself in one storm system.  A very affordable e-mail alert system that only gives you SCWF weather alerts in YOUR micro-climate area.  Also, you can ask the weather office a question at any time if you get that add-on.
Click here to join
MICRO-CLIMATE ALERT FACEBOOK GROUPS:  Find yours today!
Click here to join
SOUTHERN CALIFORNIA ONLY:  if it does not say "Liked"  LIKE The Page Below and join thousands of informed weather forecast viewers in our region for more of the updates! noticeable
BEHIND THE SCENES FORECASTS/UPDATE PAGE:  if it does not say "Liked"  LIKE The Page Below and join thousands of informed weather forecast viewers in our region for more of the updates! noticeable
FOR THE CALIFORNIA FAULT STRESS MODEL PAGE: if it does not say "Liked"  LIKE The Page Below and join the official page to the California Fault Stress Model