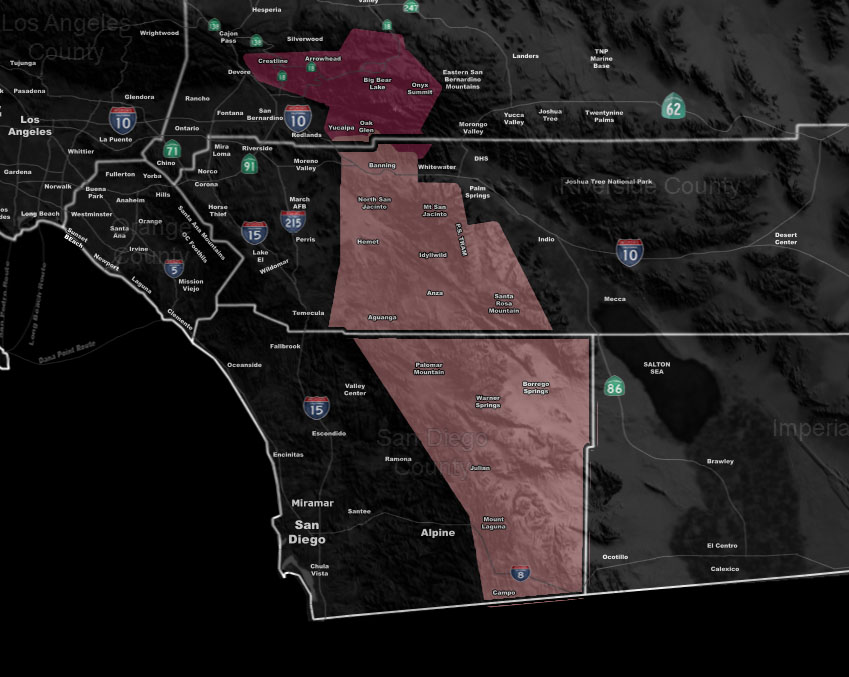 Issued Zones:  San Bernardino, Riverside, San Diego Mountains … Borrego Springs … Hemet/Banning Zones …
Site:  Southern California Weather Force has issued a Thunderstorm Watch mixed with Weather Advisory effective today …
Date:  5/12/19 at 10:00am PT
Forecast: A narrow strip of mid-level moisture is present over the area today from north to south with the northern end in the San Bernardino Mountains, stretching southward through the Riverside and San Diego County Mountain areas.  This will be the focus of stronger convergence today and with this will come the instability needed for thunderstorms to develop.

The model here at Southern California Weather Force is showing a yellow value for a thunderstorm watch and a green-value for a weather advisory in or around the Big Bear zones, along Highway 38, 330, and 18. 
Storm motion will be out of the north-northeast today with southern movement at times so if the outflow from these systems can hit the Banning Pass/Hemet zones… we could see convection popping up there as well.

The main focus is the Riverside and San Diego Mountains …

EMAIL ALERTS:  Get these to your e-mail by upgrading to a full member.  It pays for itself in just ONE weather event:  Click Here To Learn More
Additional Models:  Visit the main site to see what was updated in terms of rain/snow/flood risk and more – Click Here
Join A Micro-Climate Group On Facebook For These Alerts – Click Here To Find Your Location Served By SCWF Today!
10-mile rule:  These alerts issued on this site means that within your zone and 10 miles from you will see the event forecast for.  You may or may not see the event but it means you are in the zone or 10 miles from where someone will.
Forecaster: KM