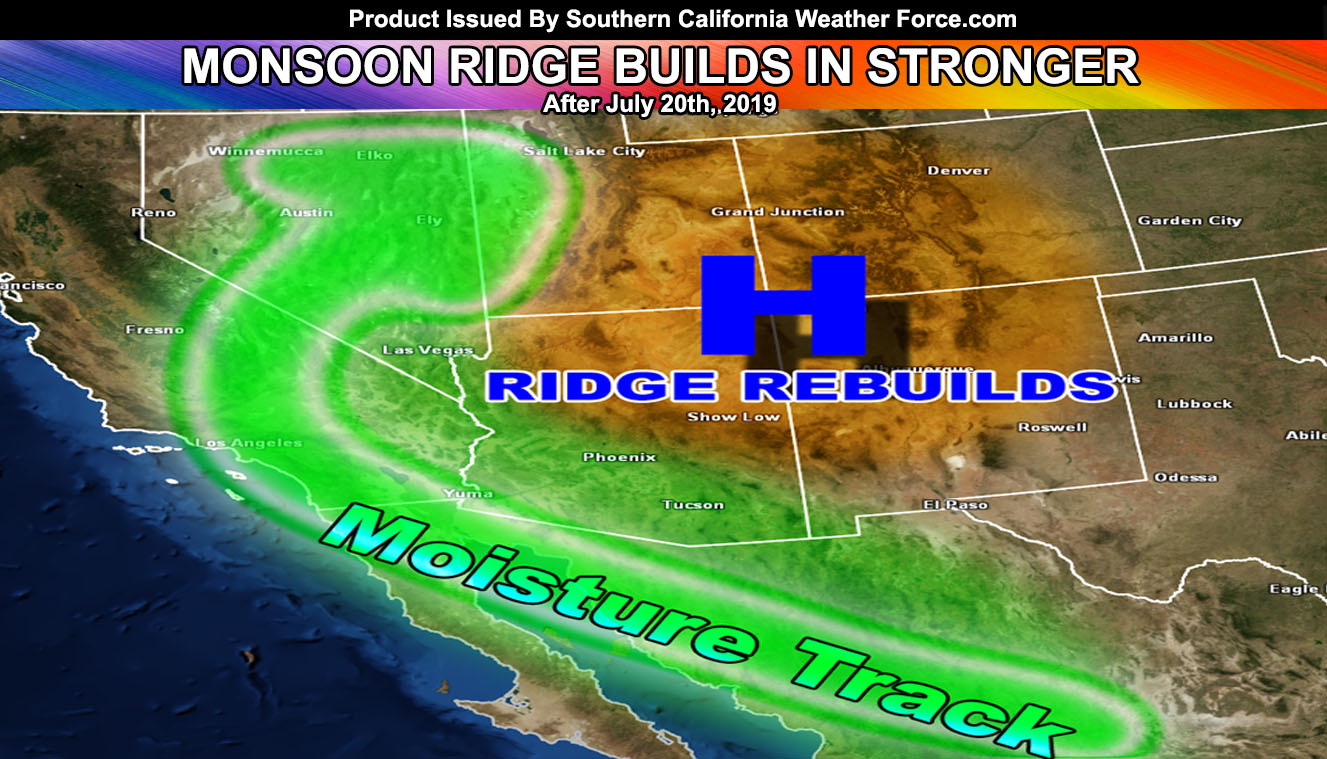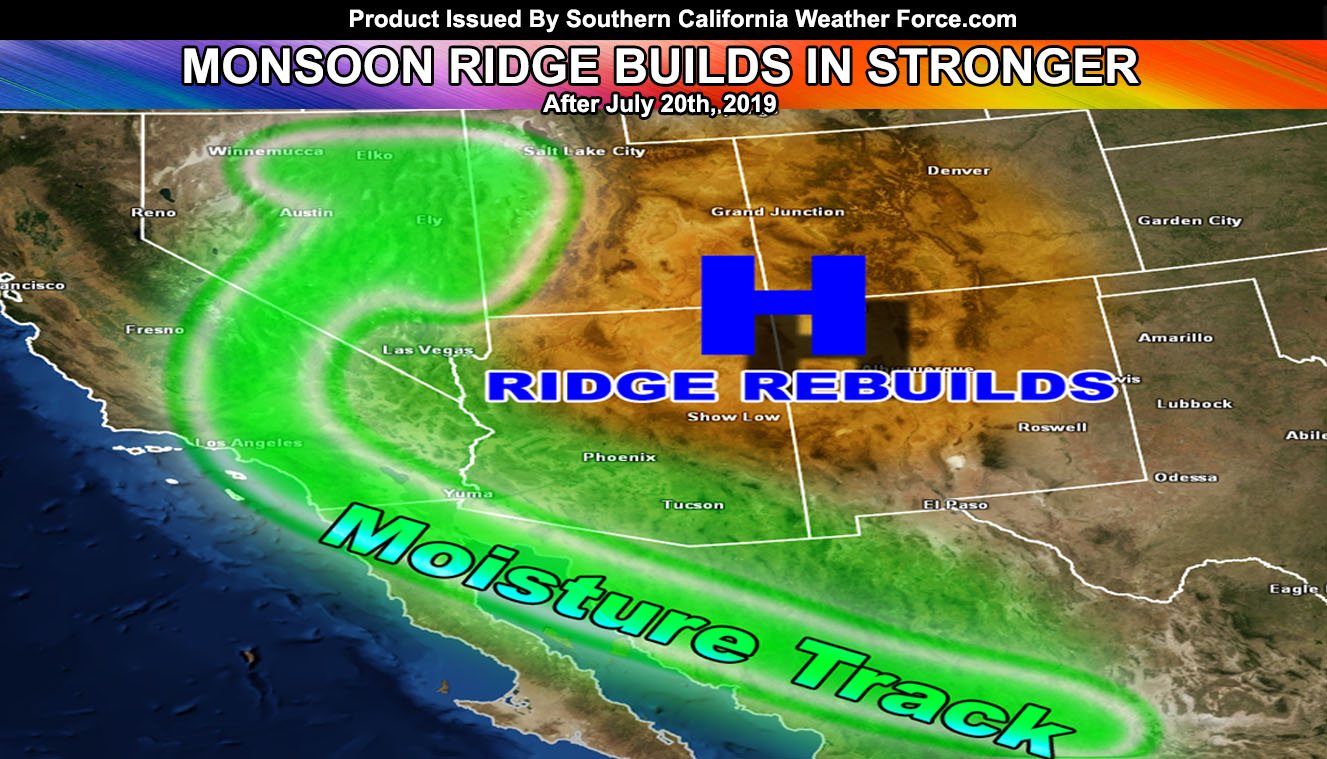 The monsoon ridge has built back over the four corners as previous updates have stated since July 9th, making this yet again another long range forecast hit. There are several impulses rotating around the ridge and these will come into the region one by one, enhancing the lift in the atmosphere. To get them all right now would be like saying I could win a no-hitter in pitching so I'll do my best so lets start.
The first impulse into the region will come in overnight tonight and into Monday. It'll start in San Diego and round the region north and west of it into Los Angeles and northward into Kern, with dragging dynamics as far west as Ventura County. This first impulse will miss the Coachella Valley and Morongo Basin and my cone of uncertainty shows a narrow path from San Diego north-northwestward, which does include parts of the Inland Empire as well. This impulse is working off elevated instability, which is largely missed by every single weather app or person in this region so unless you hear it from me… you'll miss these event notices.
The second impulse comes in on Monday. The flow remains south-southeast to north-northwest so this would give the San Diego/Riverside Mountains their chance for storms, with a slightly north-northwest movement, another chance of Central/Eastern Inland Empire activity as well, north into the San Bernardino Mountains and High Desert zones.
The third and final impulse will come from Arizona where Severe Thunderstorms are expected between Phoenix and and Tucson Monday night. The outflow boundary will arrive in our lower deserts by Tuesday morning and into the Inland Empire's surrounding mountains later in the day. Depending on debris clouds, this impulse could deliver the third round of monsoonal moisture and lift to the same regions affected during previous days.
The ridge migrates over Phoenix, Arizona by the end of the week and shuts the moisture flow off under surpressed skies and sinking air straight on into a nice weekend. The monsoon door opens once again next week around the same time it did this week and we do it all over again, with the flow coming out of Arizona and Northern Mexico for the return of monsoonal moisture by the very end of the month and into the first week of August.
As for the Earthquake situation … we remain elevated according to the California Fault Stress Model and small poppers are now seen on the Garlock Fault, a fault I have been watching since the 6.4, not the 7.1.
As always, stay tuned to official forecasts from Southern California Weather Force for updates …
For The Main Weather Facebook Page Click Here and Join.
End Article
---
OPTIONAL:  Southern California Weather Force main page now has models, agendas, the alert map, and other things updated during storm events.  You can bookmark the main site and check back during an event for the latest updates.
Click here to view the main page
EMAIL ALERTS AND ASK THE WEATHER OFFICE A QUESTION:  It pays for itself in one storm system.  A very affordable e-mail alert system that only gives you SCWF weather alerts in YOUR micro-climate area.  Also, you can ask the weather office a question at any time if you get that add-on.
Click here to join
MICRO-CLIMATE ALERT FACEBOOK GROUPS:  Find yours today!
Click here to join
FACEBOOK PAGES TO JOIN!
SOUTHERN CALIFORNIA WEATHER FORCE MAIN:  Southern California Weather Force Office Main Page
BEHIND THE SCENES FORECASTS/UPDATE PAGE:  Southern California Weather Force Meteorologist Page
FOR THE CALIFORNIA FAULT STRESS MODEL PAGE: For SCWF official updates to the California Fault Stress Model and more!
"PONDER THIS" SCIENCE ADVENTURE SHOW: A science adventure show developed here at Southern California Weather Force that is a fun ride!
INSTAGRAM AND TWITTER ACCOUNTS TO JOIN!
Instagram – https://www.instagram.com/socalweatherforce/
Twitter – https://twitter.com/SCweatherforce