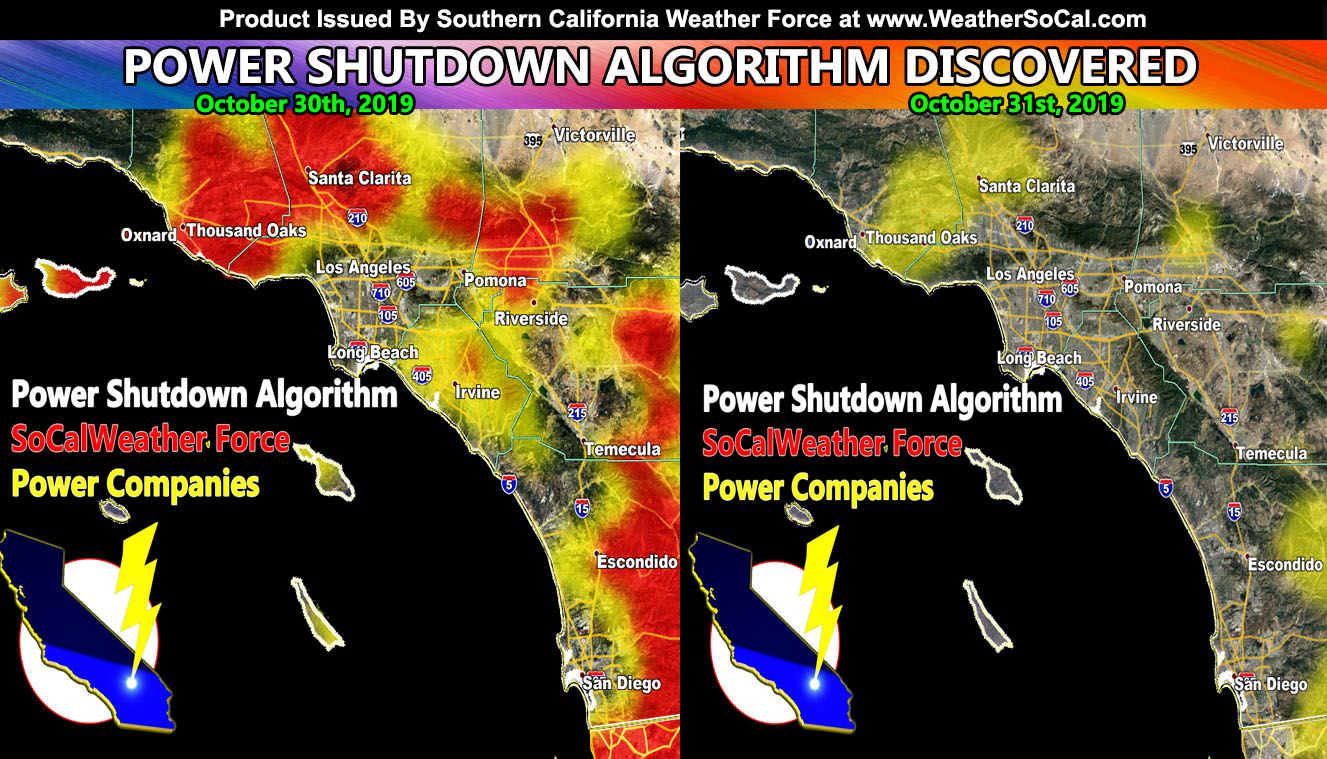 The power companies are turning to NOAA to shut off your power.  NOAA is the direct result blame for it and honestly they do not need to shut your power down as often and as long as you think and I will do everything I can do contact all power companies across the state to move them from NOAA to Southern California Weather Force's algorithm based off the likelihood power-lines can come down to start a fire vs not so read on for details and see the models below.
NOTE:  ALL Articles AND Videos posted on Southern California Weather Force main Facebook Page are charity events.  Anyone sharing will be entered into a list and one person will be randomly selected to get cash for causes.  This started on in October 2019 and SCWF has donated $1750 to date of this article and counting. … So share away.. the more shares on Facebook, the more help can be done for the community and it costs you nothing just like a lottery ticket.  October 2019's winner is Jessica J Dominguez, Share #522 and she has till Friday at 9pm to claim or another name will be drawn.

Over the next few days I will be reaching out to power companies.  If you have contacts with either company, send them to this page and to contact me immediately.  Their algorithm start cannot bring power-lines down.  It just won't happen that way.  They will spend more time shutting off your power with even weak to moderate Santa Ana Wind Events when the power-lines will be able to withhold those events.  My algorithm is designed to make sure the power-lines are at REAL danger of falling over.  The above map within this article shows the algorithm of SCWF vs the Power Companies using NOAA.  If the power-lines were all above ground everywhere you can see how wide of an area would need to be shut-down based off their algorithm.  The red-zones is what is more realistic in these power-lines coming down.
Note the right image?  That's Halloween.  Some of you will still have power off in the yellow-shaded zones, or their algorithm zones.  If they listened to me, you would have you power on as early as 9pm tonight in all areas.  There is absolutely no need to have it shut-off for mild wind gusts, which is what, compared to today, will happen from 9pm tonight through afternoon on Halloween, before the winds completely cease on Halloween night.
Looking ahead I do not see anymore major wind events of Santa Ana Wind concern.  November will be the slow start of the westerlies moving in from the Pacific and therefore the chance of some Pacific fronts moving in.  I do not see much until the December through March time-frame as previously stated in my 2019-2020 storm season.  If you think the winds in the Cajon Pass and Santa Clarita Valley were gusty today then you haven't seen anything yet.  Once winter hits, extremely powerful arctic air masses will generate even more powerful winds than today in those zones in-between storm systems.  The November 2019 forecast will be out in a day or two.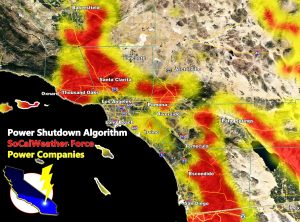 ---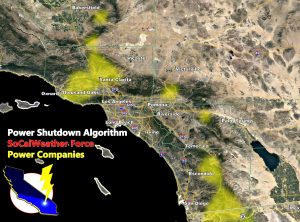 ---
MICRO-CLIMATE ALERT FACEBOOK GROUPS:  Find yours today!
Click here to join
NOTE: TIME IS RUNNING OUT.  IF THIS TROUGH GETS A NAME THEN THE DISCOUNT WILL HAVE ENDED…  If you have renewed your discounted MICRO-CLIMATE E-MAIL ALERT SYSTEM membership for the 2019-2020 season, skip this message.  If you have not, Click Here To Renew.  This will be one of your last e-mailed article/alert from the 2019-2020 season as effective now the season will start when the first named storm system enters the region so don't wait. Click Here To Renew Under The Discount.
As always, stay tuned to official forecasts from Southern California Weather Force for updates …
For The Main Weather Facebook Page Click Here and Join.
End Article
---
OPTIONAL:  Southern California Weather Force main page now has models, agendas, the alert map, and other things updated during storm events.  You can bookmark the main site and check back during an event for the latest updates.
Click here to view the main page
EMAIL ALERTS AND ASK THE WEATHER OFFICE A QUESTION:  It pays for itself in one storm system.  A very affordable e-mail alert system that only gives you SCWF weather alerts in YOUR micro-climate area.  Also, you can ask the weather office a question at any time if you get that add-on.
Click here to join
MICRO-CLIMATE ALERT FACEBOOK GROUPS:  Find yours today!
Click here to join
FACEBOOK PAGES TO JOIN!
SOUTHERN CALIFORNIA WEATHER FORCE MAIN:  Southern California Weather Force Office Main Page
BEHIND THE SCENES FORECASTS/UPDATE PAGE:  Southern California Weather Force Meteorologist Page
FOR THE CALIFORNIA FAULT STRESS MODEL PAGE: For SCWF official updates to the California Fault Stress Model and more!
"PONDER THIS" SCIENCE ADVENTURE SHOW: A science adventure show developed here at Southern California Weather Force that is a fun ride!
INSTAGRAM AND TWITTER ACCOUNTS TO JOIN!
Instagram – https://www.instagram.com/socalweatherforce/
Twitter – https://twitter.com/SCweatherforce