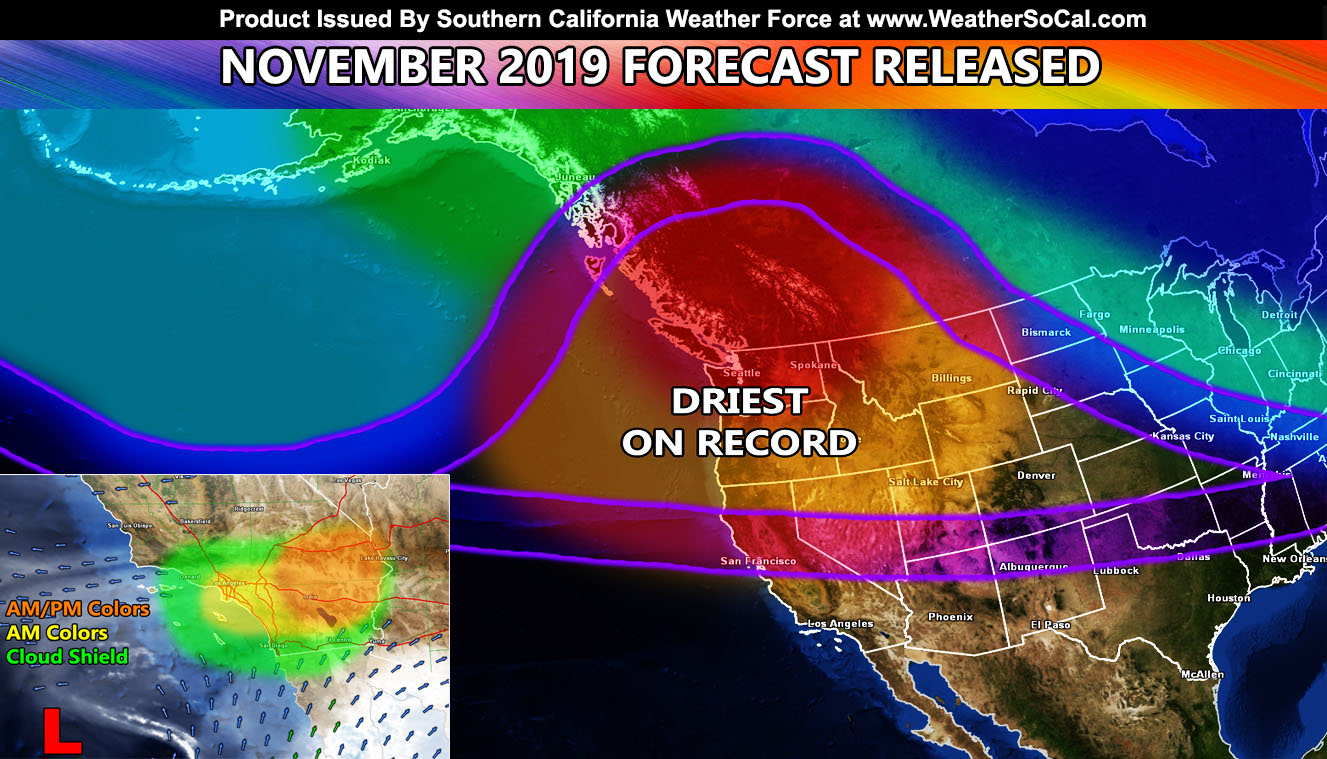 A tropical Looking sunrise and sunset For Saturday, light rain for some, November 2019 Forecast Pattern Released.  Congratulations to the winner of pay your electric bill October 2019 at $133.24 to Jessica Dominguez.  As for the forecast, read on for details with larger images included …
There isn't much to say with this update other than this is the official update for the November 2019 forecast.  Once again congratulations to the winner of October 2019's lottery draw for participating parties at Southern California Weather Force.  Tonight, an upper level low that is silently creeping up on Southern California out of the blue will be in the bight by the morning.  This will bring in a very thin layer of tropical moisture out of the south, moving across San Diego/Imperial Counties, northward through the Coachella Valley/ Morongo Basin/RIV/SBD/LA mountain areas and in the Orange/LA County proper zones.  This will make for a fun forecast just to kind of show the power of this weather office.  The clouds you will see in these zones will be mid and upper level oriented.  This means that as sunrise happens on your Saturday, expect to see near an far, a pretty colored sky.  This is a photographer opportunity.
NOTE:  ALL Articles AND Videos posted on Southern California Weather Force main Facebook Page are charity events.  Anyone sharing will be entered into a list and one person will be randomly selected to get cash for causes.  This started on in October 2019 and SCWF has donated $1883.24 to date of this article and counting. … So share away.. the more shares on Facebook, the more help can be done for the community and it costs you nothing just like a lottery ticket.  October 2019's winner was Jessica J Dominguez, and she has claimed the prize.  Are you next?  –  Check the latest amount to win by CLICKING HERE –  Remember… that number is going to climb before the contest closes!

There is SOME mid-level moisture present in San Diego, Orange, and Los Angeles County for a chance of light precipitation coming from them.  We're talking like the 'Summer' when you see isolated large drops reach the surface in some locations.  It will not be enough to be measurable over a wide area but hey if you are driving in the morning in those spots (San Diego being very early morning and spreading to OC/LA when everyone should be awake) don't be surprised to see some drops and even a chance of convective showers/hail and thunder.
The image above shows AM/PM colors meaning both sunrise and sunset will have vivid colors overhead.  AM colors is for morning colors overhead.  Cloud shield are the mid/upper level clouds in the region for your Saturday.
November 2019 forecast:  This is going to be rather easy.  November 2019 will be below average in precipitation and average in temperatures with a mix of above-average temperatures.  A ridge in Western Canada will bring a dry split flow to much of the West Coast.  The end result will be less rainfall in even areas like the Pacific Northwest.  This may be one of the driest Novembers for the Pacific Northwest in many years.
Extended season:  As stated in my official 2019-2020 video forecast (click here), we would see a later start season.  We will see some storms in December and January, however I do firmly believe most of it will be February and March.  The overall December-March period will be average in temperatures, however there will also be arctic blasts moving into our region so expect this season to be far colder than last, as I did state last month that it would be.  I do NOT expect to finish through Spring 2020 with above normal temperatures here in Southern California.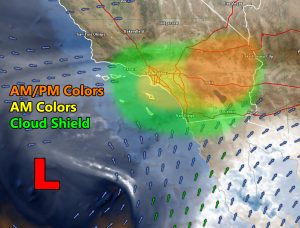 MICRO-CLIMATE ALERT FACEBOOK GROUPS:  Find yours today!
Click here to join
NOTE: TIME IS RUNNING OUT.  IF THIS TROUGH GETS A NAME THEN THE DISCOUNT WILL HAVE ENDED…  If you have renewed your discounted MICRO-CLIMATE E-MAIL ALERT SYSTEM membership for the 2019-2020 season, skip this message.  If you have not, Click Here To Renew.  This will be one of your last e-mailed article/alert from the 2019-2020 season as effective now the season will start when the first named storm system enters the region so don't wait. Click Here To Renew Under The Discount.
As always, stay tuned to official forecasts from Southern California Weather Force for updates …
For The Main Weather Facebook Page Click Here and Join.
End Article
---
OPTIONAL:  Southern California Weather Force main page now has models, agendas, the alert map, and other things updated during storm events.  You can bookmark the main site and check back during an event for the latest updates.
Click here to view the main page
EMAIL ALERTS AND ASK THE WEATHER OFFICE A QUESTION:  It pays for itself in one storm system.  A very affordable e-mail alert system that only gives you SCWF weather alerts in YOUR micro-climate area.  Also, you can ask the weather office a question at any time if you get that add-on.
Click here to join
MICRO-CLIMATE ALERT FACEBOOK GROUPS:  Find yours today!
Click here to join
FACEBOOK PAGES TO JOIN!
SOUTHERN CALIFORNIA WEATHER FORCE MAIN:  Southern California Weather Force Office Main Page
BEHIND THE SCENES FORECASTS/UPDATE PAGE:  Southern California Weather Force Meteorologist Page
FOR THE CALIFORNIA FAULT STRESS MODEL PAGE: For SCWF official updates to the California Fault Stress Model and more!
"PONDER THIS" SCIENCE ADVENTURE SHOW: A science adventure show developed here at Southern California Weather Force that is a fun ride!
INSTAGRAM AND TWITTER ACCOUNTS TO JOIN!
Instagram – https://www.instagram.com/socalweatherforce/
Twitter – https://twitter.com/SCweatherforce