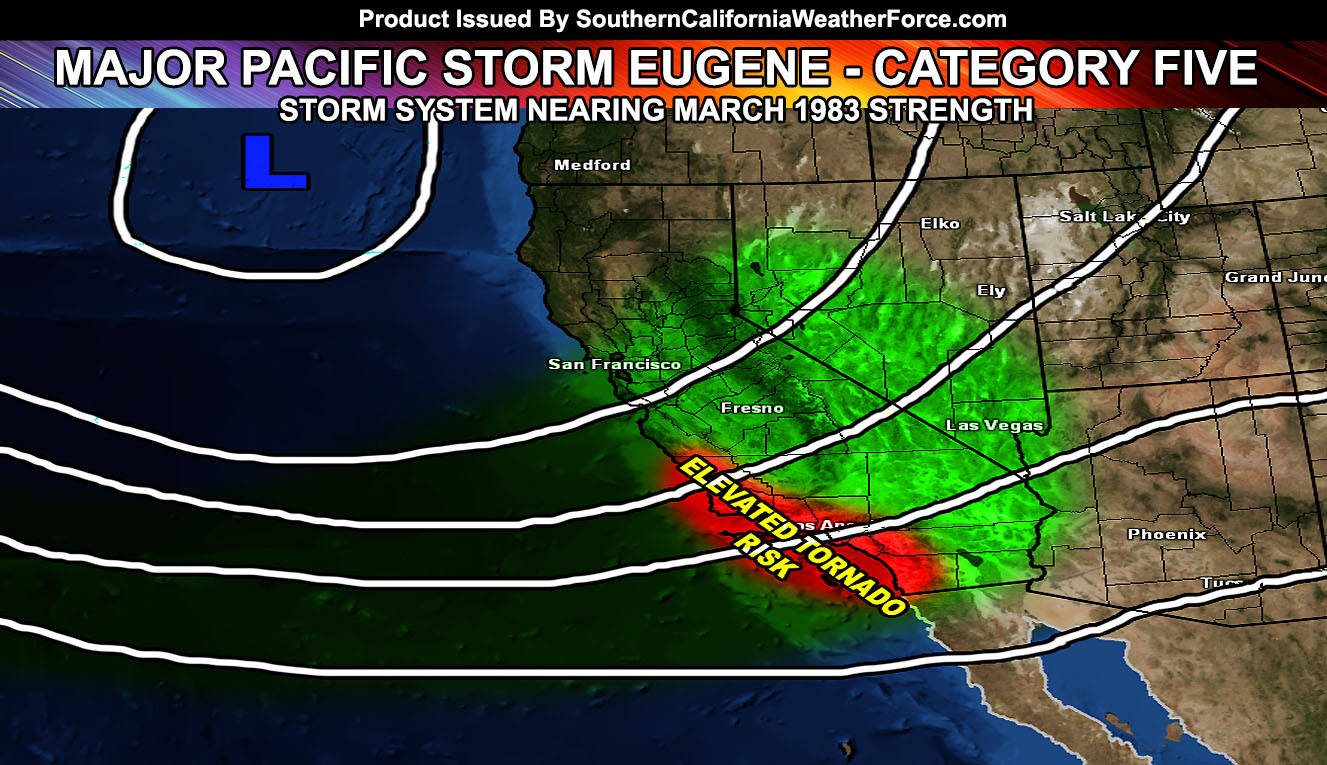 Major Pacific Storm EUGENE is a Category Five out of Six in our scale and is already developing severe weather in the forecast area and the tornado threat is increasing as our Tornado Watch issued last night for today's event looks on track.  Feet of snow will fall at and above the snow level in our local mountain resorts so wax those boards up.  Flooding will be a major problem in the same areas as with yesterday's storm.  Get the rest of the details by reading on …
Membership Data:  We are offering a 'storm pass' trial version to our exclusive member section and micro-climate alerts we issue on the site.  Grab our app/email system to get notified, the mobile app is free, but reading alerts you would have to be a member.  Get snow level/intensity/timing charts, tornado forecast charts, rain forecast charts, snow forecast charts, and much more by signing up for a 'storm pass', which will expire on Wednesday night at 9pm – Click Here To get Your Free Storm Pass Trial Today
App:  Download our IOS/Android App to get the alerts based off the micro-climate you set – Click Here To See the App
A powerful Pacific Storm we have dubbed EUGENE is impacting the region today.  The current front is nearing Ventura at the moment, with numerous lightning strikes reported along the Santa Barbara Coastal areas extending well into the bight (island region) of Southern California.
Our Tornado Watch (Link Here) remains in effect through today with two rounds.  We have this round moving through the VT/LA/OC/SD areas through the afternoon/evening hours … and the next overnight for points LA/IE southward into the OC/SD area where a secondary round of severe weather will be likely.    The SCWF Severe Thunderstorm Watch was issued this morning for points east of the Tornado Watch, which weakens the tornado dynamics and brings the thunder/wind dynamics through the Inland Empire.
Major Pacific Storm Eugene is 3-4x stronger than what Diane was (yesterday) in the form of thunderstorm and tornado dynamics.
Our latest tornado forecast model indicates the potential for tornadoes to strike all coastal areas, including deep into the LA/OC Basin zones.   Los Angeles convergence value of 60-90 yesterday was impressive enough … and the region will see value of 160+, which is extremely rare and impressive.
It is coming in during peak heating …
Shear values suggests these will not be embedded along a line .. but will have the ability to be discrete, which ups the tornado risk.
In addition to this, larger hail, damaging winds, and flooding will be likely … This watch replaces any need for a Flood Watch product during watch duration …
This will be a dangerous scenario for the unaware …
Our Blizzard Warning in the mountains is for FEET of snow and very gusty winds, creating whiteout conditions you do not want to be in.   We have various products for you to see if you are a member, but offering that trial version of the site just for this storm so you get an idea what is in the member section. (See Below)
Our rain alert shows flooding rains all across the metro/coastal areas … We also have a model for this … (See Below) …
Our High Wind Warning is in effect for the High Desert with stronger southerly winds … excess of 40-50 mph with 70+ near the adjacent mountain slopes.
Current I am assessing the snow levels for the night/morning and will issue alerts accordingly for the San Diego Mountain Range.  Our models are showing mainly the higher elevations for the most snow … but I will assess it over the morning and see what we can come up with.  Snowflal charts are showing a good amount above 5,000 FT.
NOTE:  Any further updates will also be made to your alert app/email system for this service. 
CHARTS AND DIAGRAMS FOR SNOW/RAIN …
Click Here To Enter The Member Section