[vc_row][vc_column][vc_column_text]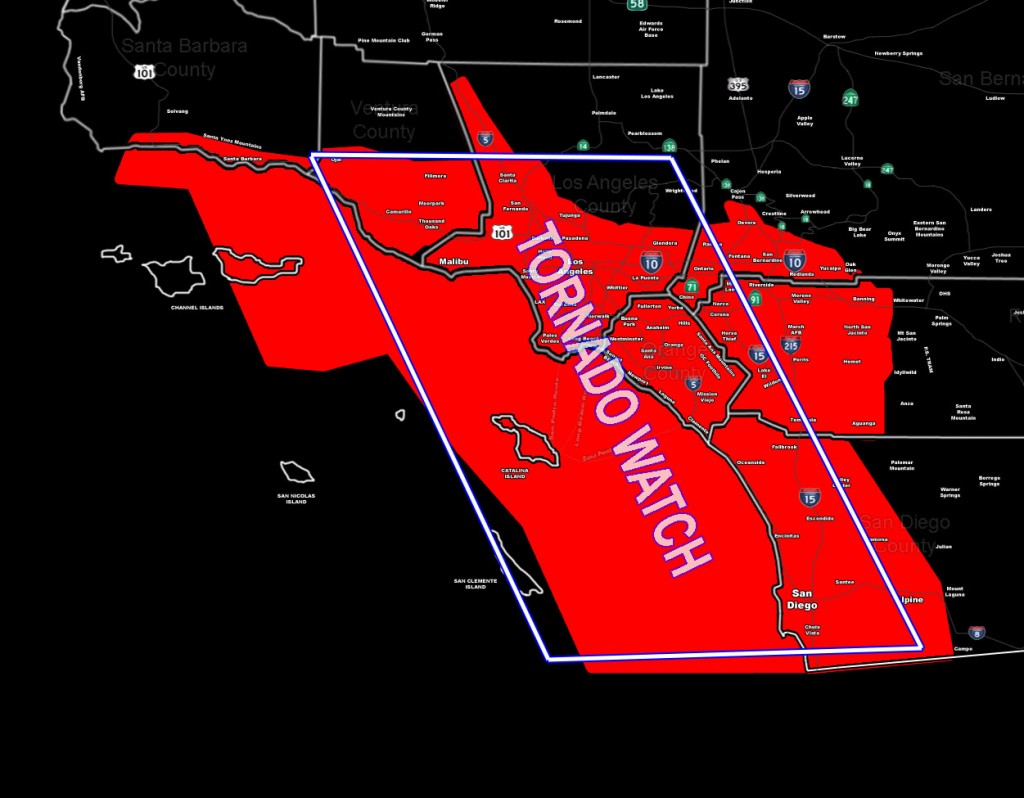 [/vc_column_text][vc_column_text]Issued Zones:  Santa Barbara .. .All metro/valley/coastal areas of LA/OC/SD … The Inland Empire … Offshore Islands Catalina/San Clemente and recreational boating zones …
Site:  SouthernCaliforniaWeatherForce.com has issued a TORNADO WATCH effective now through today …
Date:  1/31/16 at 1:15am PT
Forecast: At the surface, a surface low crossing the bight under Santa Barbara into Ventura/LA County will be the focus spot for strong southerly winds into it from Sunday later morning through Sunday evening. 
This particular type of system has not been seen this season as most of the surface low activity hit San Francisco … but this storm will leave them with barely any activity.  This is for Southern California exclusively. 
Because Southern California is warmer than up north, instability in the low levels with the daytime heating will cause thunderstorms to form with the front and with the shear it will be enough to produce tornadoes. 
Some of our numbers suggests up through EF1 potential in the forecast area.  The center of this is from VT/LA/OC/SD with extensions of the supercells into the Inland Empire as well. 
In addition to the tornado threat, this watch is also for damaging winds that will be severe in spots.  Large hail doesn't seem like an issue at the moment, but we could see some hail up through a half inch in the strongest cells.  This activity will move on a couple hours after sunset and this watch will expire then.  Gusty winds in the watch zone will prevail overnight through Monday.

10 mile rule:  These alerts issued on this site means that within your zone and 10 miles from you will see the event forecast for.  You may or may not see the event but it means you are in the zone or 10 miles from where someone will.
Forecaster: KM[/vc_column_text][/vc_column][/vc_row][vc_row][vc_column][vc_column_text]
If this doesn\'t say "you like this" below then click the LIKE button if you thought this was good information! This helps spread the word by just ONE LIKE … Do it every time if you enjoy these … Thanks for helping!
[/vc_column_text][vc_facebook type="button_count"][/vc_column][/vc_row][vc_row][vc_column][/vc_column][/vc_row]