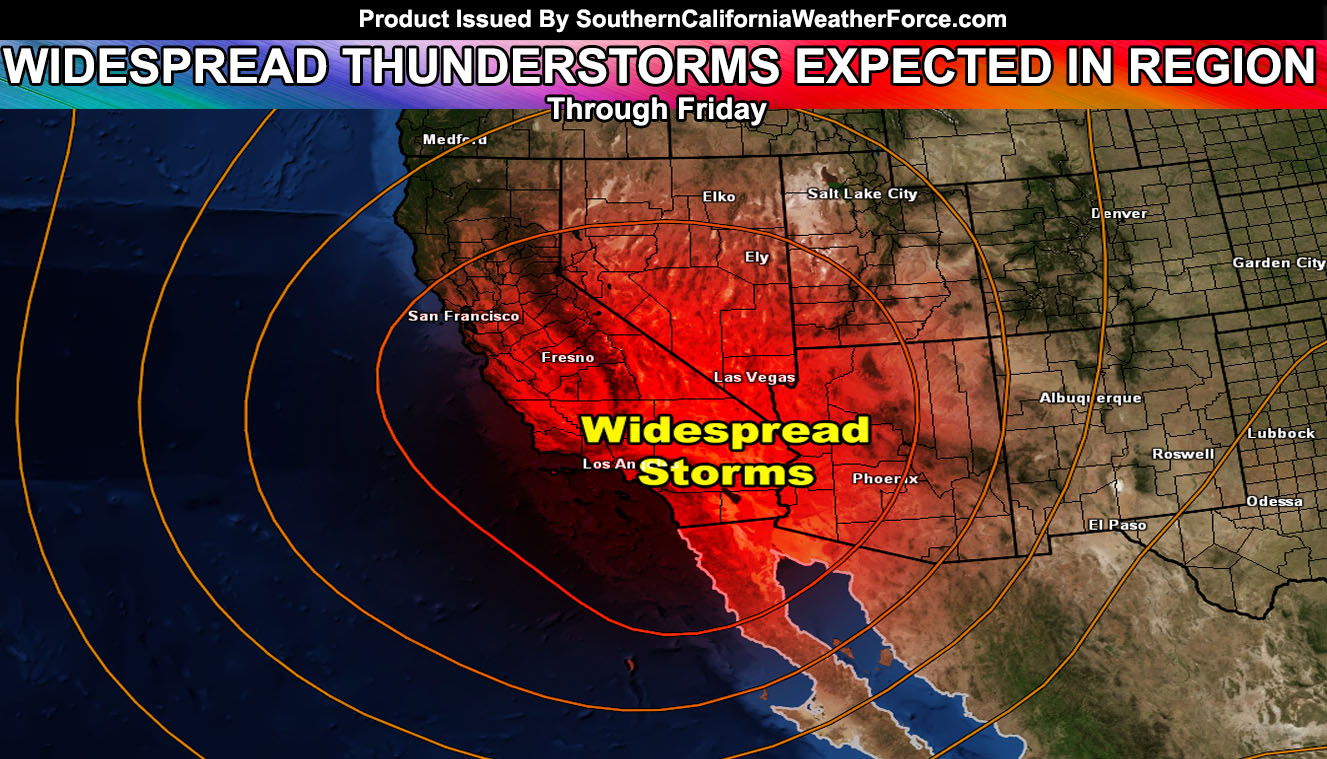 This upper level low is already dropping far enough south to put Kern County Valley/Mountain regions in strong lifting.  The lifting associated with the upper divergence will work with the stronger instability today to product thunderstorms, some of which will be severe.   Severe Thunderstorm will contain hail, strong winds, and even isolated tornado potential … with thunderstorm activity increasing through tonight and Friday for the rest of the Southern California areas …
A very large area of thunderstorm dynamics will hit most of Southern California today, tonight, and through Friday …An upper level cutoff low that has sparked the Severe Thunderstorm Watch from this weather office in Kern County will move into position later today, tonight, and into Friday.  Widespread thunderstorms are likely with this event.
Thunderstorms overnight could be confined near the coast/valley areas where instability is maximized … with the most widespread activity hitting all the way from coast, to desert on Friday.
Given that the upper level low will be directly overhead … it will be impossible to say who gets the worst thunderstorm activity within this and every single one of you is fair game for mother nature to give you one.
1-3″ of snow is possible in the upper mountain locations as the upper level cold core moves directly overhead on Friday .. with colder mid/upper temperatures .. but with the May sun angle .. not much will fall.In addition to the thunder .. hail/wind and funnel clouds are possible with this … and if someone is lucky to see it … maybe an isolated small tornado …
Gusty mtn/des winds will accompany this event …
On Saturday, residual moisture could bring shower/thunderstorm activity to mainly inland areas .. much like what we saw last week …