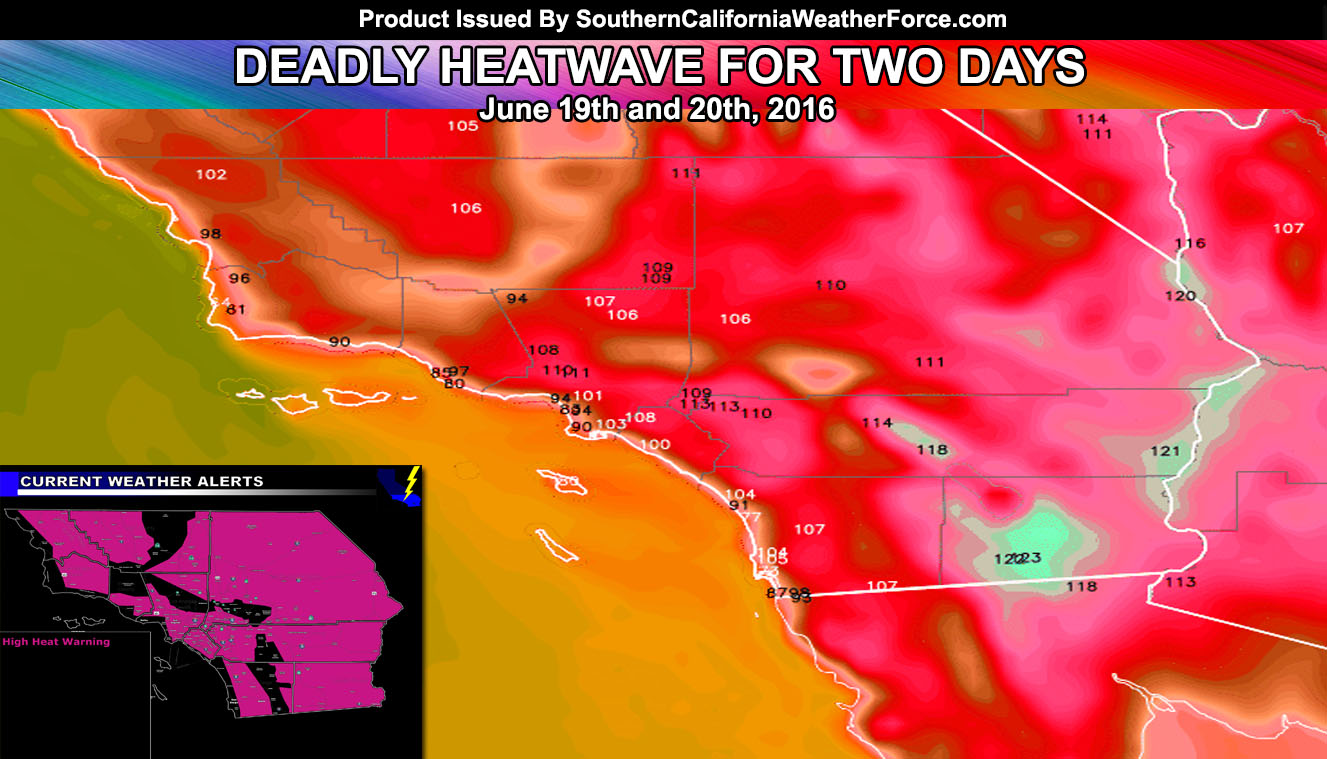 Models here at Southern California Weather Force warned of it on May 30th and warned again on details a week ago … and here we are … a couple days of what most will call hell if they are in the worst affected areas of a heat ridge normally seen in India and the Middle East.  Read on for details.
An article back on May 30th predicted that the first day of summer would feel like it .. and Summer will start on June 20th this year.  (See references below)  These longer range forecasts are one of a kind and as far as I can see no other outlet can produce a long range that accurate out to three weeks.   We've done a month before … and beyond.  But .. let's get to the imminent threat … the heatwave.
To squash this right now .. .it isn't raining anywhere to a high level … A few drops maybe here and there in isolated fashion is likely at times …   What you are seeing mostly that looks like rain clouds is called 'virga' … rain evaporating before hitting the surface.  Since there is moisture at 18,000 to 25,000 FT the higher level cumulus is dropping rain for aviation up there … but not for people down on the surface in large numbers.  The drier air below that level is making high rainfall evaporate before hitting the ground .. .and this likely will be the case through tonight … unless an impulse we are not detecting comes in and pushes the cloud/instability values higher.  It'll be monitored .. but at the moment isn't an issue/concern.
Some of you are heading to the coast … others to the mountains.  Some even are heading to the Colorado River Valley to swim and camp there.  Make sure you cover your nose as amoebas can enter your nose in warm fresh water and eat your brain to the point you cannot even know it is happening and die over a week later.  Doesn't sound too good … but it does happen.  Those with chlorinated pools or swimming in salt water bodies are not prone to this attack.
Do not leave your animals in the cars no matter what.  Even windows rolled down could generate a top temperature in the car at 130F to 140F due to how high the temperatures are expected to be in metro areas.  Do not walk your dogs on the concrete or asphalt as it is way too hot for them.
Drink plenty of water and also eat saltine crackers to replenish the salt lost in the body.  Just drinking water can kill you if you drink enough of it due to a lack of salt in the body … basically drowning it … water poisoning.
The following finalized temperatures for this forecast is as followed below for Sunday and Monday.  A 'cooling' from these deadly heat temperatures will start by mid-week .. but it will still feel like summer out there.  We will continue with above normally temperatures right on through the end of the month.  The monsoon season will start very late .. and projections here are for the beginning of it through July to remain pretty inactive across most of the Southwestern United States.  (See references below)
Riverside – 108 – 113
Downtown LA – 98 – 101
Fullerton – 103 – 108
SFV/SCV– 107 – 111
Irvine – 96 – 100
Ramona – 101 – 107
Bakersfield – 102 – 106
Paso Robles – 98 – 102
Lancaster – 102 – 107
Apple Valley – 100 – 106
29 Palms – 105 – 111
Indio – 113 – 118
Brawley – 118 – 123
Blythe – 116 – 121
Las Vegas – 109 – 114
REFERENCES

An article back on May 30th predicted that the first day of summer would feel like it .. and Summer will start on June 20th this year.
Link to click for article – https://www.southerncaliforniaweatherforce.com/2016/05/30/southern-california-heatwave-details-and-june-2016-forecast/

The monsoon season will start very late .. and projections here are for the beginning of it through July to remain pretty inactive across most of the Southwestern United States.
Link to click for article – https://www.southerncaliforniaweatherforce.com/2016/06/04/extremely-dangerous-fire-season-expected-across-southern-california-due-to-poor-monsoon-ridge-placement/