[vc_row][vc_column][vc_column_text]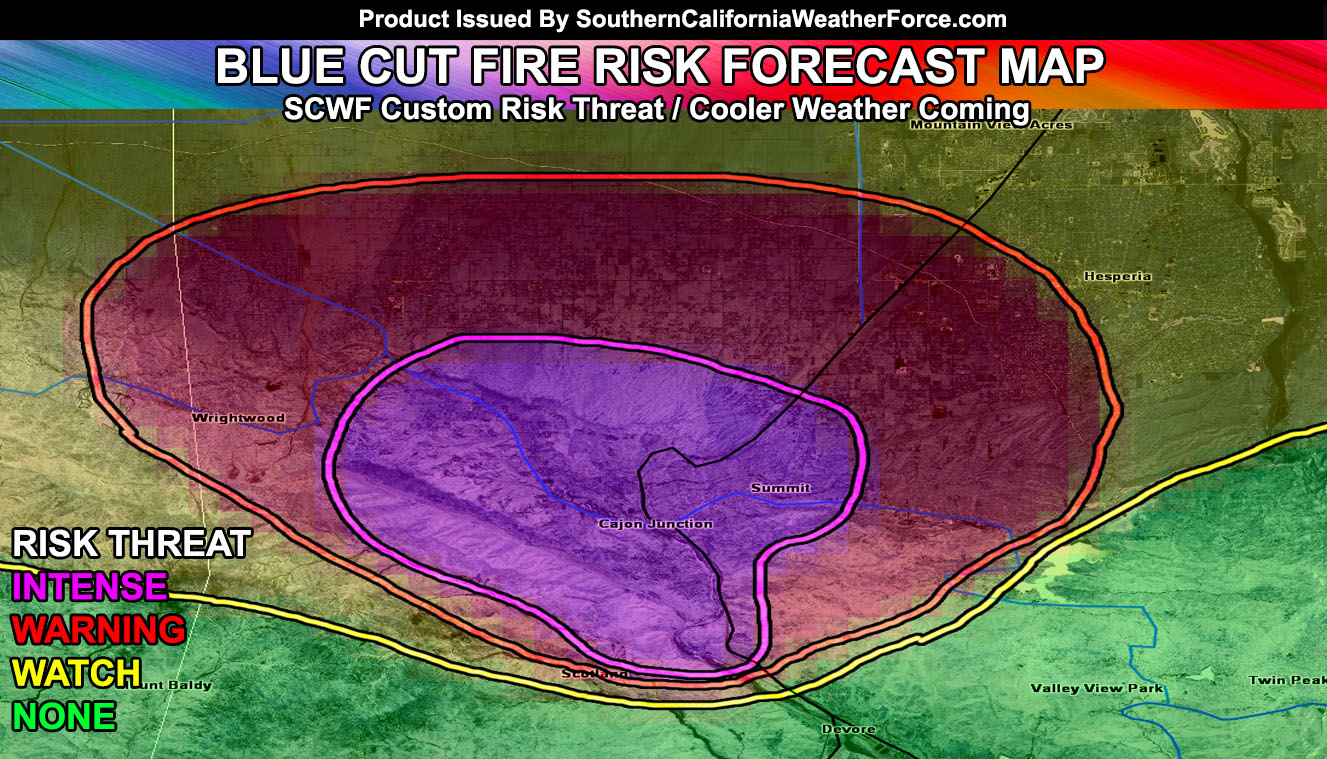 The Blue Cut Fire has destroyed businesses, homes, and infrastructure and continues on at the northwest, north, and northeast end and assessment here at Southern California Weather Force does not look good for the areas outlining the pass.  Temperatures will come down however so read on for the details in the medium range forecast.
At the current time we are ending the strong heatwave that impacted the forecast area, causing the ripe conditions for the Blue Cut Fire to rage on.  The heatwave will effectively end by the end of the week where our temperature grids show the last day of 100F in Riverside this week being tomorrow (Thursday) with 91-93F likely as a high over the weekend so a big difference to come along with 94-95 in Hesperia so a region-wide drop in temperatures is expected.
Onshore flow will continue however through the Blue Cut Fire region each afternoon and evening … driving the fire north and northeast most of the time during the day.  During the night however we see winds shifting out of the southeast toward the northwest and this puts WRIGHTWOOD at the front-lines overnight and in the early morning hours so this area is in our high risk zone for the western flank of the fire.
The afternoon/evening movement will be north and northeast through Oak Hills, East Oak Hills, Phelan, Pinon Hills, and Hesperia … where are risk is elevated as well.  Ash and smoke along with hot embers should continue to blow to the northeast toward Lucerne Valley and Ludlow …
By the weekend however this smoke will shift from northeast to more of a westerly direction, putting the smoke/ash into the Antelope Valley, Acton, and maybe toward the Northern Santa Clarita Valley areas should the fire continue to put up heavy smoke.
Areas that area not in danger of the Blue Cut Fire will be the San Bernardino Mountain cities of Crestline, Lake Arrowhead, Running Springs, and Green Valley lake areas.  This fire will not be moving that way at anytime.
The rest of the month will feature cooler than average conditions with the trough of low pressure anchored off the California coast, establishing the onshore flow and keeping the ridge from building back in with the risk of monsoonal moisture in our mountain and desert regions.  If the low pressure moves a bit further south we'll have enough energy for storms in the Bakersfield Valley areas as well with the upper divergence but this would be a week or so out and confidence in the medium range has been low all Summer.
[/vc_column_text][/vc_column][/vc_row][vc_row][vc_column][vc_facebook type="button_count"][/vc_column][/vc_row]