[vc_row][vc_column][vc_column_text]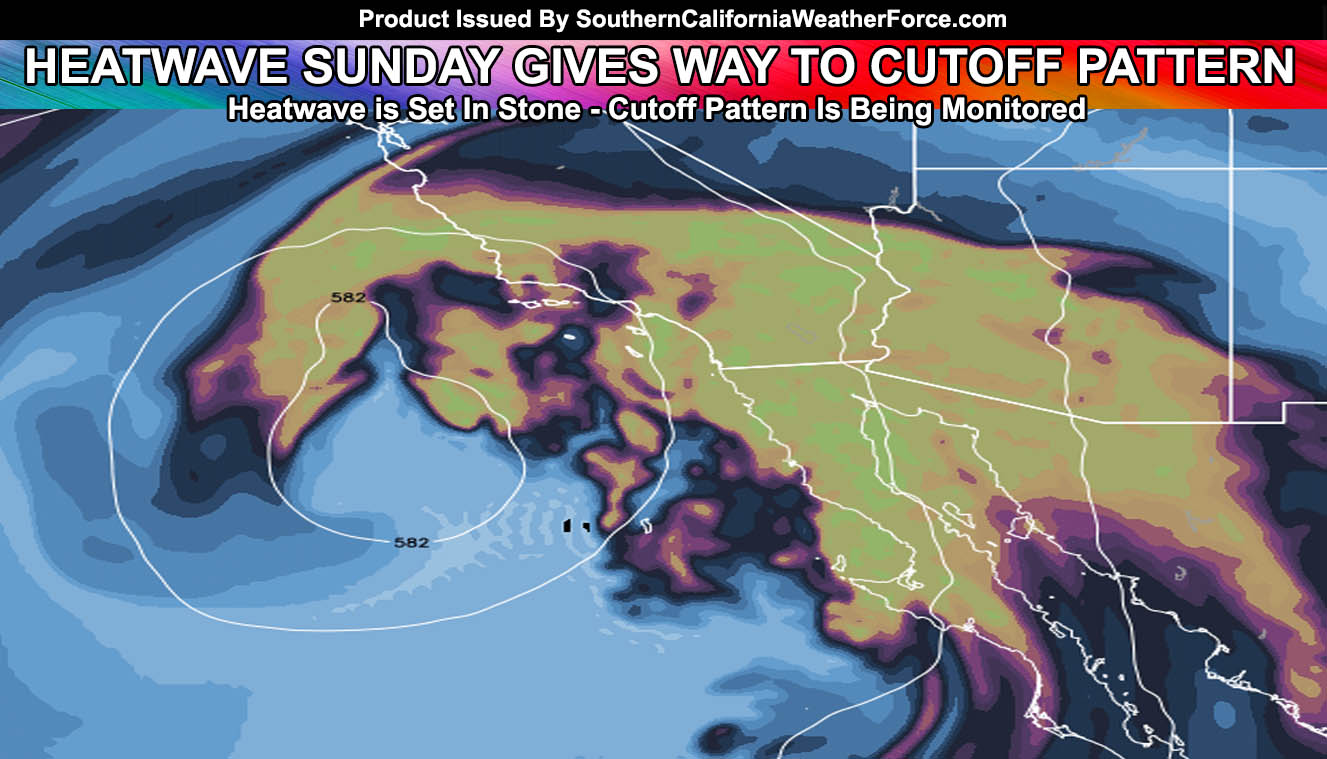 A heatwave on Sunday will bring triple digits to the inland areas with warm temperatures even along the coast thanks to offshore flow.  This pattern will give way to a potent cutoff low forming south of here and if it moves west a bit … it could introduce storms into the forecast area (mainly LA eastward) on Monday or Tuesday.  Read on …
A cutoff low will drop over the forecast area on Sunday and bring a northerly and northeast flow into the area.  This will bring about a mild offshore wind through passes and canyons … but not a full blown Santa Ana Wind Event.  These offshore winds will cause compressional warming in the areas south and west of the mountains, across all metro areas.  This warming will bring 100-106 degree temperatures to the inland areas … having Riverside being hotter than Palm Springs respectively.
As the cutoff moves south of the area it'll bring in moisture from the south.  Should the cutoff remain due south of here then the moisture and associated rain/storm activity will remain for the SBD/RIV/SD Mountains east into the Low Deserts.
NEW:  SCWF Weather Alert Facebook Groups By Region –  JOIN ONE TODAY!
If the low wanders a bit further west then it'll position itself in what is known as the Martin Storm Diamond … where Los Angeles is in the prime location of the strongest upper level moisture … named after the one who discovered the track pattern … (me) … Many storm systems will hit this diamond this season as the cutoff pattern allows them to be dropped down into that zone and produce storm dynamics.
Since this is a cutoff low … it will need to be watched very carefully.  Any further west and it'll bring flooding to the area … further east and it misses us completely.
IF it affects 1/2 of the forecast area and has a cold core associated with it .. it will become a Pacific Storm name … "A" … and the name will be announced when that time comes.
Sunday's projected High Temperatures … 9/18/2016
[/vc_column_text][/vc_column][/vc_row][vc_row][vc_column][vc_facebook type="button_count"][/vc_column][/vc_row]