[vc_row][vc_column][vc_column_text]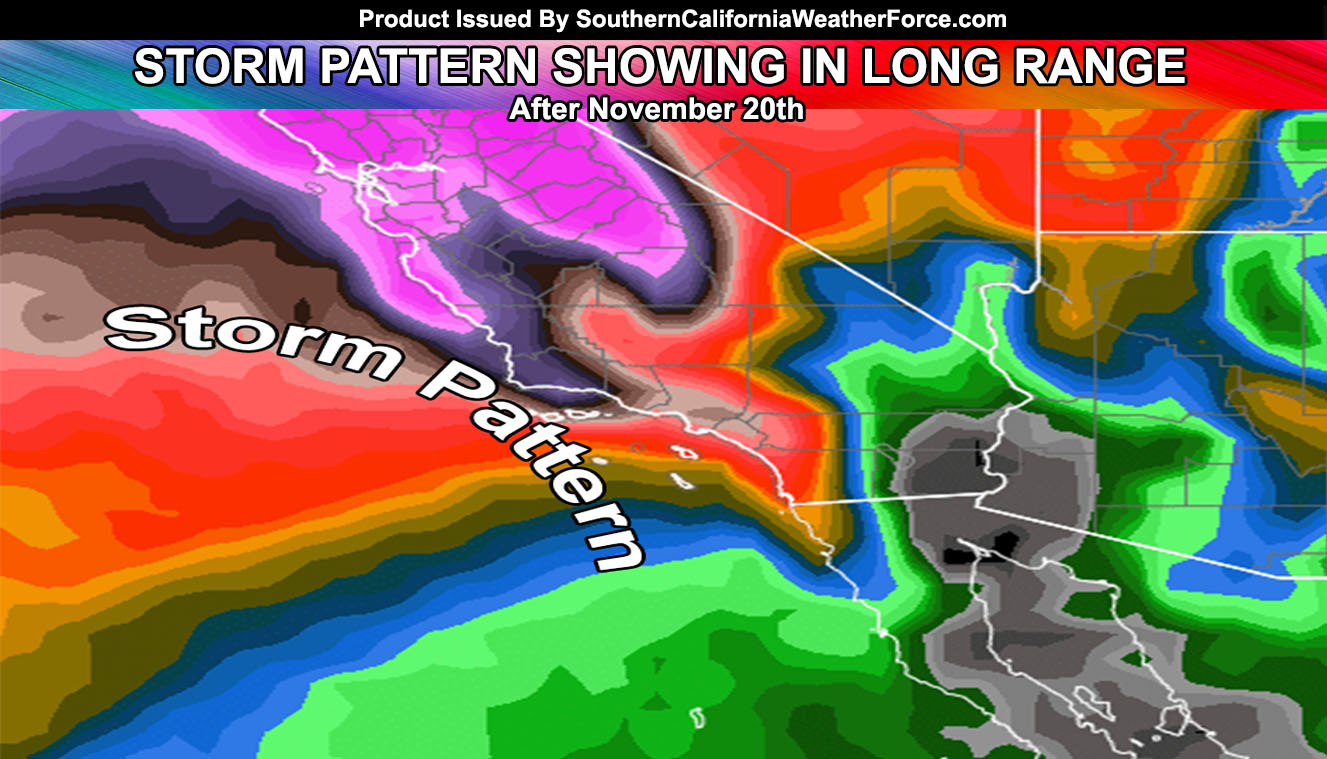 Values are setting into what is calling for the storm window to finally open up after November 20th, but first we get through this warm-up.  Get all the details by reading on …
At the moment we are working up the Santa Ana Winds once again and with those comes the temperatures, which will go over 90F for the valleys this week.  However these Santa Ana Winds will not be like the normal northeast flow winds.  These winds have an east to west gradient due to a very large ridge of high pressure due north of Arizona.
What that means is that strong east winds will impact and they will not fully blow out of the Cajon Pass.   Passes in the Banning areas and the many across the Riverside and San Diego County Mountains will open up as they are east to west flowing mountain passes.
In a nutshell it means that the east winds will flow hard in the Inland Empire, including Temecula … most of the OC Foothills/Basin areas to even Westminster and Long Beach … and the San Diego Mountain, Foothill, Valley, and maybe even coastal areas of San Diego itself … kind of rare to even get a breeze in San Diego but this would happen mainly on Wednesday and Thursday.
The strongest winds due to the due east and west flow will not be the Santa Clarita Valley this time … The 14 Freeway Pass is northeast to southwest … not east to west in orientation.  The strongest winds will be San Diego County …  We could expect gusts from 30-50 mph at anytime in the areas mentioned above.  East winds could gust to 30 mph in the Tehachapi zones as well …
STORMS
Now what about those storm patterns?  Well .. .my long range values are showing agreement that the Western Coast will have lower pressure at both the surface and upper levels so we will be getting rid of the heat and ridging and returning to storms after the 20th.  Some indications are of the pattern before that giving some rain but I'm more confident in the static storm pattern after the 20th of this month.
The entire season so far is far different than last.  These Santa Ana Winds are not caused by a ridge to our north, but are caused by a highly amplified pattern, in-which as I stated in my 2016-2017 forecast we have a lot of blocking.  So at times it's a ridge … at times it's a low … giving us storms and dry patterns as a seesaw pattern.  Very dynamic type pattern.  The type of troughs that setup west of California will be dynamics and wide this season … meaning no more fronts washing-out before hitting our key Southern California metro areas …
Indications are STILL in my forecast from weeks ago when I called between Mid-November and Mid-December that we will get a low elevation snow pattern for snow in the High Desert … even Las Vegas, NV … There are further indications that Into December we will see the storm trains as well.  The season thus far in the longer range from now till Mid-December looks good with anywhere from 3 to as much as 6″ of rainfall for Los Angeles.  None of my long range numbers shows anything less and we are on track for storms.
So till then … keep those cars washed …[/vc_column_text][/vc_column][/vc_row][vc_row][vc_column][/vc_column][/vc_row][vc_row][vc_column][vc_facebook type="button_count"][/vc_column][/vc_row]