[vc_row][vc_column][vc_column_text]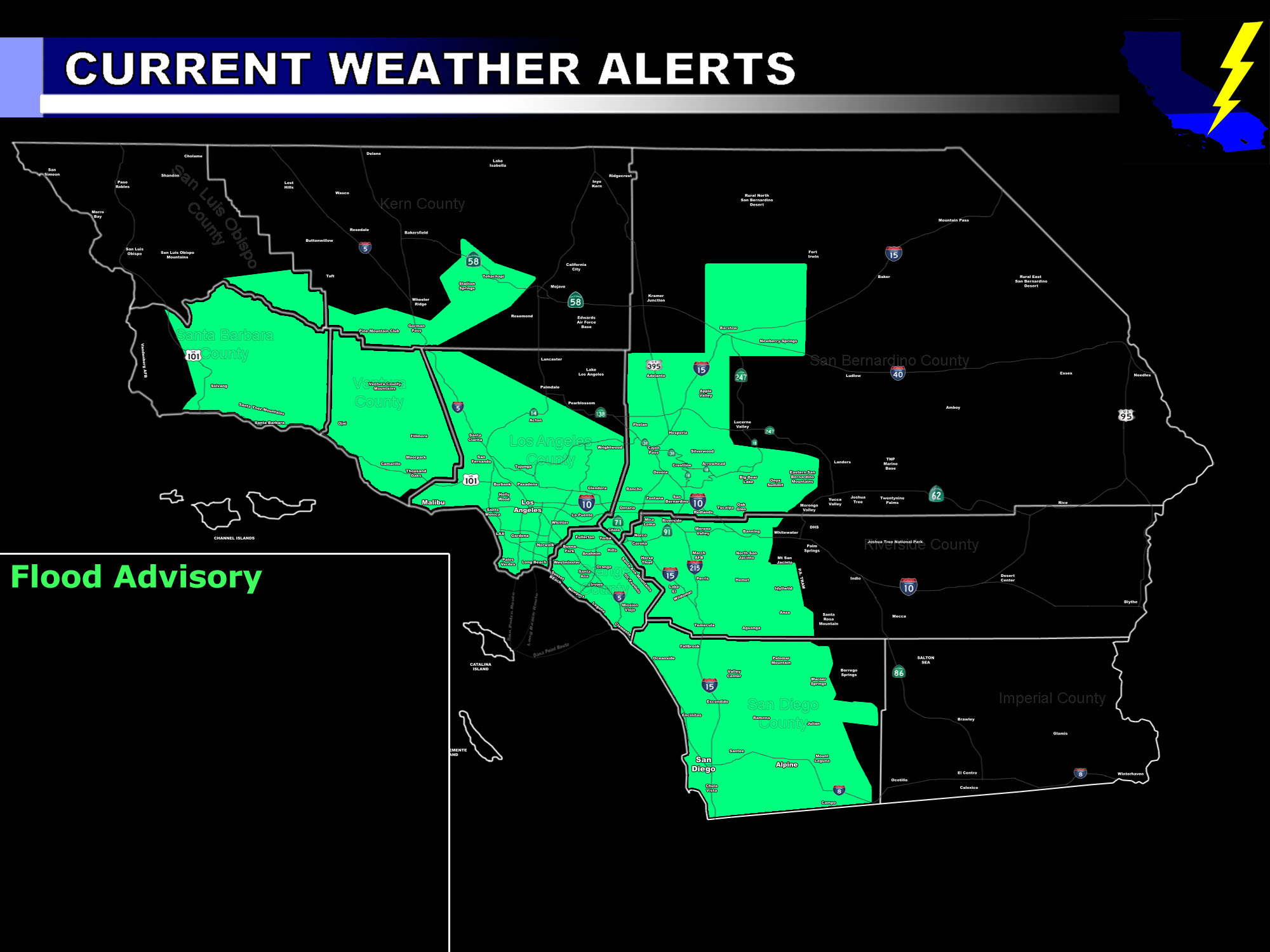 [/vc_column_text][vc_column_text]Issued Zones:  Santa Barbara County … Ventura County … Kern Mountains … Los Angeles County excluding Desert … Victor Valley to Barstow … Orange County … The Inland Empire … San Diego County excluding Desert … San Bernardino, Riverside, San Diego Mountains …
Site:  SouthernCaliforniaWeatherForce.com has issued a Flood Advisory effective now through Monday morning …
Date:  11/20/16 at 10:40am PT
Forecast: Major Pacific Amelia will bring a lot of rain into the forecast area within this advisory zone.  Amelia has taken a turn for the worst and will also provide thunderstorms, possibly severe so an upgrade to this advisory maybe needed later on. 
Amelia's flood zone will start along the Santa Barbara Coast by 1pm.  The system will quickly utilize the upper divergence and low level wind power to rapidly develop over the city of Santa Barbara by 4pm.  The system will dig a bit south and bring moderate flooding conditions through Ventura by this evening. 
Sometime after 9pm the system will then start to really ramp up and a high risk flood area is showing up in Eastern Ventura County, and the Valleys of Western Los Angeles County, including Malibu.  The line of activity will bring moderate flooding conditions during this time into San Diego county as well, but flooding is likely in the flood prone areas. 
Just after midnight tonight the swath of activity will be of moderate risk flooding across LA/OC/IE/SD and surrounding mountain areas, with notable rainfall into the High Deserts as well.  As the night moves on and Amelia moves inland, the rainfall will reach notable stage even as far east as The Coachella Valley and the Morongo Basin.

MEMBERS:
Members only can view the actual mapping of this discussion so if you are a member … Click Here and Look For Flood In The Open Section
10 mile rule:  These alerts issued on this site means that within your zone and 10 miles from you will see the event forecast for.  You may or may not see the event but it means you are in the zone or 10 miles from where someone will.
Forecaster: KM[/vc_column_text][/vc_column][/vc_row][vc_row][vc_column][vc_column_text]
If this doesn\'t say "you like this" below then click the LIKE button if you thought this was good information! This helps spread the word by just ONE LIKE … Do it every time if you enjoy these … Thanks for helping!
[/vc_column_text][vc_facebook type="button_count"][/vc_column][/vc_row][vc_row][vc_column][/vc_column][/vc_row]