[vc_row][vc_column 0="width="1/1""][vc_column_text]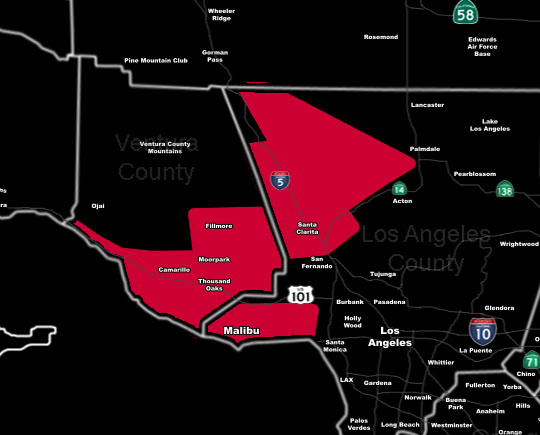 [/vc_column_text][vc_column_text]Issued Zones:  Eastern half of Ventura Valley/Coastal areas … Santa Clarita Valley … Western Los Angeles Mountain Passes (US-14 Acton to SCV) …
Site:  SouthernCaliforniaWeatherForce.com has issued a Santa Ana Wind Warning effective now through Thanksgiving Afternoon …
Date:  11/23/16 at 4:10pm PT
Forecast: Strong northeast winds are expected to develop overnight tonight out of Highway 14 in acton and head on into the Santa Clarita and Eastern half of the Ventura Valley/Coastal zones. 
The northeast flow will start just after 10pm after switching from the current northwest flow from the I-5 corridor … and the strongest winds will be before sunrise on Thursday morning through several hours after sunrise, departing through the afternoon. 
Wind gusts are expected to be strong, and possibly damaging.  Due to the recent rains, some trees will come down … power may be expected to go out for some of you.  
The strongest winds will be in the Moorpark/Thousand Oaks areas … Ventura is on the cusp of the wind tunnel so areas east of you would see gusty winds and west of you would be calm.

10 mile rule:  These alerts issued on this site means that within your zone and 10 miles from you will see the event forecast for.  You may or may not see the event but it means you are in the zone or 10 miles from where someone will.
Forecaster: KM[/vc_column_text][/vc_column][/vc_row][vc_row][vc_column 0="width="1/1""][vc_column_text]
If this doesn\'t say \"you like this\" below then click the LIKE button if you thought this was good information! This helps spread the word by just ONE LIKE … Do it every time if you enjoy these … Thanks for helping!
[/vc_column_text][vc_facebook 0="type="button_count""][/vc_column][/vc_row][vc_row][vc_column 0="width="1/1""][/vc_column][/vc_row]