[vc_row][vc_column][vc_column_text]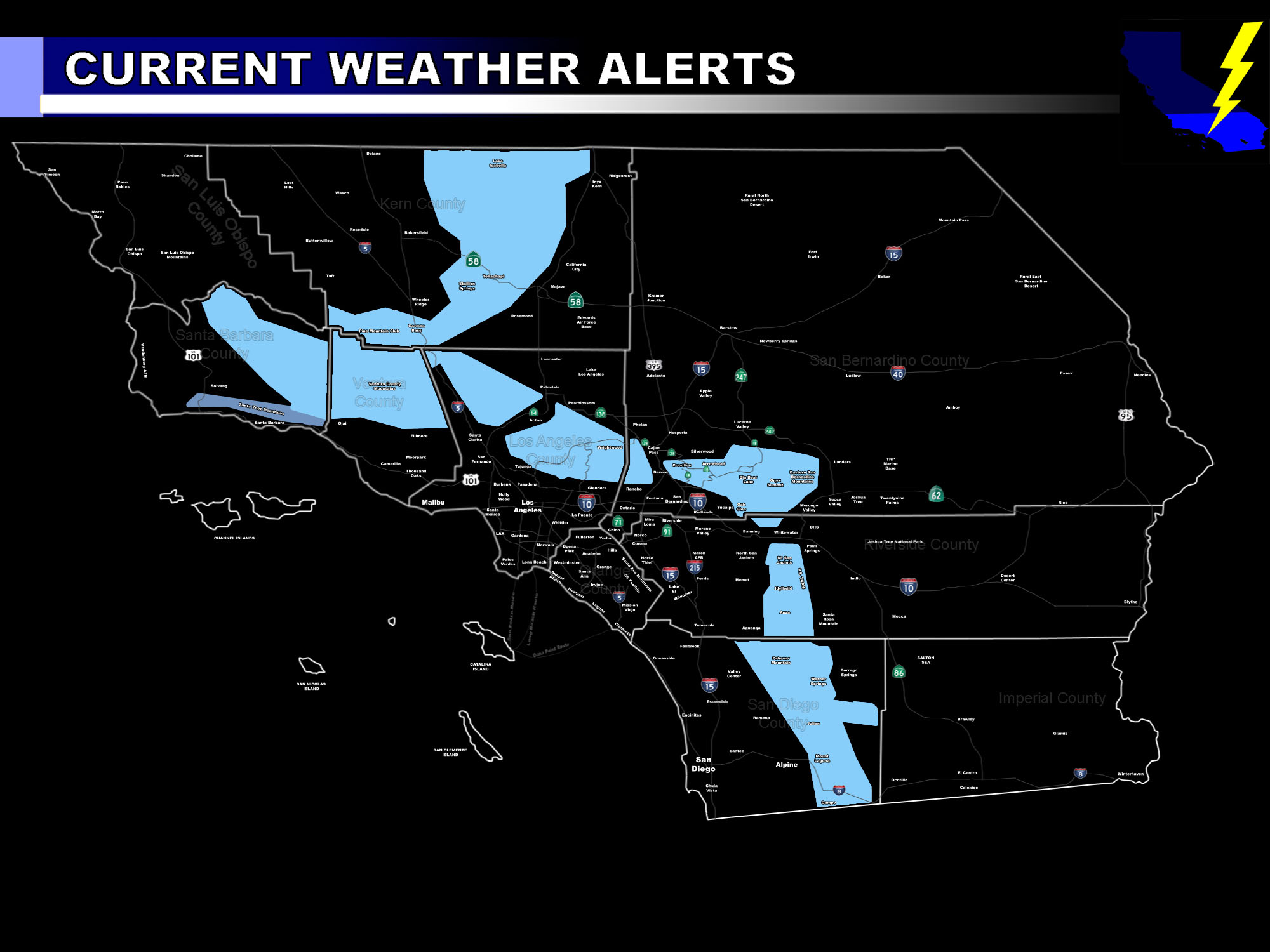 [/vc_column_text][vc_column_text]Issued Zones:  Kern, Ventura, Los Angeles, San Bernardino, Riverside, San Diego Mountains above 5,000 FT …
Site:  SouthernCaliforniaWeatherForce.com has issued a Blowing Snow Advisory effective today through Sunday …
Date:  11/26/16 at 10:00am PT
Forecast:  A frontal zone entering San Luis Obispo right now is surging eastward and with it snow levels of 5,000 – 5,500 FT are going to be with the main swath of heavier precipitation and with those gusty winds will make for blowing snowfall.

The front will hit the Kern Mountains this afternoon and through the SBD/RIV/SD Mountains this evening … with residual light snow showers all night. 
Wet snow likely in the Town of Tehachapi with this … but a lot of accumulation is not expected there.   Another system hits slightly on Sunday for renewed snow showers. 
PMC stands to see a few inches of snowfall with up to an inch on the Gorman Pass. 
The LA County Mountains will see anywhere from 2-4″ in the middle elevations and over 6+ inches up in the upper elevations. 
The southwest slopes of the upper San Bernardino Mountain rim will see from 5-8″ of snowfall with over 10″+ on the Upper Peaks … and 3-6″ in Big Bear Lake. 
Mid elevation Riverside Mountains will see 3-5″ of snowfall and the Palm Springs Aerial Tramway over a foot …
Most of the San Diego Mountain cities will be below the snow-level but upper peak elevations above 5,500 could pick up a couple inches. 
Updates will be made to the advisory when Sunday's numbers become more clear.

NOTE:  Members Click Here For Your Snow Level Tables
10 mile rule:  These alerts issued on this site means that within your zone and 10 miles from you will see the event forecast for.  You may or may not see the event but it means you are in the zone or 10 miles from where someone will.
Forecaster: KM[/vc_column_text][/vc_column][/vc_row][vc_row][vc_column][vc_column_text]
If this doesn\'t say "you like this" below then click the LIKE button if you thought this was good information! This helps spread the word by just ONE LIKE … Do it every time if you enjoy these … Thanks for helping!
[/vc_column_text][vc_facebook type="button_count"][/vc_column][/vc_row][vc_row][vc_column][/vc_column][/vc_row]