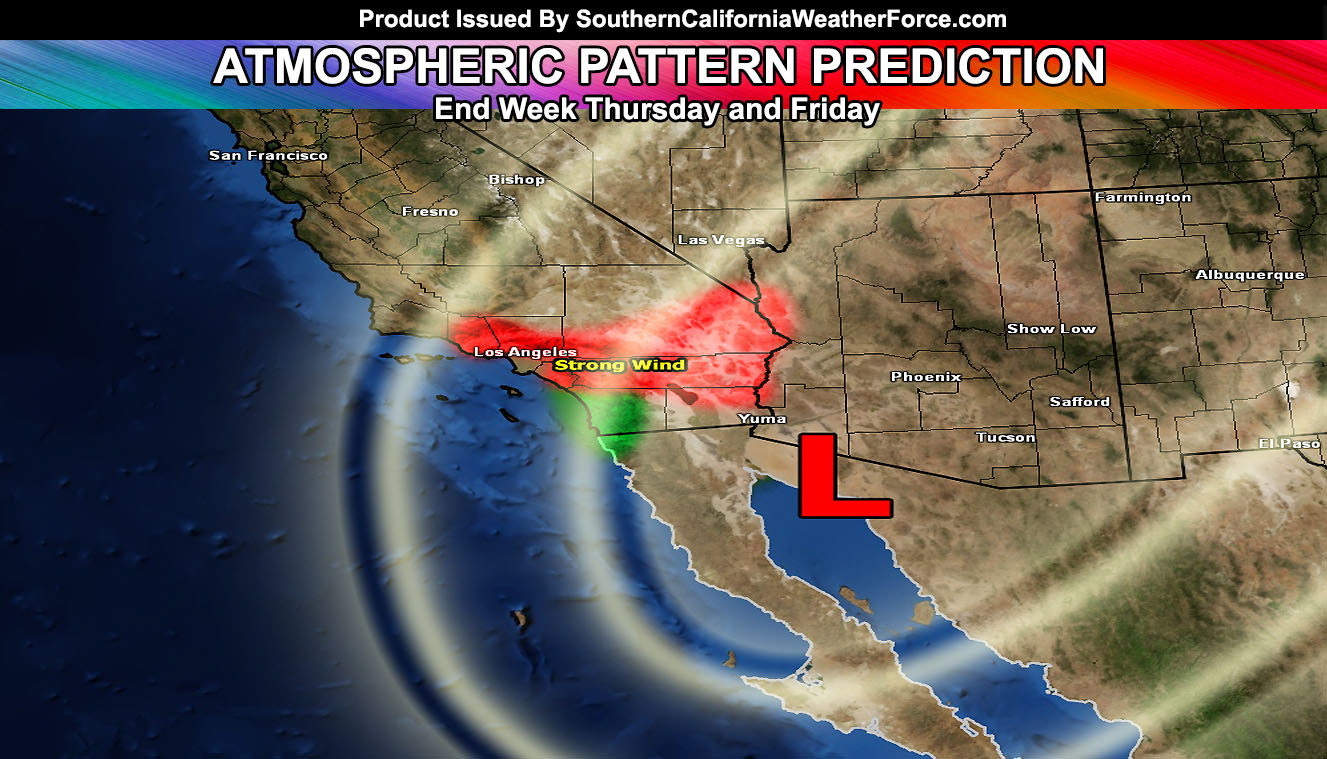 Pacific Storm Blair has moved out of the forecast area after finalizing as a Category Three due to rainfall rates, thunderstorm dynamics, and gusty winds, with the last of the showers in parts of Western San Diego County.  What is next for the region?  Read on for details …
A weak front will come into the San Luis Obispo, Santa Barbara, and Kern County areas tomorrow (Monday).  This system is weak so expecting this to hit SLO/SBA on Monday morning and increase in the Kern Mountains by mid-morning with residual sloping showers through the rest of the day, mainly hanging onto the Gorman Pass/Pine Mountain Club areas.
Snow levels in the Kern Mountains will start around 6,500 FT with wet snow down to 5,500 Feet so sticking level seems to be around 6,000 FT by Monday morning when the heaviest arrives.  Given this, the snow level will fall over the day to 5,300 FT by later afternoon over the Pine Mountain Club areas and thus it looks like there will be snowfall in town.  After sunset it seems the flurries will start accumulating slightly on the Gorman Pass itself.  Winter Weather Advisories for the Kern Mountains will be issued soon.
This same front will washout before hitting Ventura and Los Angeles … but will round the bight and bring a moist west flow into parts of San Diego County, 'mainly' along the foothills … and thus on Monday do think there will be showers down there.
As Monday night comes around the wind switches offshore and Gusty Santa Ana Winds will impact below passes and Canyons through Tuesday.
There is a system dropping out of Canada into the Southwestern United States by Thursday, Friday and Saturday of this week.  The system's track is not too known at this time so 30% confident in the exact track but if I had to go with it … it would be slightly east of us and bring damaging Santa Ana Winds … cold in fact as well … not the hot Santa Ana Winds we are known for. The winds have so much upper support that they could very well be the strongest upper support cold Santa Ana Winds we've had any many years.  Damage is certain near those passes and canyons that normally get the winds … especially Devore and Fontana …
If it does do this … at the same time with it sometime at the end of the week around Thursday or so … stronger onshore flow, mid-level frontal zone lifting .. and upper divergence/PVA may make it possible for some activity to develop in San Diego County … and nowhere else.
The entire pattern is being watched to know the exact track of this next system.  On a side note … Cruella was put back into the list.  Blair pulled the strongest part of the impulse onshore and north of us today.