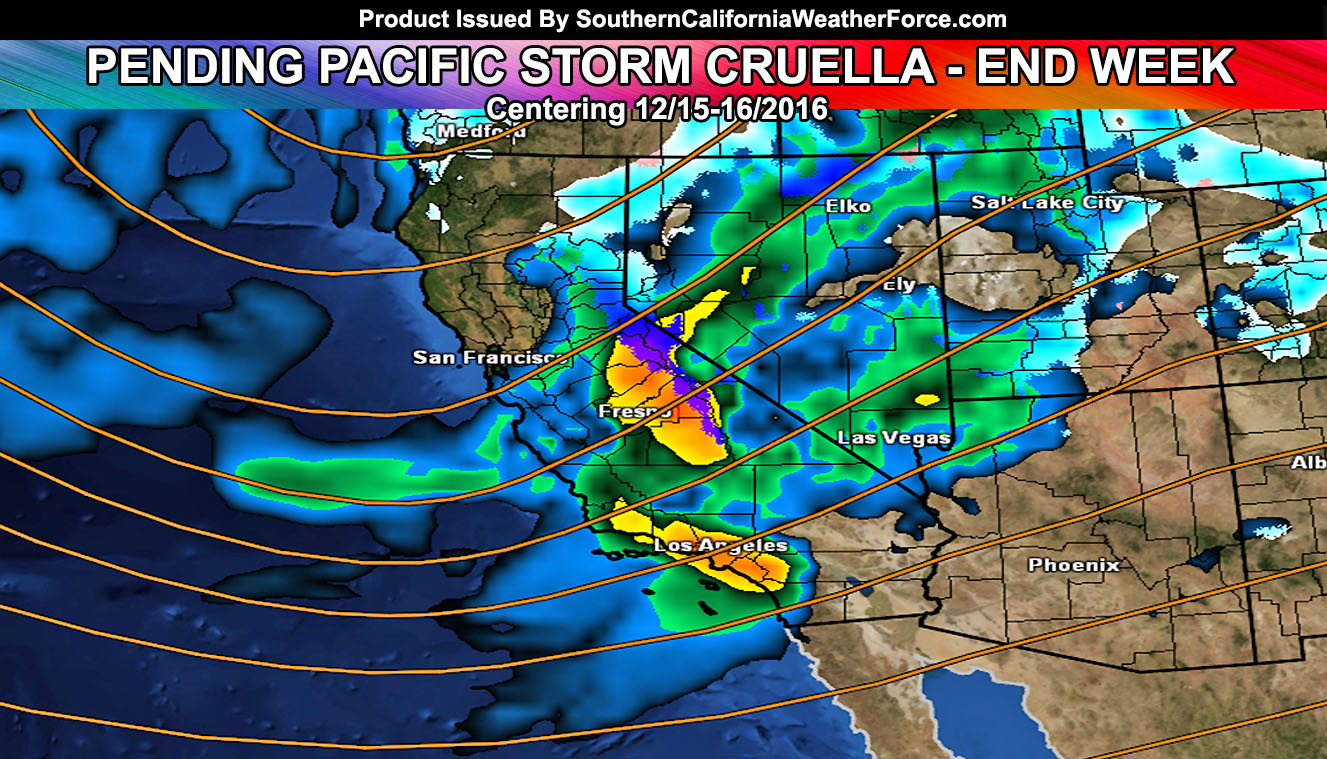 After Pacific Storm Blair will now come the pending release of Pacific Storm Cruella, the next name on our list … then Dante.  She'll be announced as the name within the next 24 to 48 hours and category is to be determined.  She may pack a punch for the usual metro areas so read on for details.
At the current time the longwave trough associated with the system is out in the Pacific and moving eastward.  By Tuesday and Wednesday, areas in Central/Northern California would be seeing the moisture stream from the trough and thus the rainfall and storm activity.
Timing confidence seems on the medium to medium-high side (70%) that the storm will arrive Thursday into Thursday night for our forecast area.
The dynamics of this system seem pretty good for strong frontal zone winds, heavy precipitation, and isolated thunderstorm activity.  Thunderstorms at this point seem to lack one instability ingredient so my main focus until I see better dynamics for them will be strong winds along the front at the surface  … and heavy rain.  Dynamics like this could bring trees down in spots.
The system is still 72 hours out for the most part … and timing/strength etc could be altered with each passing day until the final forecast … but a heads up that the storm is on track.
Snow levels need to be watched.  If the system remains on this track .. we'll certainly be seeing higher than normal snow-levels in a tropical type atmosphere with the main front.
LONG RANGE:  Our long range is a bit interesting in the member section.  There is a good chance this type of pattern could bring a storm into the area around Christmas, give or take 1-2 days each end.
Full Members can keep track of the daily 1E and 2C model right up to near the event … Click Here To Enter the Member Section
Also Check Us Out On Facebook For Updates – Click Here To Go There