[vc_row][vc_column][vc_column_text]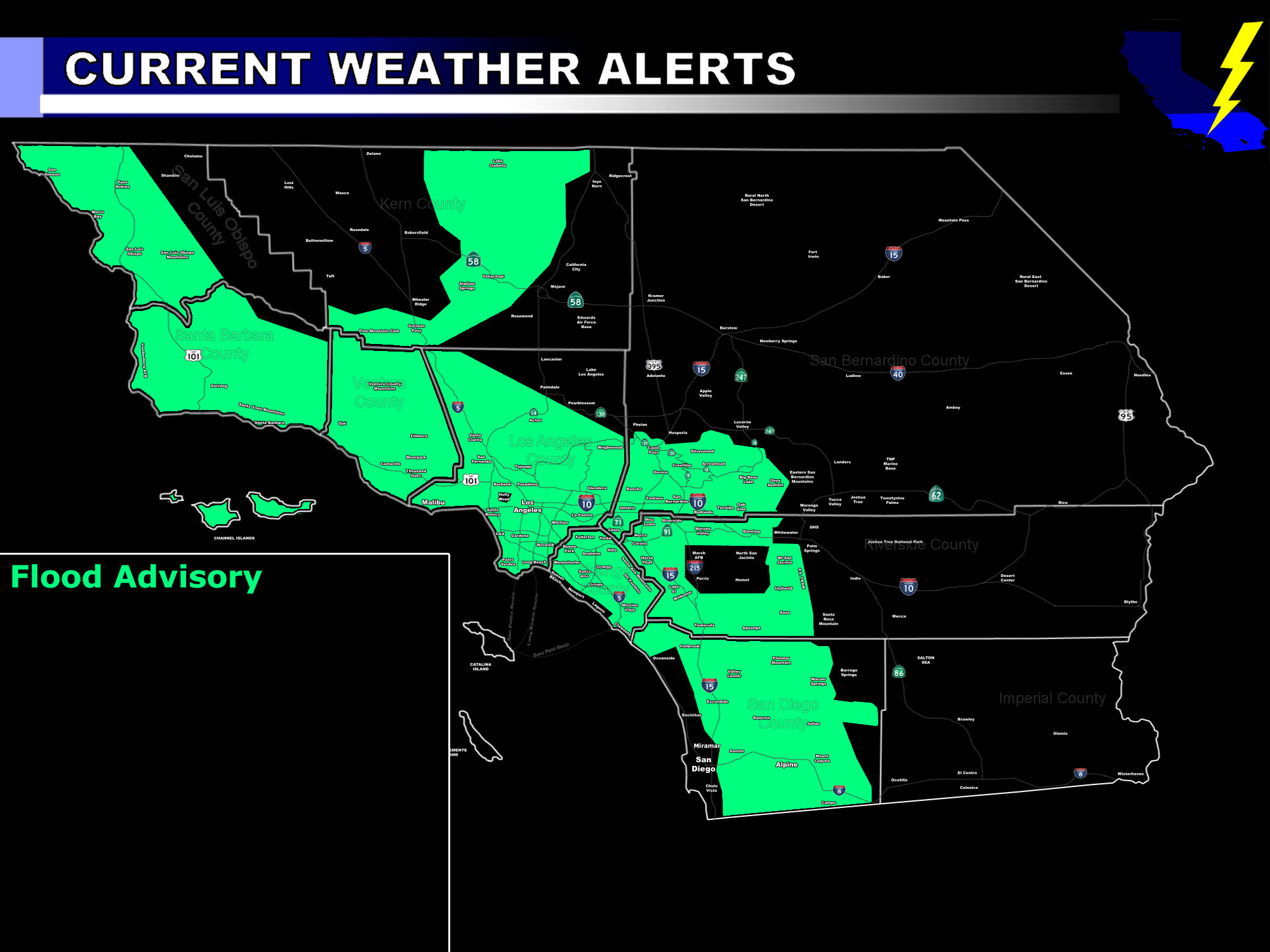 [/vc_column_text][vc_column_text]Issued Zones:  Western half of San Luis Obispo County … Santa Barbara County … Kern Mountains … Ventura County … Los Angeles County minus Deserts … The Inland Empire … Orange County minus coasts … San Diego County minus coasts and deserts … RIV/SBD Mountains … Channel Islands …
Site:  SouthernCaliforniaWeatherForce.com has issued a Flood Advisory effective now through Friday morning …
Date:  12/15/16 at 7:25am PT
Forecast: A tropical atmospheric laden storm system will hit the area today and tonight.  The flood advisory is for heavy rain that will lead to flood in the hills for mudslides … and road flooding in the flatter land areas.  Heaviest rain will arrive this evening for the SLO/SBA/VT county areas, spreading overnight into the LA/OC/IE/SD forecast zones. 
A number of things to consider with this will be the heavy rainfall sure … but also within the coast/basin/valley zones will be the risk of strong winds … which could bring some trees down .. especially near the coast where the winds have an unobstructed terrain they are coming from.  Rain will start in areas well before the main front today .. .but the main action is this evening and overnight … into sunrise Friday morning … Could easily see 1-2″ of rainfall in most of the advisory zone with the tropical type atmosphere … and over 3+" in the mountains below the snow level, which will remain very high through the heaviest precipitation on the front … briefly hitting 8,000 FT before sunrise on Friday morning.

10 mile rule:  These alerts issued on this site means that within your zone and 10 miles from you will see the event forecast for.  You may or may not see the event but it means you are in the zone or 10 miles from where someone will.
Forecaster: KM[/vc_column_text][/vc_column][/vc_row][vc_row][vc_column][vc_column_text]
If this doesn\'t say "you like this" below then click the LIKE button if you thought this was good information! This helps spread the word by just ONE LIKE … Do it every time if you enjoy these … Thanks for helping!
[/vc_column_text][vc_facebook type="button_count"][/vc_column][/vc_row][vc_row][vc_column][/vc_column][/vc_row]