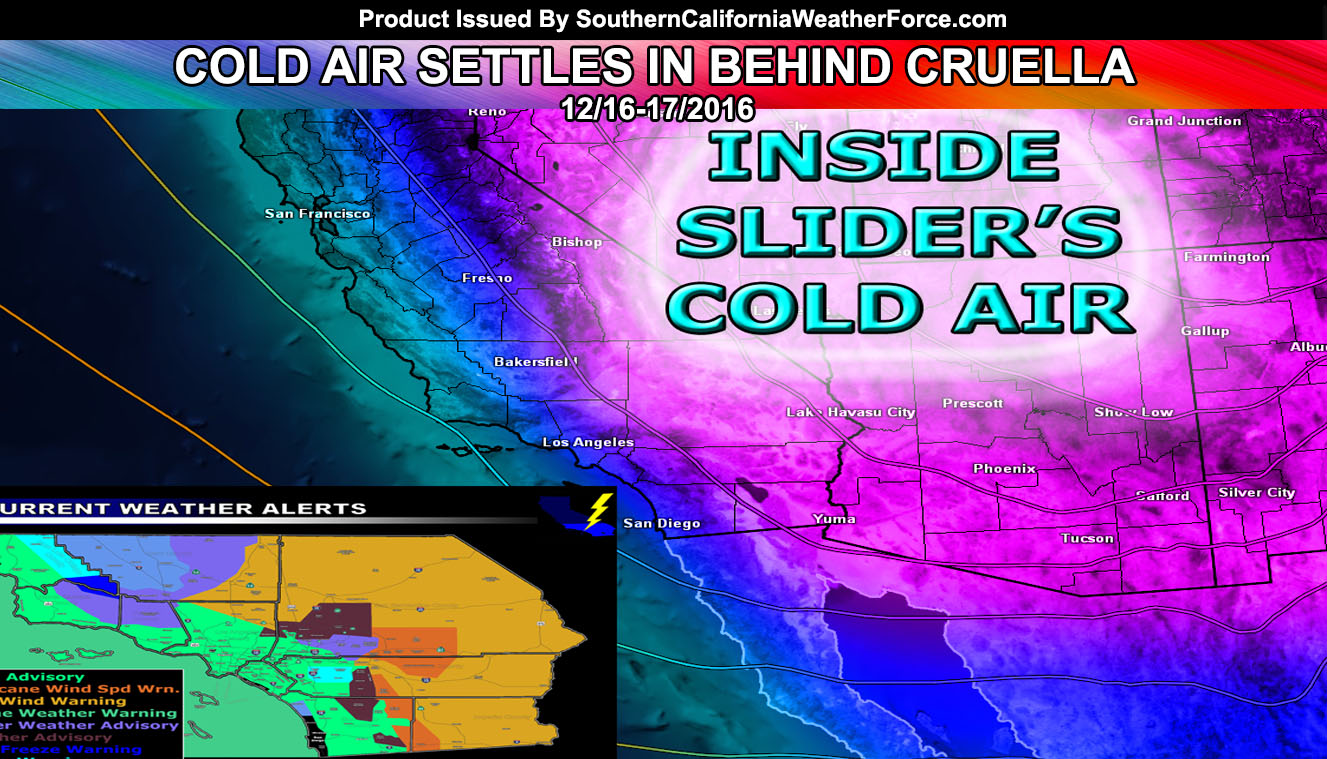 Pacific Storm Cruella delivered the exact rainfall predictions thought, including the strong winds on and along the frontal zone in various parts of the forecast area.  There will be a risk of snow in some mountain areas, however the real story is the coldest temperatures of the season overnight tonight for inland metro areas with even the 40s at the coast … so read on for details.
Cruella has moved on with a dragging front remaining to clear San Diego County today.
Strong northwest flow will drop the snow level later this afternoon into the evening for the Gorman Pass and Big Bear Lake areas …
A separate impulse that is not part of Pacific Storm Cruella will act as a backdoor cold front later today and into some of tonight …
This backdoor front will keep moisture backed against the Kern County Mountains, including the Gorman Pass where anywhere from 1-3″ of snow is possible … and possibly as much as 4-6″ of snow for Bear Valley Springs.
The San Bernardino Mountains will get a very quick but hard hitting band of snowfall this evening or early tonight and accumulate quite quick so it may surprise drivers out there … be advised on this one coming up from Lucerne Valley or the Inland Empire.
The Crestline zones will see far less than the Big Bear, Arrowhead, and Green Valley Lake areas, where 1-3″ of snow is possible in all those areas …
While some areas of the forecast area is placed under my winter weather advisory product, areas with the chance of snow falling but not accumulating as much as the other zones will be in this weather advisory product.
Onshore flow for the RIV/SD Mountains through later today and tonight may provide for enough lifting to pop-off some upslope snow-showers.
The backdoor cold front coming in from Big Bear will lose a lot of the energy as it moves south, but onshore flow ahead of it will provide the lifting for the RIV/SD Mountains.Wrightwood will be on the weaker west end of the moisture band and lifting so I expect a dusting there as well.
I have placed the Oak Hills, Hesperia, Apple Valley, and Lucerne Valley in this just in-case moisture levels are higher than I am forecasting … with Lucerne Valley getting a chance of flurries with this system more-so than other areas highlighted.
INLAND EMPIRE – This evening/night … onshore flow will set in and it is possible that in the Highland, Yucaipa, Banning Pass areas that the line of activity off Big Bear will move south into those areas .. .so a VERY SMALL section of the inland empire may get additional p[precipitation .. with a mixing light snow near Upper Yucaipa …
Marine Weather Warning will continue through today as waves are dangerous along with the gusty coastal/bight winds …
Cold air settles into the region after the clouds clear and radiational cooling sets in.  Many Valley areas will be in the 30s, some areas below that in the Eastern sections at higher elevations of the valleys … with Hard Freeze Warnings up from me in the HIgh Desert areas.  This is where you wrap your pipes if needed …
Full Members can see the flood risk, rainfall maps, and more during events … Click Here To Enter the Member Section
Make sure you like your micro-climate group!  That is where the alerts and magic happens … – http://www.southerncaliforniaweatherforce.com/scwf-weather-alert-facebook-groups-by-region/