[vc_row][vc_column][vc_column_text]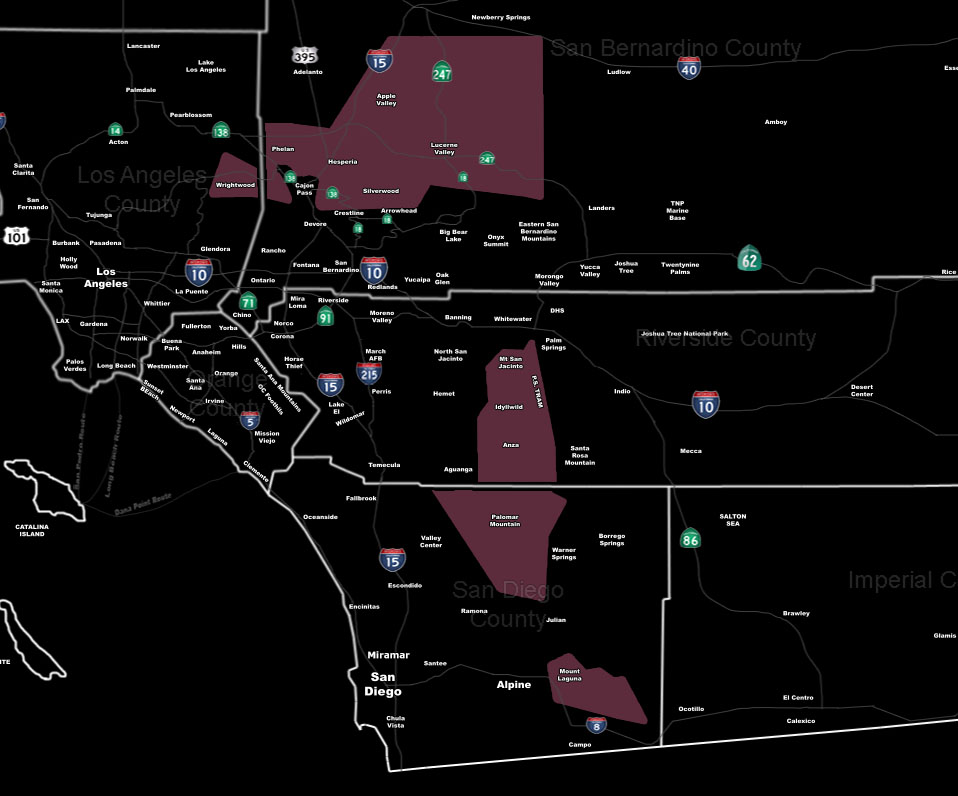 [/vc_column_text][vc_column_text]Issued Zones:  Wrightwood, Oak hills/Phelan, Hesperia/Apple Valley, especially LUCERNE VALLEY … Riverside Mountains above 4,000 FT … Mt. Laguna in the San Diego Mountains …
Site:  SouthernCaliforniaWeatherForce.com has issued a Weather Advisory effective now through some of tonight
Date:  12/16/16 at 10:30am PT
Forecast: While some areas of the forecast area is placed under my winter weather advisory product, areas with the chance of snow falling but not accumulating as much as the other zones will be in this weather advisory product. 
Onshore flow for the RIV/SD Mountains through later today and tonight may provide for enough lifting to pop-off some upslope snow-showers. 
The backdoor cold front coming in from Big Bear will lose a lot of the energy as it moves south, but onshore flow ahead of it will provide the lifting for the RIV/SD Mountains. 
Wrightwood will be on the weaker west end of the moisture band and lifting so I expect a dusting there as well. 
I have placed the Oak Hills, Hesperia, Apple Valley, and Lucerne Valley in this just in-case moisture levels are higher than I am forecasting … with Lucerne Valley getting a chance of flurries with this system more-so than other areas highlighted.

NOTE:  Members can see custom develop snow model forecasts during active alerts.
Click Here To Enter The Member Section
10 mile rule:  These alerts issued on this site means that within your zone and 10 miles from you will see the event forecast for.  You may or may not see the event but it means you are in the zone or 10 miles from where someone will.
Forecaster: KM[/vc_column_text][/vc_column][/vc_row][vc_row][vc_column][vc_column_text]
If this doesn\'t say "you like this" below then click the LIKE button if you thought this was good information! This helps spread the word by just ONE LIKE … Do it every time if you enjoy these … Thanks for helping!
[/vc_column_text][vc_facebook type="button_count"][/vc_column][/vc_row][vc_row][vc_column][/vc_column][/vc_row]