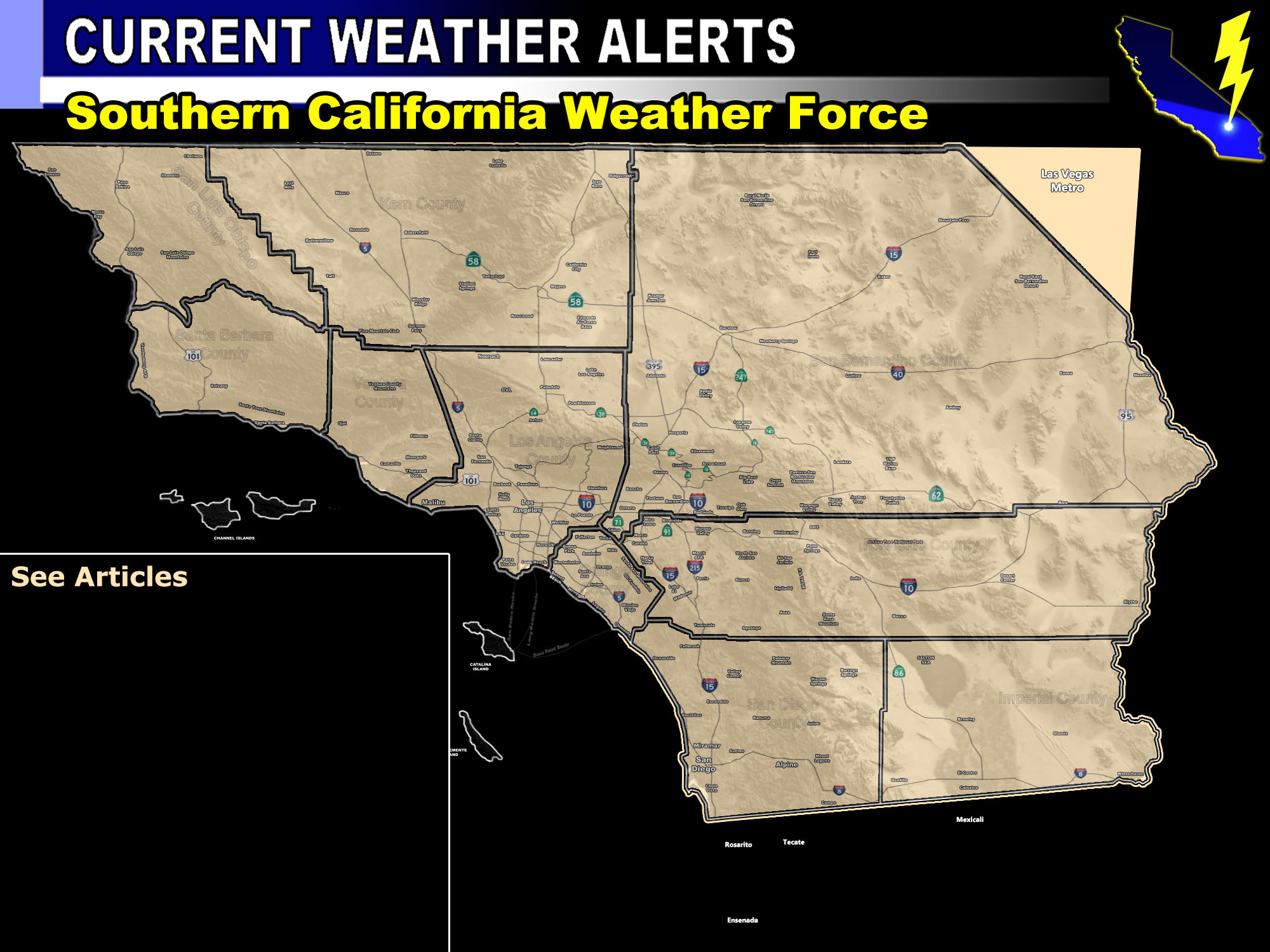 Issued Zones:  Ventura and Orange County … Los Angeles coast/basin/valleys … The Inland Empire … Rim of the San Bernardino Mountains … Cajon Pass …
Site:  Southern California Weather Force has issued a Flood Warning effective now through Thursday evening …
Date:  1/16/19 at 11:15am PT
Forecast:  The most powerful and the last impulse of Major Pacific Storm Trump hits the area tonight with a start off … but races through on Thursday morning.  This system will push snow levels to over 9,000 FT and this is a tropical laden Atmospheric River flow.  Member section precipitation charts shows this is not one to take lightly even out of the burn areas. 

Widespread 1-2″ rainfall amounts with just this impulse will be likely in all sections of the warning zone, with the exception of parts of the Inland Empire area around Canyon Lake and Perris where rain-shadowing effects from the Santa Ana Mountains would bring a bit less rainfall totals there.  There is also a risk of thunderstorms in parts of the watch area, with better chances Los Angeles westward to Ventura and less strikes elsewhere.

This is a worst case scenario in spots where snow fell at lower elevations and it will melt with higher snow levels in a tropical type atmosphere indicated of El Nino's effect and sending it into the rivers, washes, and creeks.  Some burn area amounts as followed;

Holy: 1-2″
Cranston: 1″
Malibu: 2-3″
Ojai and Montecito:  3-4″

The rest of you can see the images below for the rainfall amounts expected.  Premium members can zoom into their house area – Other viewers can click the image below for a larger outlook.  This is experimental.

PREMIUM MEMBERS – Click here to check out what is updated today in the SCWF member area …
Join A Micro-Climate Group On Facebook For These Alerts – Click Here To Find Your Location Served By SCWF Today!
10 mile rule:  These alerts issued on this site means that within your zone and 10 miles from you will see the event forecast for.  You may or may not see the event but it means you are in the zone or 10 miles from where someone will.
Forecaster: KM