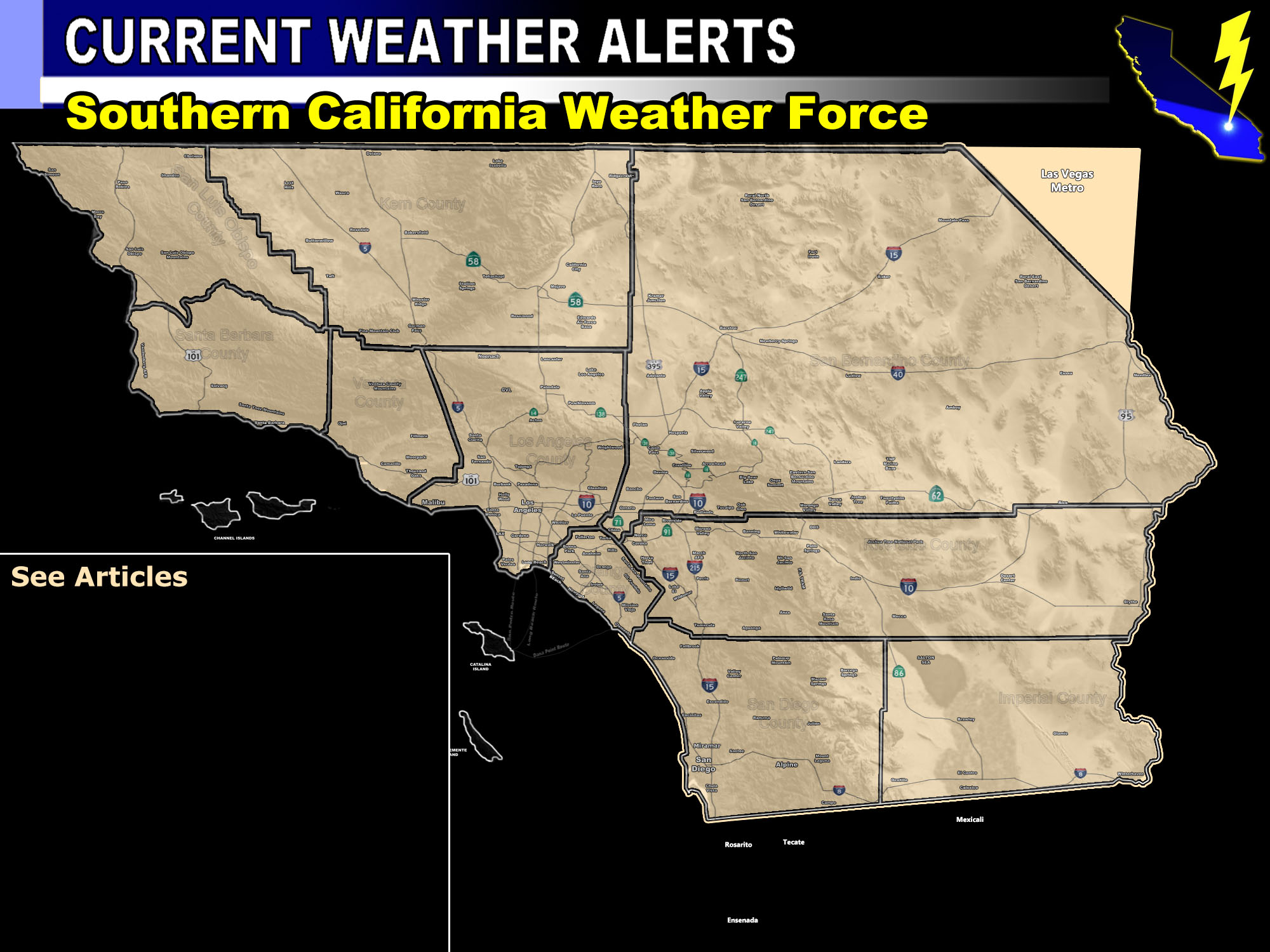 Issued Zones:  San Luis Obispo, Santa Barbara County … Ventura/Los Angeles Metros … Orange County … The Inland Empire … San Diego County Metro to Mountains … Riverside Mountains …
Site:  Southern California Weather Force has issued a Squall-line Warning effective now for Saturday …
Date:  2/1/19 at 12:30 pm PT
Forecast: A Major Pacific Storm is about to enter the forecast area, with the main impacts being on your Saturday.

Light precipitation will start as early as this afternoon/evening across areas west of Los Angeles with Los Angeles, OC, IE, San Diego seeing the warm-frontal light showers overnight into Saturday morning.  The front will take on the shape of a 'snake' with a very pronounced squall-line on radar by Saturday morning at San Luis Obispo and Vandenberg, hitting Los Angeles by the afternoon and finally The Inland Empire and San Diego by early evening.

This squall-line warning is for torrential downpours with very strong and damaging winds that will topple trees and power-lines so as I stated in earlier forecasts… prepare for that or you'll have a nice hood ornament.

Rainfall estimations in my forecast model have well over 3-6 inches in the Santa Barbara to Los Angeles burn areas, including the LA / San Bernardino Mtn. Foothill areas and the adjacent valleys south of them with widespread 2-4″ in the coastal/valley zones, including the Holy Fire Burn Scar.  1-3″ is in my forecast for San Diego on the 'weaker' but do not take this system lightly at all.. it is a dangerous storm with those winds along the squall-line.

The waterspout watch is also included in this because with such strong shear in place and 'some' surface instability … I do think we will strong rotation on radar and even making it onshore as a small tornado.  Really wouldn't matter much because the straight-line winds within the squall-line will be everywhere and damaging.

Vandenberg, you'll see the 50-60 mph wind gusts as will San Luis Obispo.  The rest of the forecast area from Santa Barbara, LA, OC, IE, San Diego will see the 45 to 55 mph wind gusts.  I don't think anywhere will be below 40 mph in gusts within any part of this warning area.

The following select areas is the timing as followed for the squall-line to hit on Saturday;

Vandenberg / San Luis Obispo – 6am
Santa Barbara – 8am
Ventura – 9-10am
Los Angeles – Noon – 1pm
Orange County – 2pm
Ontario – 4pm
Hemet – 5pm
San Diego – 5-6pm

That is it.  This will have minimal if no thunderstorm dynamics on the main squall-line.  This will mainly be a very powerful wind/rain event.

Another system comes in Monday and Tuesday, which could be Warren so stay tuned to official forecasts from Southern California Weather Force for updates.

PREMIUM MEMBERS – Click here to check out what is updated today in the SCWF member area …
Join A Micro-Climate Group On Facebook For These Alerts – Click Here To Find Your Location Served By SCWF Today!
10 mile rule:  These alerts issued on this site means that within your zone and 10 miles from you will see the event forecast for.  You may or may not see the event but it means you are in the zone or 10 miles from where someone will.
Forecaster: KM