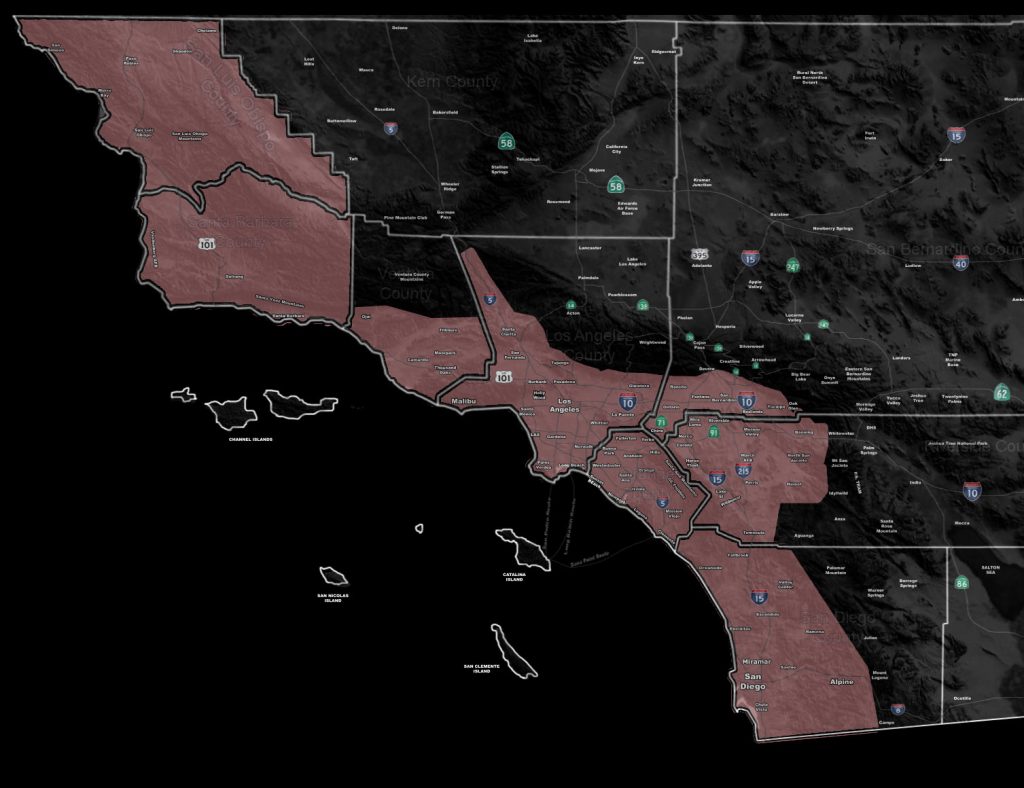 Issued Zones:  San Luis Obispo, Santa Barbara, Orange County … Ventura/Los Angeles/San Diego Metro Counties … The Inland Empire …
Site:  Southern California Weather Force has issued a Weather Advisory effective now through Sunday …
Date:  2/16/19 at 2:30 pm PT
Forecast:  Scattered showers are moving across the western forecast area this afternoon and will increase in coverage for the SLO/SBA/KERN County areas this evening and especially overnight. 

There are some discrepancies in the intensity of the front for Ventura and Los Angeles County.  Some of me wants to ignore my rain model for these areas and give you a quick round of moderate rainfall rates later Sunday morning in Ventura and afternoon for the LA/OC/IE areas.   

A westerly flow means that upslope activity is likely with this and therefore the areas with the most precipitation would be the Santa Ana Mountains, northeast to the slopes of Banning/Yucaipa and southward along the western slopes of the Riverside and San Diego County Mountains.  If this flow does hit, we could be seeing a flood advisory in some burn areas in the IE/RIV zones.

In addition to the round of rainfall, gusty winds are very likely out of the west and therefore could pose another risk of 'downed poles/trees' in the advisory zone.  The wind model on the link below will give you an idea what MPH in gusts I am going for.

RAIN/WIND MODEL – Click Here and into the "Snow' tab to type your address in the search and see what you have.  The key is to the very right of the map when zoomed out.

EMAIL ALERTS:  Get these to your e-mail by upgrading to a full member.  It pays for itself in just ONE weather event:  Click Here To Learn More
Join A Micro-Climate Group On Facebook For These Alerts – Click Here To Find Your Location Served By SCWF Today!
10 mile rule:  These alerts issued on this site means that within your zone and 10 miles from you will see the event forecast for.  You may or may not see the event but it means you are in the zone or 10 miles from where someone will.
Forecaster: KM