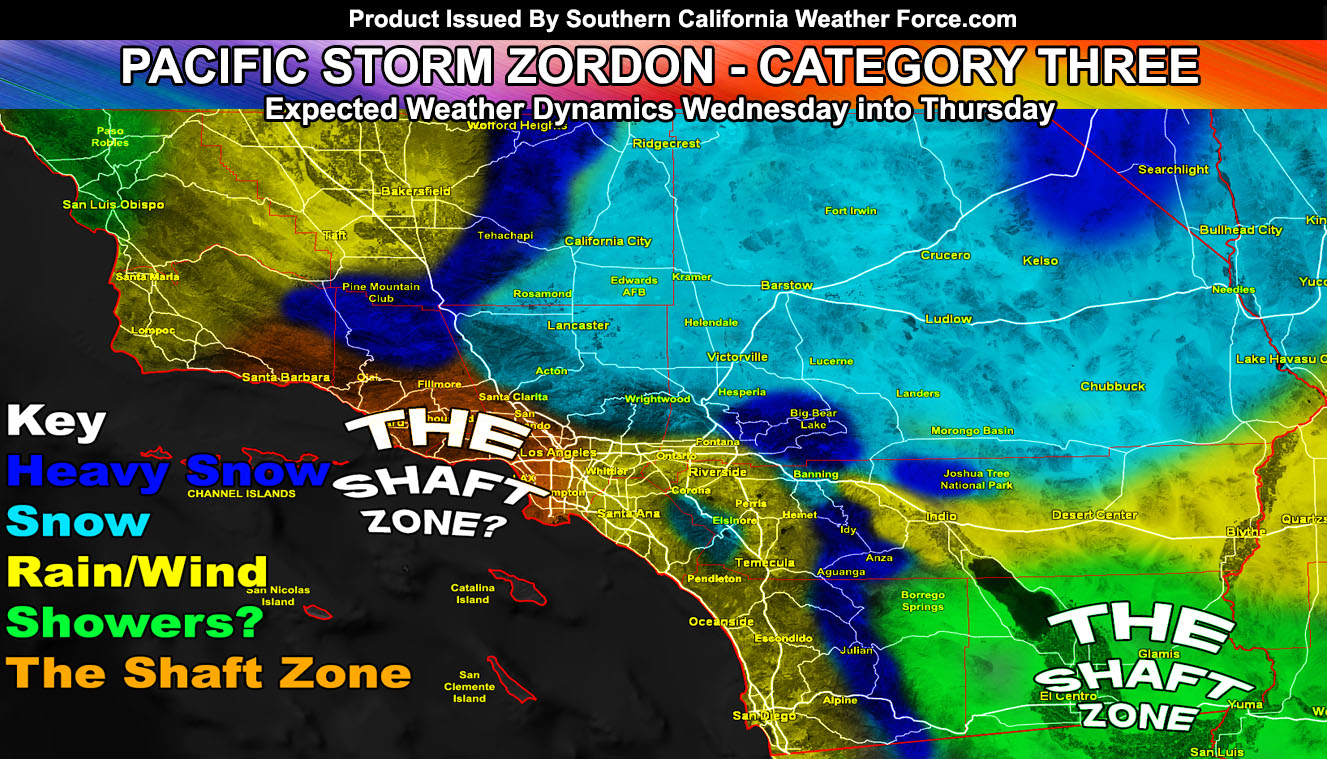 A slew of weather events spanning two days will be likely as the coldest storm since December 2014 heads down the West Coast and into our region by later Wednesday and lasting through Thursday.  The system will bring low snow levels for some, two shaft-zones, and closures of major mountain passes.  Read on for details on Pacific Storm ZORDON, Category Three …
First I will say the shaft-zones.  As always the Imperial Valley areas will have less rain due to the unfavorable low-level flow.  Also the same for Ventura to around Downtown Los Angeles and LAX.  Unfavorable northwest to southeast flow will keep those areas in the 'shaft-zone'.
I've issued a slew of Winter Storm Watches that coincide with my snow-model freely available on the main page under the snow-tab.  It reads; The coldest system since December 2014 will come into the region later Wednesday and last and Thursday.  This is an inside slider system so what we're looking at is heavy mountain snow with a starting snow level of 3,000 FT.  This would include all mountain pass zones heading in and out of the metro areas for at least some snow and even ice.  The snow model here at SCWF is going with heavy snowfall in the San Bernardino, Kern, Riverside, and San Diego County Mountains, with less in the Los Angeles/Ventura Mountain areas.  This does make sense since the surface low will be over Vegas producing snow over there and the onshore flow will be to the northeast into it, which would put those ranges in the highest lifting dynamics.  Can really go for some areas in those range at over 18-24″ of snowfall, especially Mt. San Jacinto, San Diego Mountains, and the RIM of the San Bernardino Mountains with 8-14″ in Big Bear.  The highest winds will be in the Riverside and San Diego County Mountains, where a Blizzard Warning product would be the final issuance from me.  The rest would upgrade to Winter Storm Warning by Wednesday morning on the final outlook.  There is a chance for snowfall on Highway 74 in the Ortega Highway areas so I've included you as well.  There is a chance of thunderstorms in the entire watch region with this event, which can and does bring heavier bursts of snowfall.
As for the rest of the forecast area.  Northwest flow will bring off and on activity in the Kern Valleys, The Inland Empire, and San Diego/Orange County.  San Diego will see more rainfall than the Inland Empire and the same for OC vs San Diego.  San Diego County is the winner with this flow.
The High Desert will need a Winter Weather Advisory from the metro High Desert spanning the Antelope Valley, Victor/Lucerne/Johnson Valley, east to the Joshua Tree National Park areas and parts of the Morongo Basin.  This flow guarantees some snowfall in these areas.
Las Vegas will be impacted by this event.  I'm foreseeing a full closure of Mountain Pass near Stateline  If you have plans to get to Vegas, do so before noon on Wednesday because you won't get there.
Expecting the region where I have rain/wind etc to start popping off showers as early as 10 am and increasing through the day on Wednesday.  Really no frontal zone with this one so it'll just ignite out of nowhere in the shaded rain, wind, and snow areas.
Over the day on Thursday we get some instability moving in… This is when we will have some thunderstorm risks out there, minus the 'shaft-zones'… so no need to ask me if you will see much with this.
Flooding is NOT anticipated with this system.
As always, stay tuned to Southern California Weather Force for further details.
OPTIONAL:  Southern California Weather Force main page now has models, agendas, the alert map, and other things updated during storm events.  You can bookmark the main site and check back during an event for the latest updates.
Click here to view the main page
EMAIL ALERTS:  It pays for itself in one storm system.  A very affordable e-mail alert system that only gives you SCWF weather alerts in YOUR micro-climate area.
Click here to join
MICRO-CLIMATE ALERT FACEBOOK GROUPS:  Find yours today!
Click here to join
---
SOUTHERN CALIFORNIA ONLY:  if it does not say "Liked"  LIKE The Page Below and join thousands of informed weather forecast viewers in our region for more of the updates! noticeable
BEHIND THE SCENES FORECASTS/UPDATE PAGE:  if it does not say "Liked"  LIKE The Page Below and join thousands of informed weather forecast viewers in our region for more of the updates! noticeable