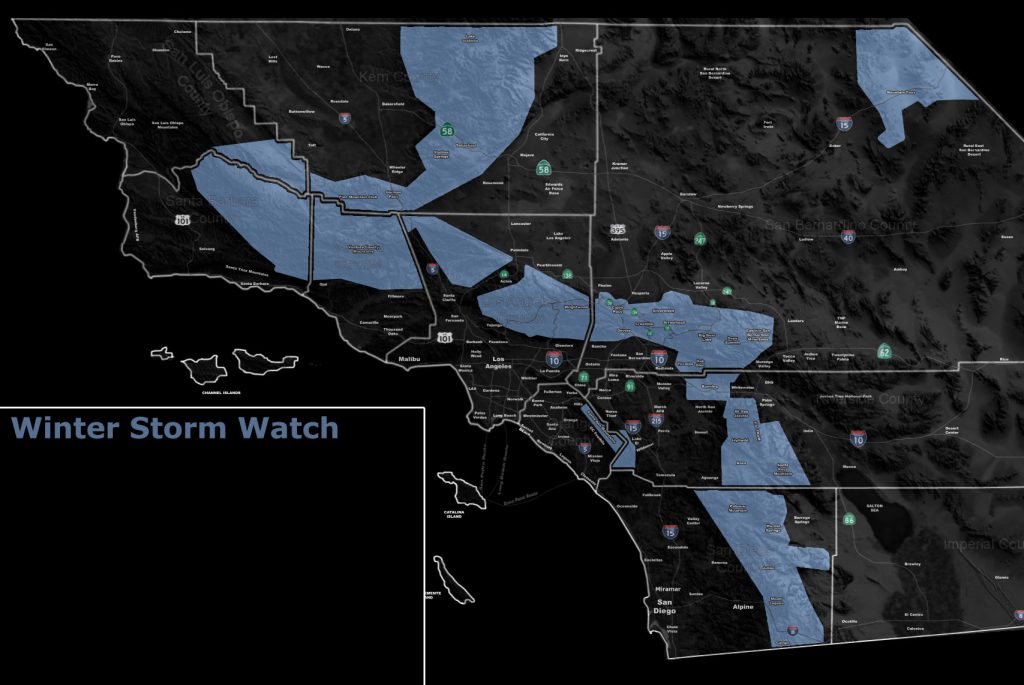 Issued Zones:  ALL Southern California Mountain Range and Pass Locations …
Site:  Southern California Weather Force has issued a Winter Storm Watch effective now … 
Date:  2/19/19 at 10:30am PT
Forecast: The coldest system since December 2014 will come into the region later Wednesday and last and Thursday. 

This is an inside slider system so what we're looking at is heavy mountain snow with a starting snow level of 3,000 FT.  This would include all mountain pass zones heading in and out of the metro areas for at least some snow and even ice. 

The snow model here at SCWF is going with heavy snowfall in the San Bernardino, Kern, Riverside, and San Diego County Mountains, with less in the Los Angeles/Ventura Mountain areas.  This does make sense since the surface low will be over Vegas producing snow over there and the onshore flow will be to the northeast into it, which would put those ranges in the highest lifting dynamics. 

Can really go for some areas in those range at over 18-24″ of snowfall, especially Mt. San Jacinto, San Diego Mountains, and the RIM of the San Bernardino Mountains with 8-14″ in Big Bear. 

The highest winds will be in the Riverside and San Diego County Mountains, where a Blizzard Warning product would be the final issuance from me.  The rest would upgrade to Winter Storm Warning by Wednesday morning on the final outlook.

There is a chance for snowfall on Highway 74 in the Ortega Highway areas so I've included you as well.

There is a chance of thunderstorms in the entire watch region with this event, which can and does bring heavier bursts of snowfall.

Get These In Your Email On The Alert System;
Click Here To Learn How TO Upgrade To Supporting Member

SNOW MODEL – Click Here and into the "Snow' tab to type your address in the search and see what you have.  The key is to the very right of the map when zoomed out.
Join A Micro-Climate Group On Facebook For These Alerts – Click Here To Find Your Location Served By SCWF Today!
10-mile rule:  These alerts issued on this site means that within your zone and 10 miles from you will see the event forecast for.  You may or may not see the event but it means you are in the zone or 10 miles from where someone will.
Forecaster: KM