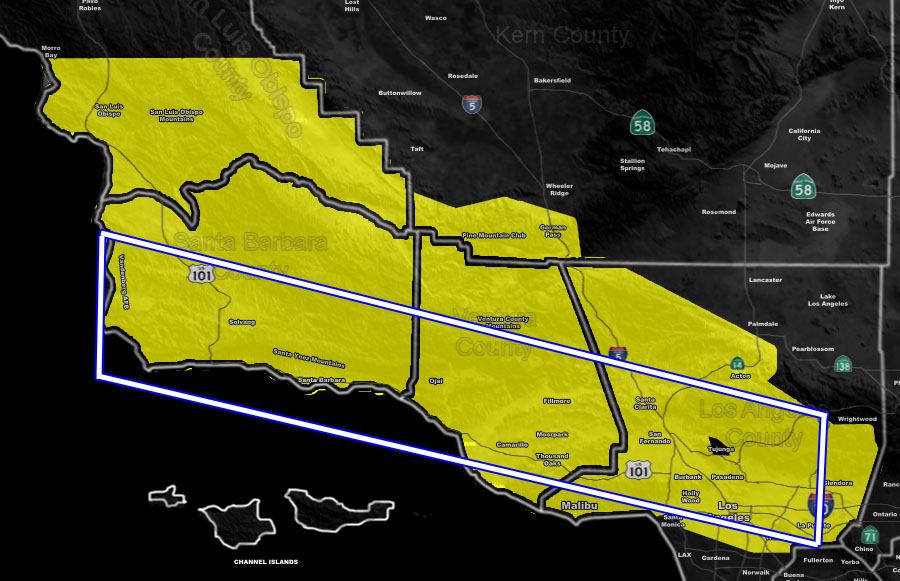 Issued Zones:  Southern San Luis Obispo County … Santa Barbara, Ventura, and Los Angeles Metros … Western LA Mountains Highway 14 …  Gorman Pass to PMC region of the Kern Mountains …
Site:  Southern California Weather Force has issued a Severe Thunderstorm Watch effective now through Wednesday morning …
Date:  3/5/19 at 6:20pm PT
Forecast: As stated in the Flash Flood Watch and Flood Advisory, the region would experience thunderstorm chances.  These chances have happened this evening with a round of thunderstorms moving through the alert zones.  However, this will only increase overnight and into Wednesday morning as the stronger low level jet dynamics moves in. 

This will bring about the risk of damaging winds and torrential downpours, along with frequent lightning in the watch area.  Pretty much everywhere in the shaded zones will have lightning through tonight … the strongest wind + lightning potential however will be very early Wednesday morning, which will make for a messy commute. 

The activity should remain along the Pacific Coast HIghway and Highway 101, east to I-5 in the SCV/SFV and along the 210/10 in LA County.  I do not anticipate an extension to Long Beach for the severity.

EMAIL ALERTS:  Get these to your e-mail by upgrading to a full member.  It pays for itself in just ONE weather event:  Click Here To Learn More


Additional Models:  Visit the main site to see what was updated in terms of rain/snow/flood risk and more – Click Here
Join A Micro-Climate Group On Facebook For These Alerts – Click Here To Find Your Location Served By SCWF Today!
10 mile rule:  These alerts issued on this site means that within your zone and 10 miles from you will see the event forecast for.  You may or may not see the event but it means you are in the zone or 10 miles from where someone will.
Forecaster: KM