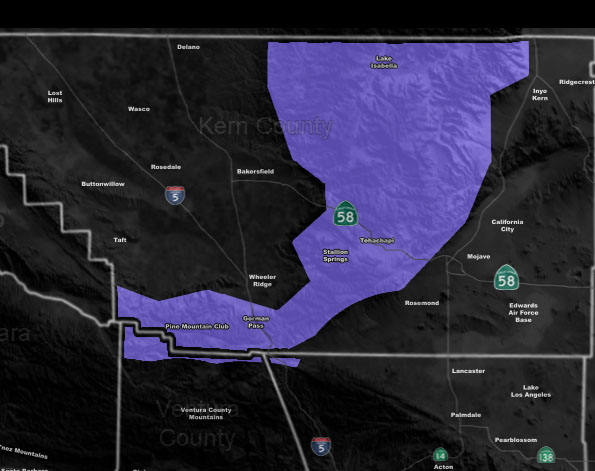 Issued Zones:  The Kern County Mountains, including all passes … Gorman …
Site:  Southern California Weather Force has issued a Winter Weather Advisory effective Thursday evening through Friday …
Date:  3/6/19 at 11:15 am PT
Forecast:  The back-end of a Pacific Storm will move in and finally drop the snow levels below the 5,000 mark later on Thursday into Thursday night …and into Friday. 
The combined lift from the strong northwest winds in the low-levels will bring the snow level to 4,000 FT and thus affect the I-5 corridor/Tehachapi areas as well as all zones of the Kern County Mountains. 
Given what I see, realistically we will see over 2+" with room to head on up in amounts from there in many areas. 
This winter weather advisory is for heavy snowfall at times, gusty winds, and also closures of the mountain passes, especially the I-5 corridor between Thursday evening and Friday afternoon …
A chance of thunderstorms is also in my forecast, thus thundersnow is possible …

EMAIL ALERTS:  Get these to your e-mail by upgrading to a full member.  It pays for itself in just ONE weather event:  Click Here To Learn More
Additional Models:  Visit the main site to see what was updated in terms of rain/snow/flood risk and more – Click Here
Join A Micro-Climate Group On Facebook For These Alerts – Click Here To Find Your Location Served By SCWF Today!
10 mile rule:  These alerts issued on this site means that within your zone and 10 miles from you will see the event forecast for.  You may or may not see the event but it means you are in the zone or 10 miles from where someone will.
Forecaster: KM