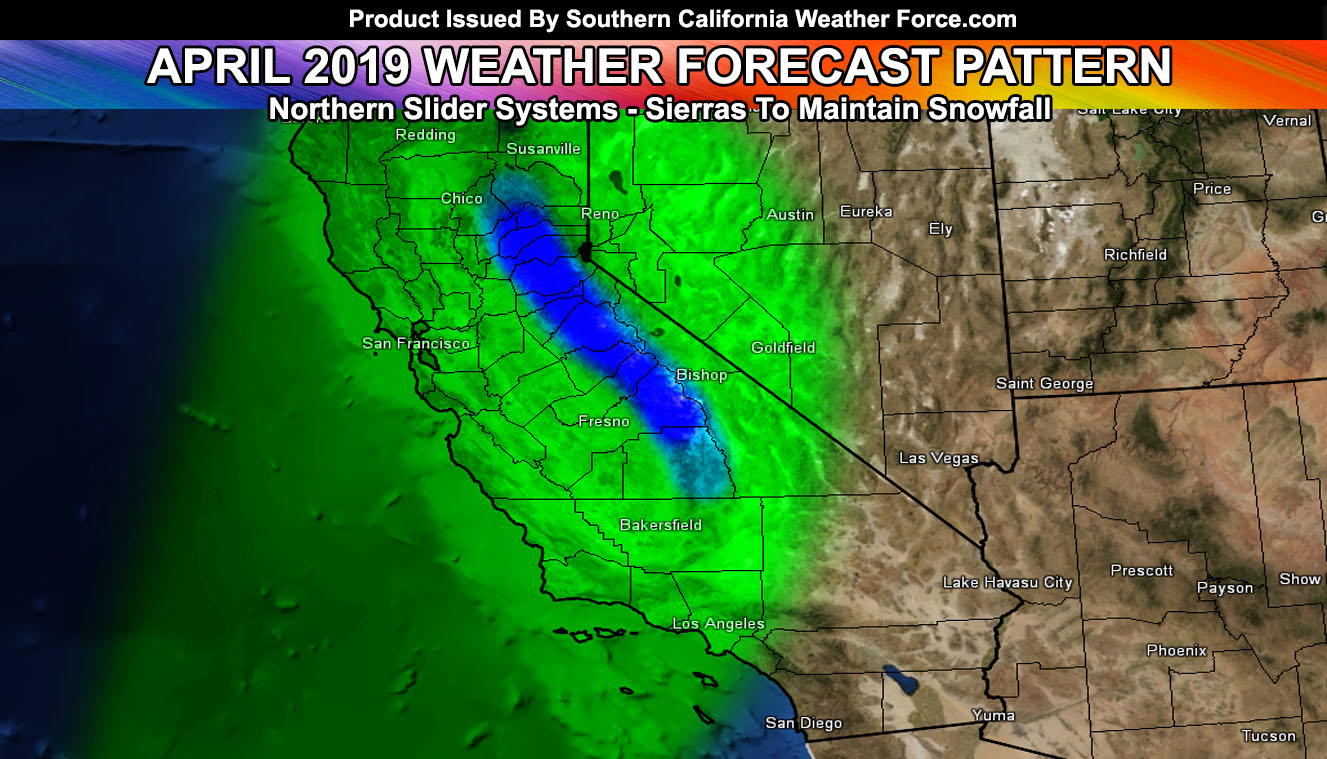 The forecast for March went as expected, almost too good with the correct average temperatures and average to above average rainfall across the region, noting the Los Angeles is the target for all of these. Read on for what will April hold.
April 1st started out with above average temperatures, however a trough system moving through the area will cool us down over the next several days. During the second week of April the heat is expected to return under a quick ridge of high pressure so if you're planning anything around say the 7th through the 11th then you are in luck for some nice springtime weather, even nudging slightly toward the Summer temps, which will run into parts of the Coachella Music Festival as well near the end of the 'heatwave' and into another storm pattern after the 11-12th period so it could very well run into cooler than average for the Music Festival this year, with nominal gusty winds and even the risk of precipitation.
Mid-April will be the brief stormy pattern based off my numbers and we should have less storm patterns after say the 16th or so, but remain with a trough bringing in similar weather that we are seeing this week with the cooling and off and on light shower activity all the way through the end of the month.
Given what I see here, April will be average in temperatures as a result and 0.5 to 1.5″ of rainfall for Downtown Los Angeles for slightly below to slightly above average values for precipitation.
As always, stay tuned to Southern California Weather Force for further details.  Look at the links below for help, including the 'Optional' link if you want to see the addtional maps on the main SCWF page.  Everything is updated accordingly before an event.
For Main Facebook Page Click Here and Join.
End Article
---
OPTIONAL:  Southern California Weather Force main page now has models, agendas, the alert map, and other things updated during storm events.  You can bookmark the main site and check back during an event for the latest updates.
Click here to view the main page
EMAIL ALERTS:  It pays for itself in one storm system.  A very affordable e-mail alert system that only gives you SCWF weather alerts in YOUR micro-climate area.
Click here to join
MICRO-CLIMATE ALERT FACEBOOK GROUPS:  Find yours today!
Click here to join
SOUTHERN CALIFORNIA ONLY:  if it does not say "Liked"  LIKE The Page Below and join thousands of informed weather forecast viewers in our region for more of the updates! noticeable
BEHIND THE SCENES FORECASTS/UPDATE PAGE:  if it does not say "Liked"  LIKE The Page Below and join thousands of informed weather forecast viewers in our region for more of the updates! noticeable