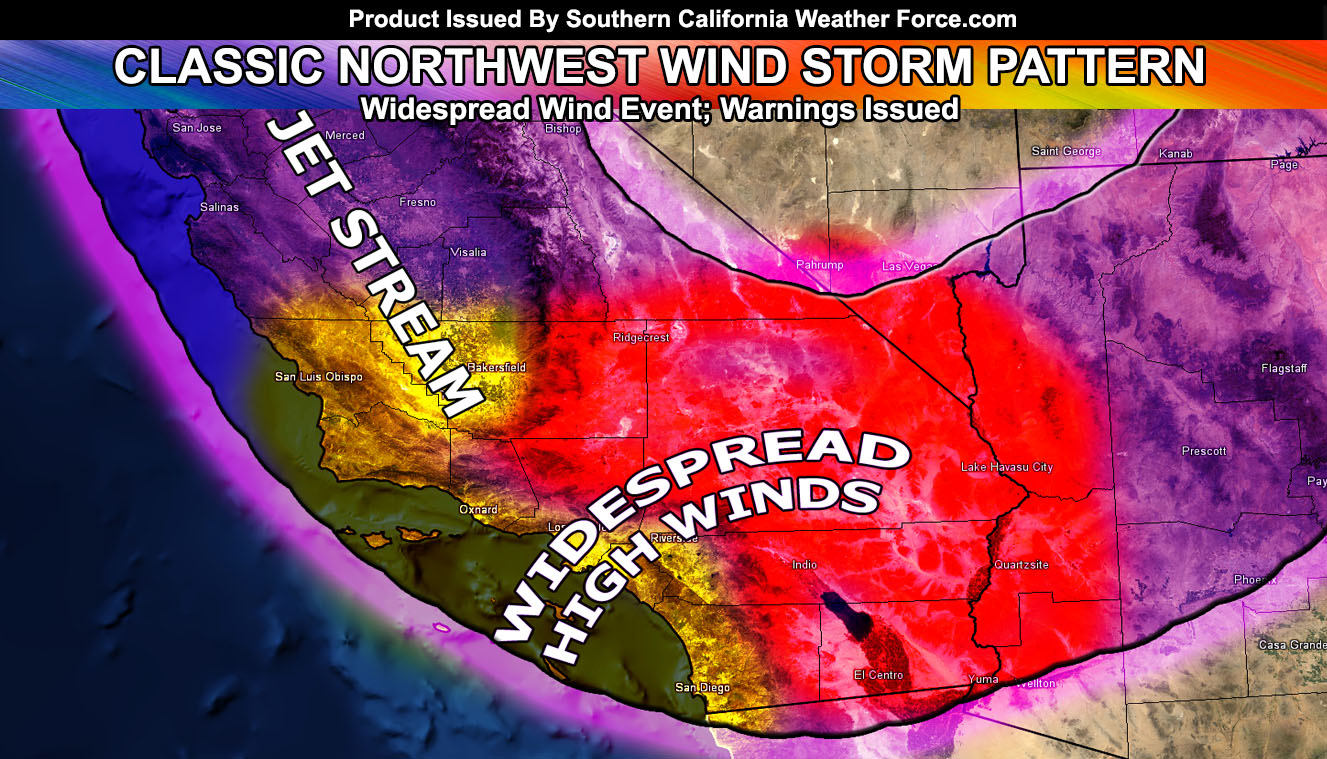 Well, it is official, Palm Springs International Airport hit 100 degrees Fahrenheit today and is still in the 90s this evening.  We have the wind coming next along with cooler temperatures so read on for details.
A ridge over the area has briefly brought temperatures above average, in-line with the Southern California Weather Force April 2019 official forecast outline.  We have a couple more wind events, however, the air will be cooling back down soon.  Palm Springs did hit 100F for your Monday and many basin/valley zones hit the upper 80s and low 90s today.  When will this end?
Well, a strong jet stream will drop down into Southern California on your Tuesday.  I've issued a short term forecast for the Kern Valley and Mountain areas, almost the only area that will see a good amount of precipitation.  A northwest flow will move into the area by around 3-4am Tuesday morning and last for 6-8 hours for the most part.  This flow will allow for cloud tops to go over the 10,000 FT mark and thus heavier precipitation amounts will be possible from the PMC/Gorman zones, up through just south of Tehachapi.  0.50 – 0.75″ of rain is expected in those zones.  Tehachapi will be around a 0.25″ or so with a trace expected in Bakersfield.  Clouds and off and on very light showers will be possible through Tuesday evening and then those winds come in later Tuesday and those will be damaging at times, with gusts well over 60+ mph at times in the mountain and pass zones.
In addition to that, parts of the Victor Valley along I-15 including the Cajon Pass and Rim of the San Bernardino Mountains will see very light rain for a brief period of time between Tuesday afternoon and evening as the front hits the El Mirage Convergence Zone so don't be surprised for some raindrops there, but nothing significant.
This cold front will bring colder air aloft and with this a stronger mid/upper-level jet will surface out of the west and northwest.  The High Wind Warning wind criteria for over 45-60 mph wind gusts will be for ALL Mountain and Desert regions on Tuesday.  This warning will include the Santa Clarita and San Fernando Valley zones as well with the strong northwest flow I like to call a classic I-5 corridor wind event.
In addition to the warning, a widespread wind advisory is now in effect here at Southern California Weather Force for the metro zones of San Diego, Orange County, The Inland Empire, Los Angeles, Ventura, Santa Barbara, San Luis Obispo, and yes even all the way up in the Kern County Valley zones for Tuesday.  Wind gusts well over 30-45 mph in widespread fashion will happen so if you have any outside plans then keep an eye on those winds.  To see the wind/rain map for Tuesday/Wednesday, – CLICK HERE and look at the tabs offered during events.  Hit the wind/rain tab above the main map, it is free to view.
Blowing sand and dust will be likely in the desert zones.
After that, we take a small break under comfortable temperatures and get another inside slider moving in for your Friday.  This looks to keep the ocean swells high, at between 8-12 FT for rough seas along with the return of wind conditions.  This upper jet seems to be slightly further to the south and west than Tuesday and Wednesday's system so we will get a chance of upslope rainfall activity from it, but it again is not expected to amount to much.  Looks like more 'rain' on Friday than many will see with the first event.  So again … really the things with the most focus in the next events will be the strong winds being widespread everywhere and slick conditions on your Friday under the upslope moist onshore flow.
After that, we continue to have average to cooler than average temperatures, but I do not see the heat we experienced today for this time of year.  We could get some straggler systems moving in every once in a while, however, I do not see a major storm issue.  I put this month between 0.5 – 1.5″ so it could go either way, but I prefer to go with the low end of the numbers given how the rest of the pattern in this month is looking, and might even get less than the half-inch mark if this keeps changing.
The rain/wind models have been updated on the main page so check those out.
As always, stay tuned to Southern California Weather Force for further details.  Look at the links below for help, including the 'Optional' link if you want to see the additional maps on the main SCWF page.  Everything is updated accordingly before an event.
For Main Facebook Page Click Here and Join.
End Article
---
OPTIONAL:  Southern California Weather Force main page now has models, agendas, the alert map, and other things updated during storm events.  You can bookmark the main site and check back during an event for the latest updates.
Click here to view the main page
EMAIL ALERTS AND ASK THE WEATHER OFFICE A QUESTION:  It pays for itself in one storm system.  A very affordable e-mail alert system that only gives you SCWF weather alerts in YOUR micro-climate area.  Also, you can ask the weather office a question at any time if you get that add-on.
Click here to join
MICRO-CLIMATE ALERT FACEBOOK GROUPS:  Find yours today!
Click here to join
SOUTHERN CALIFORNIA ONLY:  if it does not say "Liked"  LIKE The Page Below and join thousands of informed weather forecast viewers in our region for more of the updates! noticeable
BEHIND THE SCENES FORECASTS/UPDATE PAGE:  if it does not say "Liked"  LIKE The Page Below and join thousands of informed weather forecast viewers in our region for more of the updates! noticeable