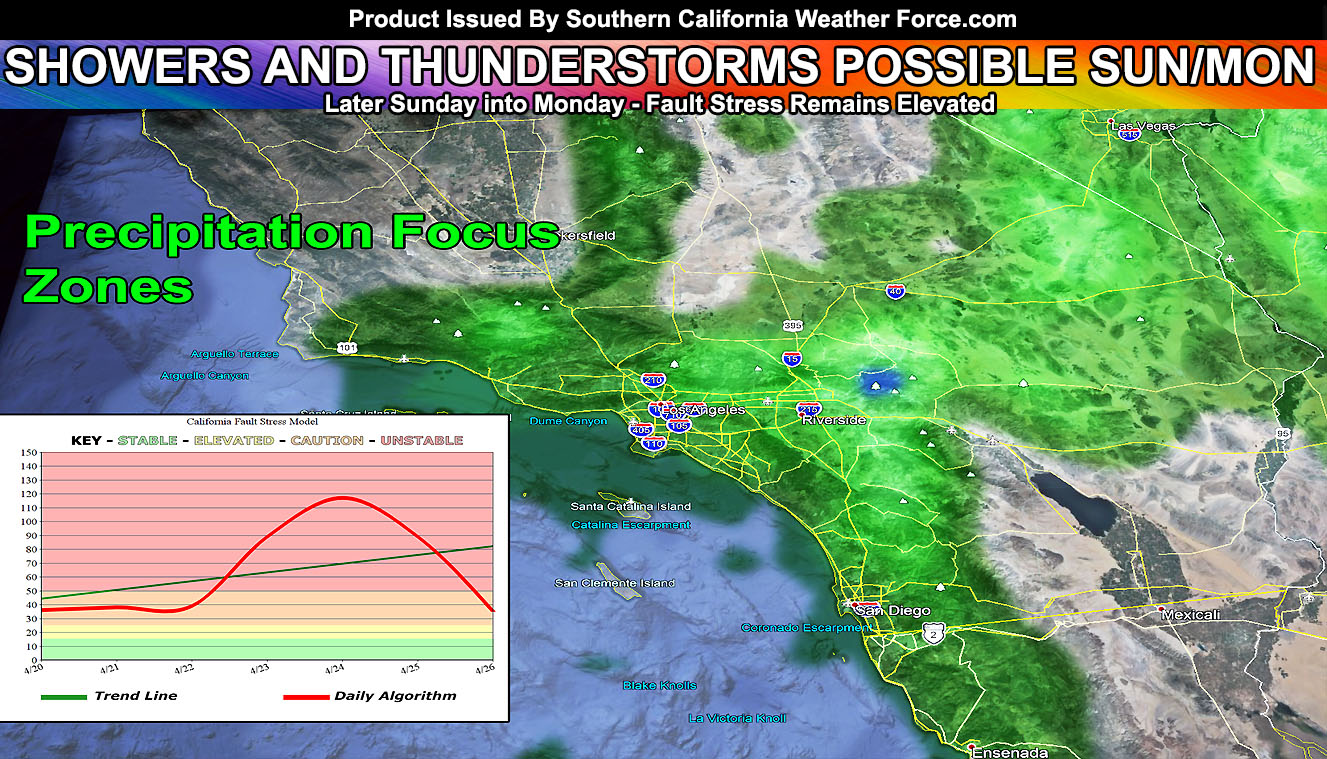 If you follow the main website, this morning's update in the rain tab on the main page featured precipitation chances and thus is calling for that chance in parts of the region, excluding much of the areas north and west of Santa Barbara for shower and thunderstorm activity later Sunday into Monday and pretty much a cluster **** of a forecast I have to deal with so read on for details.
It has been a while since we've seen really any precipitation in the metros of the Southland, but that'll briefly change later this Sunday into Monday as a cutoff low moves into the Martin Storm Diamond.  The main website has tabs and the rain tab was updated this morning clearly showing what areas to look for the most precipitation with this next cutoff system, which will not have a name due to the lack of frontal zone and wind dynamics.  The most probable zones will be inland from the coast for most of the activity as this does lack a bit of low-level moisture so not looking at a coastal event and you will need to have more elevation, such as the mountains, for better rainfall.  not to say the coast won't have the chance at this, but the concentrated dynamics remain inland.  Southern California Weather Force's 50 model system shows that the Santa Barbara, Ventura, Los Angeles, Orange, and San Diego County coastal zones would be affected and that San Luis Obispo would not.  Furthermore, it shows less activity in Bakersfield and some activity in the Kern Mountains with elevation.
Because of the later April sun angle, this will act as a 'monsoonal' pattern with billowing clouds over the higher terrains with convergence zones acting with the metro and coastal zones.  You can see that pattern in the shape of the 'precipitation zones' in the main image in this article with Big Bear being at the heaviest zone.
CURVEBALL CHANCE:  As you know, a cutoff low is a tough SOB to forecast and I can tell you right now that it could easily go a bit south of the Martin Storm Diamond and affect even areas along the Colorado River Valley to Imperial County as well so those zones will continue to be monitored and any changes or updates in the forecast will be given promptly
California Fault Stress Model shows that we are looking at a remained elevated stress region and had a very high spike showing up other the last couple of days.  Where this will give is still being watched, however, spikes like that do give in at one point.
Watching a couple of systems try to nudge the region between May 3rd and 10th, but nothing significant is being seen at this time.
For The Main Weather Facebook Page Click Here and Join.
End Article
---
OPTIONAL:  Southern California Weather Force main page now has models, agendas, the alert map, and other things updated during storm events.  You can bookmark the main site and check back during an event for the latest updates.
Click here to view the main page
EMAIL ALERTS AND ASK THE WEATHER OFFICE A QUESTION:  It pays for itself in one storm system.  A very affordable e-mail alert system that only gives you SCWF weather alerts in YOUR micro-climate area.  Also, you can ask the weather office a question at any time if you get that add-on.
Click here to join
MICRO-CLIMATE ALERT FACEBOOK GROUPS:  Find yours today!
Click here to join
SOUTHERN CALIFORNIA ONLY:  if it does not say "Liked"  LIKE The Page Below and join thousands of informed weather forecast viewers in our region for more of the updates! noticeable
BEHIND THE SCENES FORECASTS/UPDATE PAGE:  if it does not say "Liked"  LIKE The Page Below and join thousands of informed weather forecast viewers in our region for more of the updates! noticeable
FOR THE CALIFORNIA FAULT STRESS MODEL PAGE: if it does not say "Liked"  LIKE The Page Below and join the official page to the California Fault Stress Model