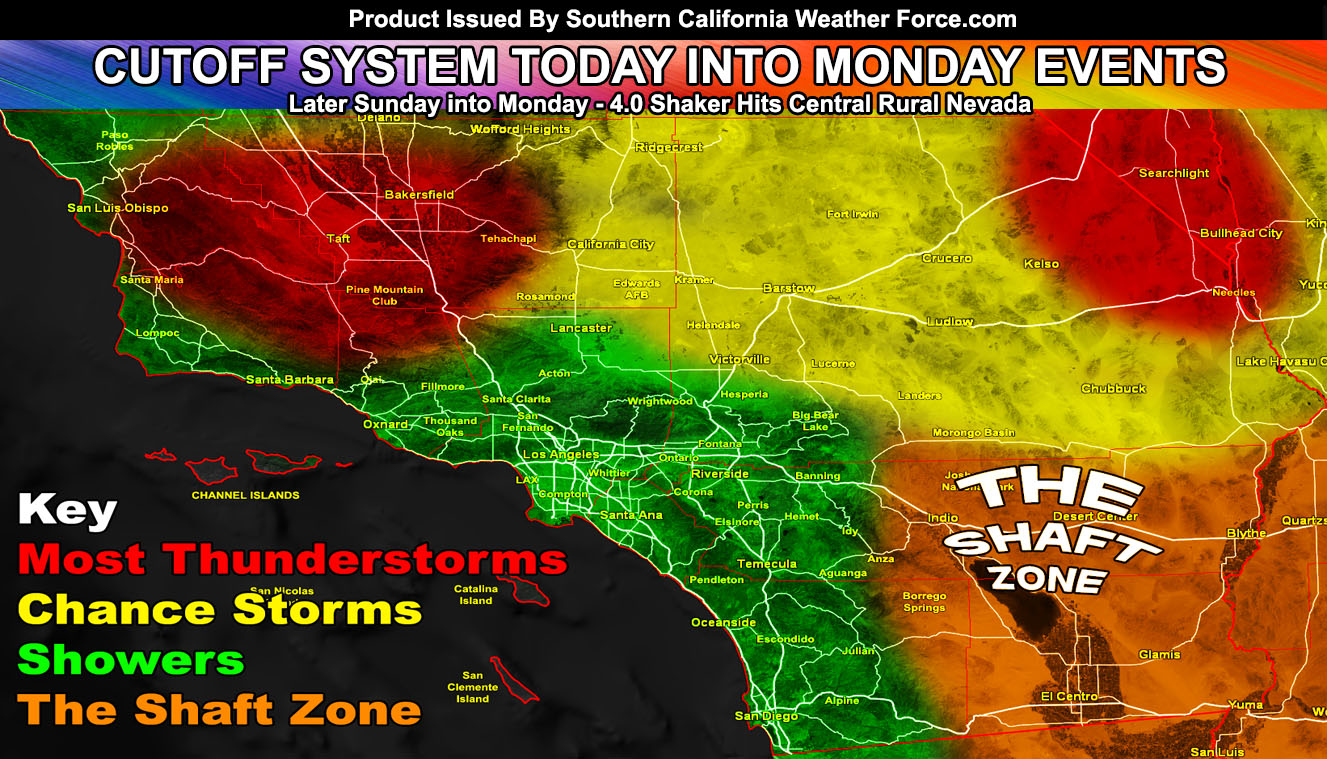 A cutoff low will enter the region starting this afternoon for the Ventura and Santa Barbara County Mountains, increasing over the entire area through Monday.  Very alerts have been issued to the SCWF Email Alert System for certain zones.  Shower and Thunderstorm activity will be likely with this system depending on where you are.  It is a system of a mixed bag event, but I got it nailed down to the zones for you.  A 4.0 shaker hits within the fault stress model window and watch areas … read on for details in your area …
Well to start off, I told you the California Fault Stress Model on the Southern California Weather Force main website (not FB page) was elevated a couple days ago with a pretty good peak.  These peaks signify building stress in the California, Nevada, or NOrthern Baja, Mexico regions.  Earthquake forecasting has not come down to where yet and probably won't for many years to come, just as weather took many decades to perfect and even so struggles are being made today in it.  So those three zones are the target when the California Fault Stress Model I own goes in the orange or red value.  A 4.0 quake did hit Central Rural Nevada today and comes after the peak a couple days ago and then again yesterday.  We are on the decline at the moment so stress has been released in the region.  It can be seen on the main website – Click Here and go to the Earthquake Tab.
As for the cutoff system, I've issued a couple of alerts and will do so for other regions over the member only e-mail alert system, which has various micro-climates you can choose.  Check out how to become a member and receive alerts in your area by clicking here.  Alerts are custom developed by me and sent over the alert system.
I've issued a Thunderstorm Watch for the Ventura and Santa Barbara County Mountain for today, including the New Cuyama zones of Santa Barbara County. A cutoff system to the southwest and south of the region will bring upper divergence into play today.  This upper divergence will bring with it the higher later April sun-angle for instability to be elevated and thus with increasing moisture this afternoon we will begin to see thunderstorm activity in the watch area.  Thunderstorm dynamics will continue through the night into Monday with increased activity expected as the flow turns from east to west to north to south and creates the perfect convergence boundary in the watch zones.  Hail and gusty winds will be likely with this.  The inverted-V profiles are soundings indicated marginal severe storm activity will be possible with this event. Expect activity to diminish by Monday evening …
Furthermore I have issued a brief Fire Weather Watch product for the High Desert zones this afternoon and evening.  It reads; The upper divergence zone of the cutoff low system will swing into the area this afternoon and evening.  This will briefly increase the wind gusts in the entire watch area.  This will be an odd one because it isn't too bad out there right now in terms of wind gusts, however for a brief 1-2 hour period this later afternoon/evening you will see a strong increase in them… followed by a fast decrease.  This is due to the spiral arm moving through.  Because the surface is dry, for a two-hour wind as these winds are moving through, fire weather values have been exceeded thus this is also a Fire Weather Watch.  IF convection can form in the far High Desert zones with this band, elevated bases would cause dry lightning so keep an eye on the cloud development with the passage of this spiral band …
As for the rest of the forecast area, a dryslot in the mid/upper levels will overtake the metros tonight into Monday, metros being much of Ventura, Los Angeles, Orange, San Diego County, the Inland Empire, and the neighboring mountains.  This dryslot will bring showers to the region, off and on through the period.  Some storms offshore Catalina may prove to move quickly through LA/VT County tonight but other than that I'm not expecting too much.
For other areas starting before sunrise on Monday morning, expecting an increase in upper divergence for the metro Kern County zones, meaning the Valley, into parts of the Central San Luis Obispo County areas as well, lasting through Monday morning.  This area will need a weather advisory and/or a thunderstorm watch by the evening, but you have you advanced warning now that dynamics are favorable for thunderstorms in the mentioned areas.
Over the day on Monday, the back-end of the cutoff will bring off and on thunderstorm activity in some inner High Desert areas, but the most concentration will be surrounding the CA/NV bvorder and Needles, California zones.
Imperial County, enjoy your shaft zone …
The longer range pattern still calls for continued activity, off and on, through May 3rd or 4th through the 10th.  I'll be back with updates.
For The Main Weather Facebook Page Click Here and Join.
End Article
---
OPTIONAL:  Southern California Weather Force main page now has models, agendas, the alert map, and other things updated during storm events.  You can bookmark the main site and check back during an event for the latest updates.
Click here to view the main page
EMAIL ALERTS AND ASK THE WEATHER OFFICE A QUESTION:  It pays for itself in one storm system.  A very affordable e-mail alert system that only gives you SCWF weather alerts in YOUR micro-climate area.  Also, you can ask the weather office a question at any time if you get that add-on.
Click here to join
MICRO-CLIMATE ALERT FACEBOOK GROUPS:  Find yours today!
Click here to join
SOUTHERN CALIFORNIA ONLY:  if it does not say "Liked"  LIKE The Page Below and join thousands of informed weather forecast viewers in our region for more of the updates! noticeable
BEHIND THE SCENES FORECASTS/UPDATE PAGE:  if it does not say "Liked"  LIKE The Page Below and join thousands of informed weather forecast viewers in our region for more of the updates! noticeable
FOR THE CALIFORNIA FAULT STRESS MODEL PAGE: if it does not say "Liked"  LIKE The Page Below and join the official page to the California Fault Stress Model