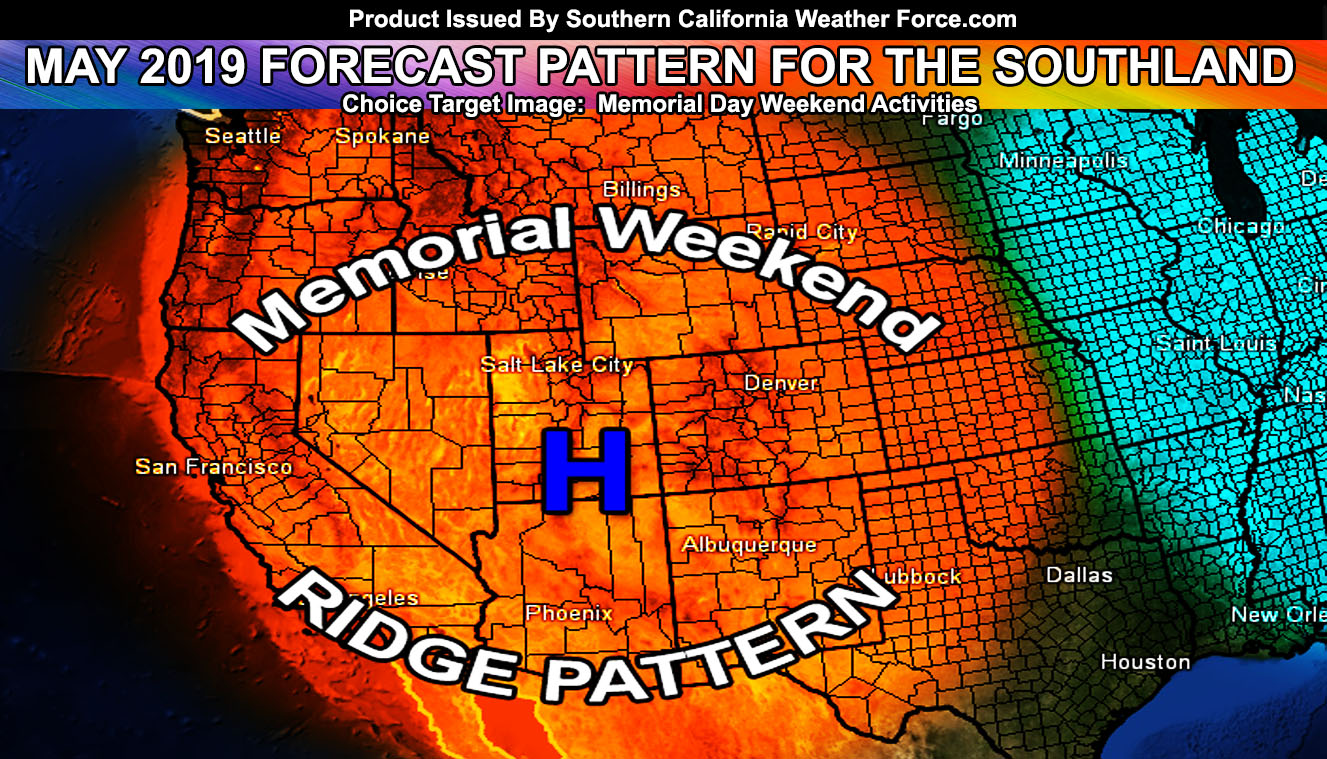 May 2019 will have a mixed temperature profile with key dates having excellent weather and the first major heatwave in the region so for details read on …
The beginning of May we will have a slight bump in temperatures this weekend, followed by a cool-down as another cutoff system comes in early this next week.  This will bring a deeper onshore flow, cooler weather, and a chance of passing showers surrounding Monday.  This is not a major system, not even a moderate system.  This system may pass without some of you seeing any raindrops from it, other than a deeper marine layer and some drizzle.  The beginning half of may all the way through at least the 10th looks cooler than average to average in temperatures for the region.  This next week from Tuesday to at least Thursday could have a back-end trough move in and this will be monitored for future updates.
Once we hit the second half of May is when many of you probably have camping trips scheduled, surrounding Memorial Day Weekend.  This looks great right now as I am seeing ridging developing and with that will come warmer than average temperatures along with dry weather.  This would be a typical Southern California second half of May so enjoy the outdoors.
For the entire forecast though, will go with average temperatures for the region as a whole, but above average for the metros and coast and average to below for the mountains and deserts.  The coldest period with precipitation will be the first half and the warmest and driest the second half.  We will have at least 1 or 2 heatwaves for the second half and one of them could be a strong one, marking the first High Heat Warning product I'll need to issue for the region.
As for the quake activity, the California Fault Stress Model remains on the decline so minimal activity is expected as a result until it shows signs of elevated stress again.
For The Main Weather Facebook Page Click Here and Join.
End Article
---
OPTIONAL:  Southern California Weather Force main page now has models, agendas, the alert map, and other things updated during storm events.  You can bookmark the main site and check back during an event for the latest updates.
Click here to view the main page
EMAIL ALERTS AND ASK THE WEATHER OFFICE A QUESTION:  It pays for itself in one storm system.  A very affordable e-mail alert system that only gives you SCWF weather alerts in YOUR micro-climate area.  Also, you can ask the weather office a question at any time if you get that add-on.
Click here to join
MICRO-CLIMATE ALERT FACEBOOK GROUPS:  Find yours today!
Click here to join
FACEBOOK PAGES TO JOIN!
SOUTHERN CALIFORNIA WEATHER FORCE MAIN:  if it does not say "Liked"  LIKE The Page Below and join thousands of informed weather forecast viewers in our region for more of the updates! noticeable
BEHIND THE SCENES FORECASTS/UPDATE PAGE:  if it does not say "Liked"  LIKE The Page Below and join thousands of informed weather forecast viewers in our region for more of the updates! noticeable
FOR THE CALIFORNIA FAULT STRESS MODEL PAGE: if it does not say "Liked"  LIKE The Page Below and join the official page to the California Fault Stress Model