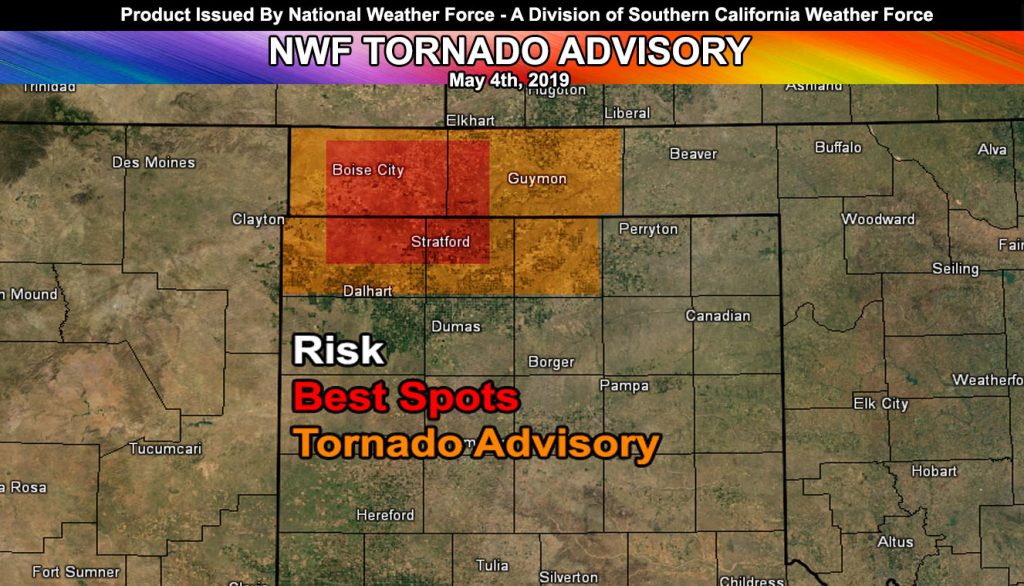 Issued Zones:  Oklahoma and Extreme Northern Texas Panhandles…
Site:  National Weather Force has issued a Tornado Advisory effective this evening …
Date:  5/4/19 at 12:50pm CT
Forecast: The dewpoints are rather low in the region right now, however a meso-low forming in the area by the evening will rapidly suck up moisture out of the southeast and bring the dewpoints to between 55-58F and this is just enough. 

Shear will be on the increase just before and at sunset and storms coming off the high country will move east-southeast through the advisory zone.  The best risk of tornadoes will be in the west-central part of the advisory shaded areas where the meso-low will focus a very compact area of low level shearing needed for tornadogenesis. 

Storms will move ESE through the area and eventually as the later evening after sunset moves along, boundary layer cooling will promote more of an outflow event as storms turn into an MCS out of the SE section of the advisory zone over the as they head into Western Oklahoma.  Additional advisories are not anticipated.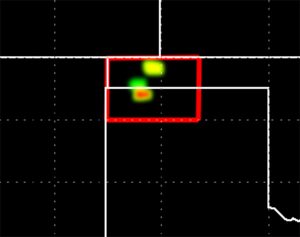 FACEBOOK PAGES TO JOIN!
NATIONAL WEATHER FORCE MAIN PAGE: The National Weather Force is the national forecast alert project in development in what you just read in the articles.  It will cover national weather during events only and it will be able to target your newsfeed so you will only get the updates that pertain to your state.  Join today!
10 mile rule:  These alerts issued on this site means that within your zone and 10 miles from you will see the event forecast for.  You may or may not see the event but it means you are in the zone or 10 miles from where someone will.
Forecaster: KM