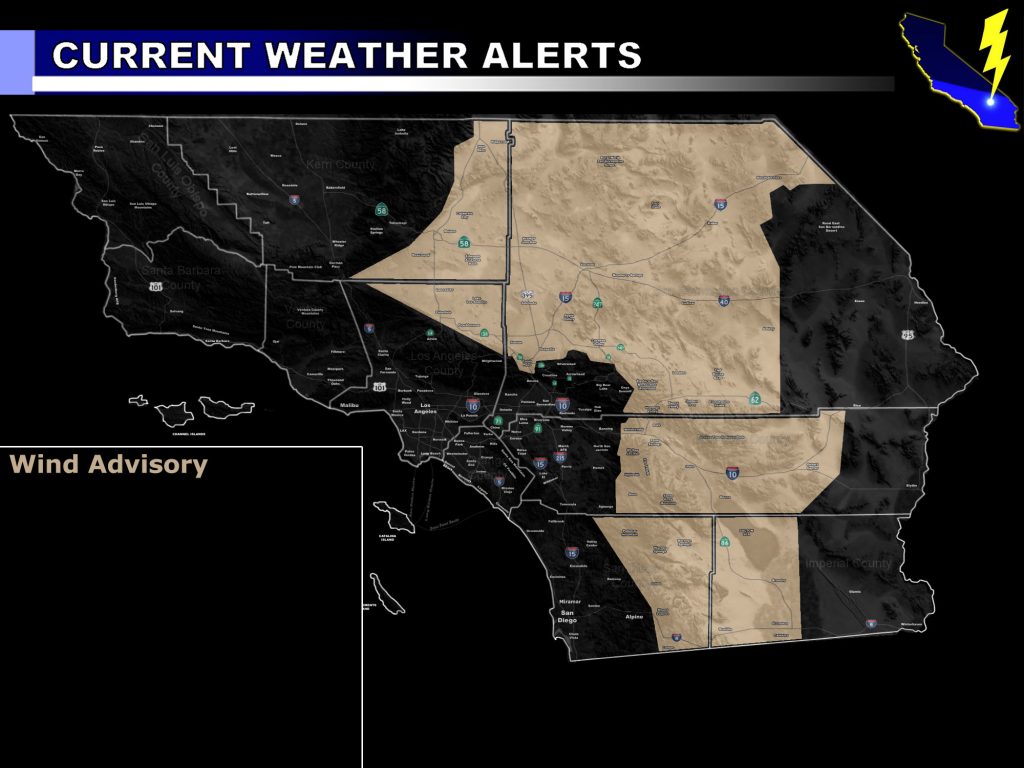 Issued Zones:  All Desert Zones …  Riverside/San Diego Mountains …
Site:  Southern California Weather Force has issued a Wind Advisory effective now through Tuesday …
Date:  5/4/19 at 7:10pm PT
Forecast: A surface low over Nevada is producing some gusts out there today.  However, they remain below advisory level. 

The strongest wind gusts of the week will be Sunday and Monday with gusts from 40 to 50 mph in all zones of the advisory level as a dry front moves across the region and we get a small cutoff moving through.  The wind gusts will be around most of the week, even through Wednesday, but weaker …

There is a 'slight' fire risk due to the drier air in the Barstow zones, but not enough of coverage for a fire weather watch alert …

EMAIL ALERTS:  Get these to your e-mail by upgrading to a full member.  It pays for itself in just ONE weather event:  Click Here To Learn More
Additional Models:  Visit the main site to see what was updated in terms of rain/snow/flood risk and more – Click Here
Join A Micro-Climate Group On Facebook For These Alerts – Click Here To Find Your Location Served By SCWF Today!
10 mile rule:  These alerts issued on this site means that within your zone and 10 miles from you will see the event forecast for.  You may or may not see the event but it means you are in the zone or 10 miles from where someone will.
Forecaster: KM