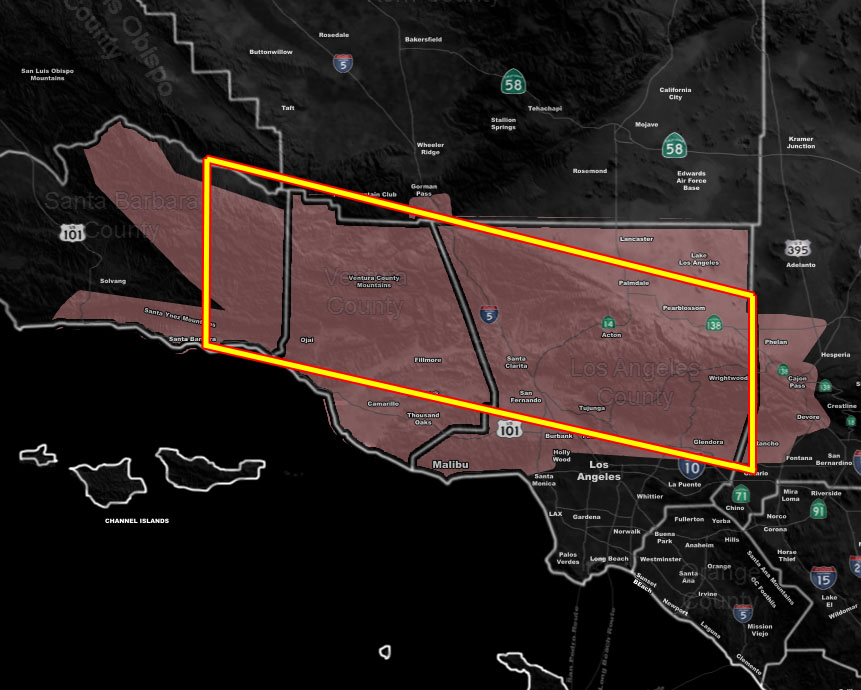 Issued Zones:  Santa Barbara Mountains/Coastal … Ventura County … SCV/SFV … Northern San Gabriel Valley foothills … Antelope Valley, mainly near the LA Mountains … The Cajon Pass …
Site:  Southern California Weather Force has issued a Thunderstorm Watch effective now through this evening …
Date:  5/6/19 at 8:00 am PT
Forecast: We start the week with the cutoff low, a very compact one at that. Currently the low is skirting the coast up near Santa Barbara and this will begin the Thunderstorm Watch I have issued that did replace the Special Weather Statement issued yesterday. As you can see the Special Weather Statement did extend further east and for now I will shave it off and focus on the watch area, the final forecast resting place.
This low will track through Ventura, Santa Clarita, The LA county mountains, and continue east through the Southern High Desert this evening into tonight and eventually out of the region from the Needles forecast zone well before sunrise on your Tuesday. I am more confident in the thunderstorm watch zones surrounding Santa Clarita than I am in the metro high desert so I haven't issued anything further east of the Cajon Pass yet. I did shade the Antelope Valley zones in the Thunderstorm Watch, however, the watch states that within 10 miles of the border of that zone would be shaded if thunderstorms are in that range, but confidence is lower in direct hits for you and it should be a photographic opportunity more-like.
The track of the low may make it possible for the southern end of the convective activity to reach as far as either Downtown Los Angeles or the San Fernando Valley, but for a cutoff low the system isn't a very tough forecast for the final outlook.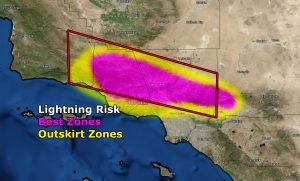 EMAIL ALERTS:  Get these to your e-mail by upgrading to a full member.  It pays for itself in just ONE weather event:  Click Here To Learn More
Additional Models:  Visit the main site to see what was updated in terms of rain/snow/flood risk and more – Click Here
Join A Micro-Climate Group On Facebook For These Alerts – Click Here To Find Your Location Served By SCWF Today!
10-mile rule:  These alerts issued on this site means that within your zone and 10 miles from you will see the event forecast for.  You may or may not see the event but it means you are in the zone or 10 miles from where someone will.
Forecaster: KM