Issued Zones:  Riverside County Colorado River Zone, Blythe … I-10 through there area … Extreme Eastern Imperial County Colorado River Valley Zones, mainly north sections …
Site:  Southern California Weather Force has issued a Thunderstorm Watch effective after now through 3am Tuesday morning …
Date:  5/6/19 at 8:35pm PT
Forecast: The compact and potent cutoff low center is swinging across the Joshua Tree National Park zones this evening.  The low will track into the Blythe forecast areas after the 10-11pm hour and from then for a couple of hours a complex of storms would form out of the south in Extreme Eastern Imperial County, which would make it through Blythe toward the midnight hour, techincally on your early morning 12am hour Tuesday, 5-7-2019. 
Upper divergence is maximized around the center and elevated mid-level instability is also present.  Hail will be likely with these storms …
The SCWF Thunderstorm Model is pegging the Blythe areas for ground zero. This complex will surge into Western Arizona through Tuesday morning, impacting areas along I-10 northward through Prescott, Arizona.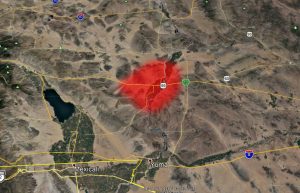 EMAIL ALERTS:  Get these to your e-mail by upgrading to a full member.  It pays for itself in just ONE weather event:  Click Here To Learn More
Additional Models:  Visit the main site to see what was updated in terms of rain/snow/flood risk and more – Click Here
Join A Micro-Climate Group On Facebook For These Alerts – Click Here To Find Your Location Served By SCWF Today!
10 mile rule:  These alerts issued on this site means that within your zone and 10 miles from you will see the event forecast for.  You may or may not see the event but it means you are in the zone or 10 miles from where someone will.
Forecaster: KM