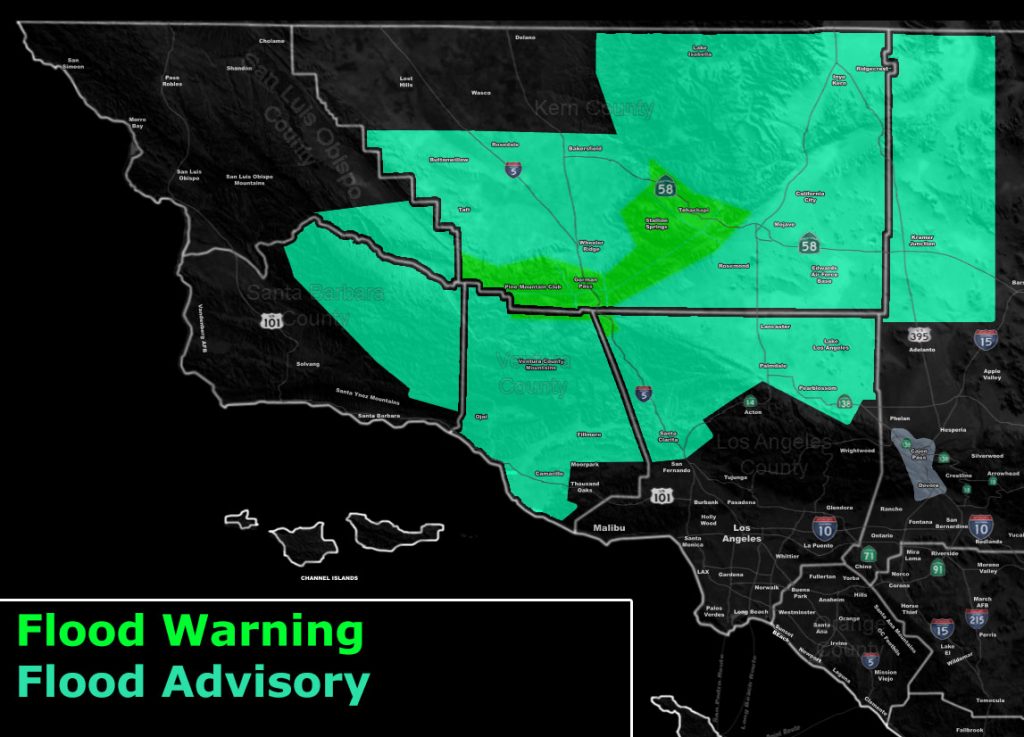 Alert Type: Flood Advisory and Warning
Issuing Office: Southern California Weather Force
Issued Zones: Kern Mountains and Gorman Pass … Kern Valleys Taft to Bakersfield … Kern Deserts … Kramer Junction … Antelope Valley … Castaic to SCV … Ventura County, excluding eastern basin … Santa Barbara Mountains …
Site: Southern California Weather Force has issued a Flood Advisory with an embedded Warning effective Thursday evening through Friday evening …
Date:  5/9/19 at 11:45am PT
Forecast: A cutoff system will move into the region later today, mainly overnight tonight and into Friday evening.  The onset of the system will bring about very strong lifting overnight tonight.  This will place the upper system in the northwest forecast area, northwest of the advisory/warning zones.

The upper divergent section will bring fast developing showers and thunderstorms to the region then and through the entire day on Friday.  The strongest cells will be capable of producing torrential downpours, which will bring a flood risk.

The SCWF Flood Risk Model (Shown in this advisory) shows that majority of the zone will have a moderate risk flooding, the exception of low risk in the Santa Clarita to Ventura proper zones.  You are close to the moderate risk zone so the 10-mile rule applies and thus you've been issued the advisory as well.

NOTE in the model that Bakersfield and Taft will be the northwest most zone for flooding and that the Northern Kern Valley near Delano will not be in this.  This is how precise SCWF models are.  Furthermore note that the PMC/Cuddy Valley/Gorman and Tehachapi zones are in the high risk zone.. thus a warning …

The flood risk will end on Friday night as the system reaches the center of the Martin Storm Diamond and begins to affect areas Los Angeles southeastward toward San Diego and the Inland Empire, which is out of this advisory area.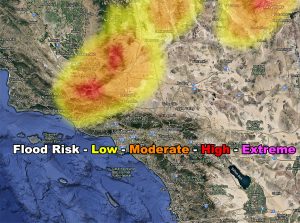 EMAIL ALERTS:  Get these to your e-mail by upgrading to a full member.  It pays for itself in just ONE weather event:  Click Here To Learn More
Additional Models:  Visit the main site to see what was updated in terms of rain/snow/flood risk and more – Click Here
Join A Micro-Climate Group On Facebook For These Alerts – Click Here To Find Your Location Served By SCWF Today!
10 mile rule:  These alerts issued on this site means that within your zone and 10 miles from you will see the event forecast for.  You may or may not see the event but it means you are in the zone or 10 miles from where someone will.
Forecaster: KM