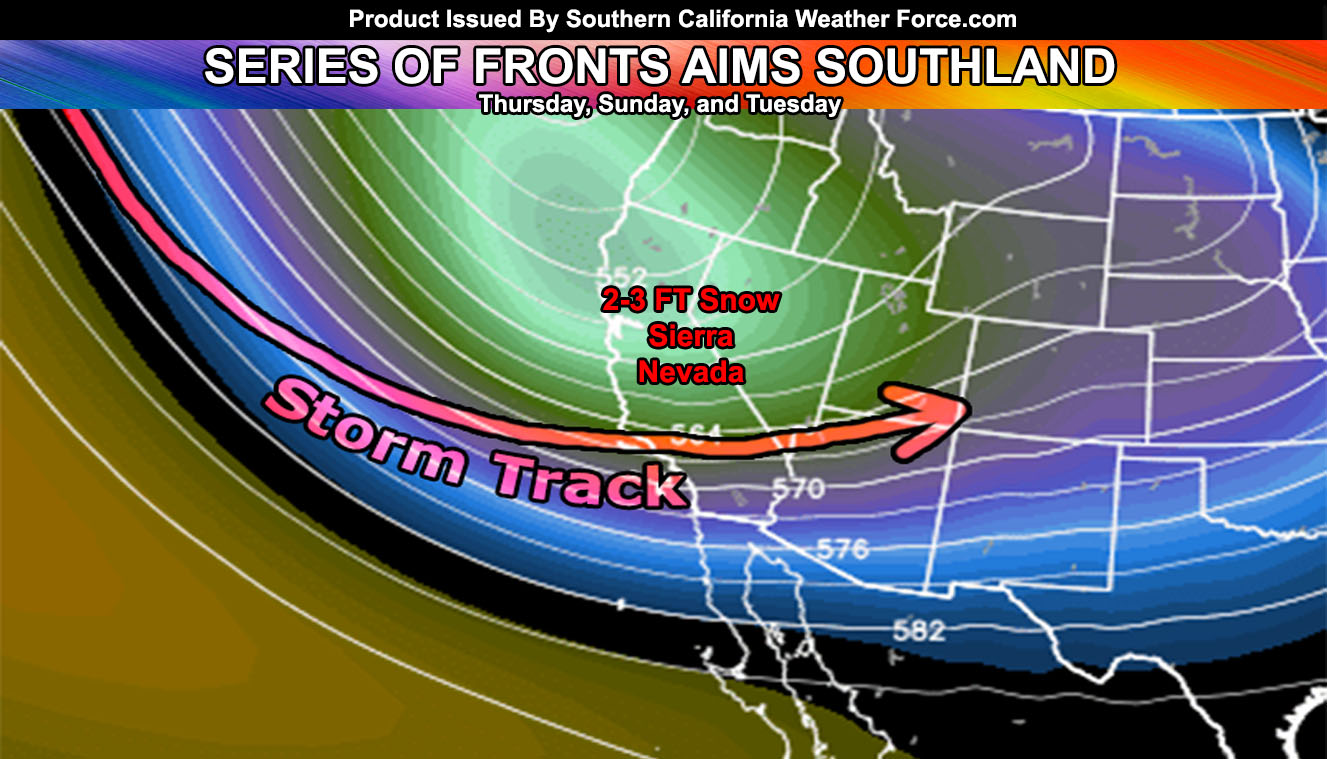 Not often do we see more than one cold front cross the forecast area of Southern California, however as stated in the previous updates, it will likely happen.  And if you are on the Southern California Weather Force Facebook Page, the goal for this is 1000 shares so chime in and help reach that number. The Sierra Nevada Mountain Range will get 2-3 Feet of snow from these systems!  Read on for details.
The Thursday front still looks on time and about the same as the previous update stated. The Thursday system is a northwest slider type where west of Los Angeles will see more than say areas like San Diego County.  The image of this article shows the key of various zones in the forecast area where I am expecting the most rainfall to be.  I've added some categories and changed the 'rain risk' values around a bit.  This far out I tend to not say how much one can receive but mainly on what to expect in terms of how you would see it, from sky pee onward to warning if need be.  At the moment most areas south of the Los Angeles and San Bernardino Mountains from Yucaipa, Fontana, The San Gabriel Valley westward through Ventura, Santa Barbara, San Luis Obispo, and the Kern County Mountains would see the notable rainfall, with some areas in monitoring where the need for a flood advisory is possible.  Northwest sliders do have better dynamics along the southern end of the Santa Barbara Mountains so this is under the monitoring zone.  It is not in the warning area nor is one being detected on my model so it will not be a major event.
Timing of this would be starting overnight on Wednesday in the San Luis Obispo / Vandenberg Air Force Base zones, sliding into Los Angeles by morning on Thursday and just before noon or so for San Diego and the Inland Empire.  High Deserts have not notable/sky pee so I would not expect much in those zones, and the Imperial Valley to Colorado River Valley zones of the Low Desert are notorious for 'The Shaft Zone' when it comes to this, meaning you won't get precipitation as the Riverside and San Diego County Mountains will act as a wall, creating your rain-shadow effect there.
It'll be windy in most sectors of the forecast region with this system on Thursday, the most happening in the mountain and desert regions and advisory and/or warnings will be needed.
The snow-level looks to be around 7,300 FT with wet snow to 6,300 FT and a mix down to near 5,500, however, no snow in populated areas is going to happen with this front.
I am not seeing anything in the way of thunderstorm dynamics with this event at the moment.
---
After that, we have a break so if you have plans on Friday and Saturday you look to have good weather up until around Sunday when the second, weaker front comes in.  This won't do much to the region other than having some showers out there.  The third and final front comes in on Tuesday of this next week.  This one looks like somewhat of a punch and delivers something similar to Thursday's event, but be more potent with precipitation into the High Desert this time.
I will look into the alerts soon, but a flood note may be needed in advisory for parts of Santa Barbara, Ventura, and Los Angeles County so keep an eye out for those.
As always, stay tuned to official forecasts from Southern California Weather Force for updates …
For The Main Weather Facebook Page Click Here and Join.
End Article
---
OPTIONAL:  Southern California Weather Force main page now has models, agendas, the alert map, and other things updated during storm events.  You can bookmark the main site and check back during an event for the latest updates.
Click here to view the main page
EMAIL ALERTS AND ASK THE WEATHER OFFICE A QUESTION:  It pays for itself in one storm system.  A very affordable e-mail alert system that only gives you SCWF weather alerts in YOUR micro-climate area.  Also, you can ask the weather office a question at any time if you get that add-on.
Click here to join
MICRO-CLIMATE ALERT FACEBOOK GROUPS:  Find yours today!
Click here to join
FACEBOOK PAGES TO JOIN!
SOUTHERN CALIFORNIA WEATHER FORCE MAIN:  if it does not say "Liked"  LIKE The Page Below and join thousands of informed weather forecast viewers in our region for more of the updates! noticeable
BEHIND THE SCENES FORECASTS/UPDATE PAGE:  if it does not say "Liked"  LIKE The Page Below and join thousands of informed weather forecast viewers in our region for more of the updates! noticeable
FOR THE CALIFORNIA FAULT STRESS MODEL PAGE: if it does not say "Liked"  LIKE The Page Below and join the official page to the California Fault Stress Model