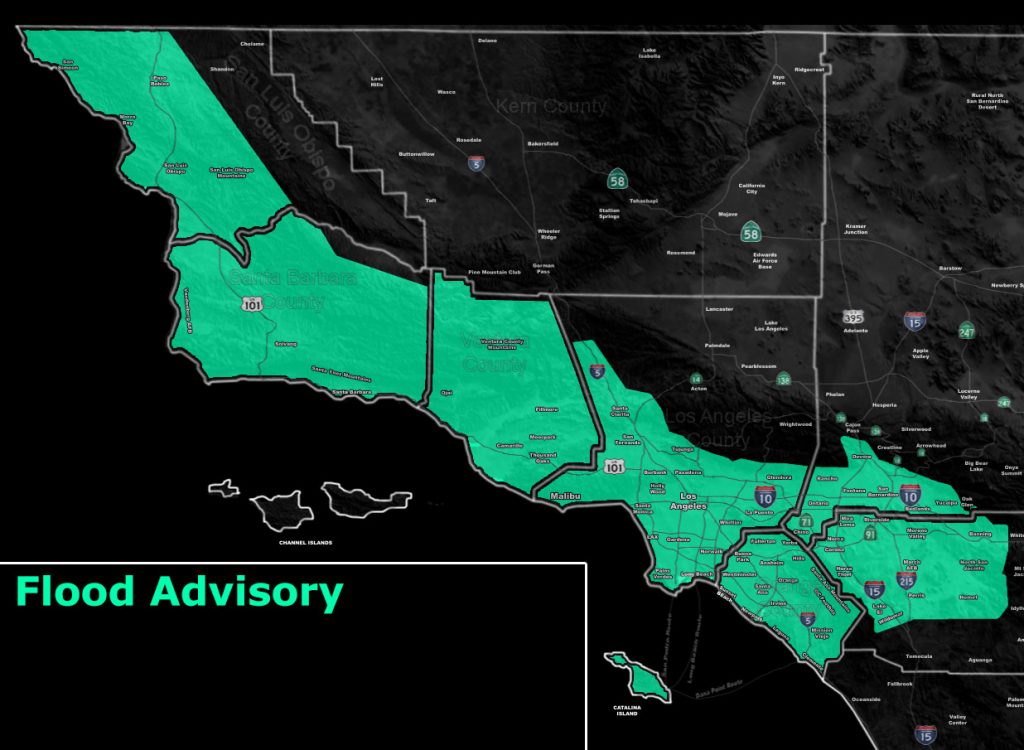 Issued Zones:  San Luis Obispo, Santa Barbara, Ventura, Orange County …The Inland Empire, excluding Temecula … Los Angeles County, excluding the mountain/desert areas … Catalina Island …
Site:  Southern California Weather Force has issued a Flood Advisory effective this evening through Thursday at 1 pm
Date:  5/15/19 at 11:10 am PT
Forecast: An unusual cold-front for this time of year will cross the advisory area.  The front's main impact timing will be San Luis Obispo to Vandenberg tonight, followed by Santa Barbara before sunrise, Ventura at sunrise, Los Angeles and OC early to mid-morning, and The Inland Empire mid-late morning. 

A moderate flood risk means the urban small stream flooding will be possible, as well as hydroplaning on the roadways.  For those in the Cajon Pass, the moderate risk is in the Devore area with a low risk up at the summit.  This should clear the entire advisory zone by 1 pm on your Thursday so the rest of the day looks quieter.
Some off and on showers is going to be possible in a hit and miss fashion against the LA/SBD Mountains and San Luis Obispo to Vandenberg forecast areas through the evening, but nothing major.

Gusty winds will accompany the front, with 30-40 mph wind gusts…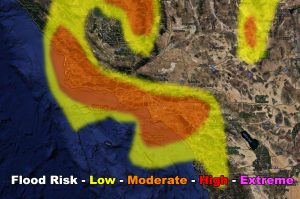 EMAIL ALERTS:  Get these to your e-mail by upgrading to a full member.  It pays for itself in just ONE weather event:  Click Here To Learn More
Additional Models:  Visit the main site to see what was updated in terms of rain/snow/flood risk and more – Click Here
Join A Micro-Climate Group On Facebook For These Alerts – Click Here To Find Your Location Served By SCWF Today!
10-mile rule:  These alerts issued on this site means that within your zone and 10 miles from you will see the event forecast for.  You may or may not see the event but it means you are in the zone or 10 miles from where someone will.
Forecaster: KM