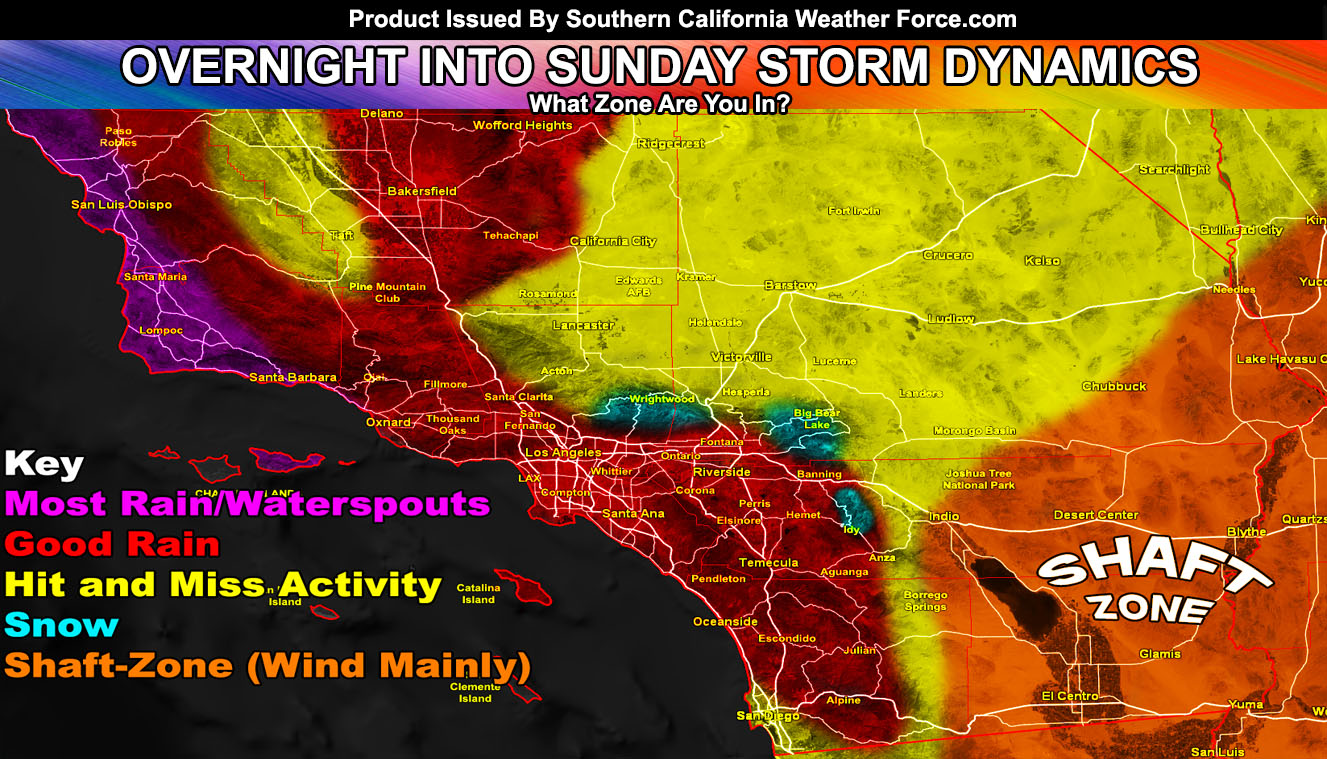 The second system will move through Southern California overnight tonight west of Los Angeles and Los Angeles into the rest of the region through early on Sunday.  The SCWF Winter Weather Advisory is in effect above 6,000 FT for the local mountains, but for your area's details (if needed), read on …
The frontal zone timing is for the main round of precipitation chances.  We will have two sections move through, but the focus in this paragraph is the first one.  The first one will move through the San Luis Obispo to Vandenberg AFB areas just after midnight tonight, with the warm-frontal rain-shield starting even well before that.  The front will enter Santa Barbara by 1-2am, Ventura by 4 am, Los Angeles by 5 am, and the High Desert, Inland Empire, Orange County, and San Diego County areas over the early morning on your Sunday.  Deep-layer moisture is available for the front to deliver some hit and miss activity to the LA/Kern and San Bernardino Deserts as well.
This frontal zone does have a bit better southerly flow with it for areas south and west of the mountains so this will bring moderate to sometimes heavy precipitation cells with it in the 'Good and Most Rain Areas', where the Good Rain zones mean between a half to an inch of rainfall.  The frontal zone does lack surface level wind gust dynamics along the immediately rain shield in the metros and thus even with the moderate to heavy precipitation along it, am going to remain this a category 2 system for the most part and it will not receive a name because of this reason of being a Pacific System and not a Pacific Storm.
Wind gusts after the frontal zone's main swath of precipitation will gust to 30-40 mph across the entire coast/basin zones, in addition to the remained 40+ mph mtn/des wind gusts out there on your Sunday through Tuesday.  Golfing wouldn't be a fun spot during this time.
Over the day on Sunday, we will have somewhat of a break up until later afternoon into half of the night when deep-layer moisture returns to the area and this will be accompanied by some colder air aloft.  Should lift be present with upper divergence, we will see the thunderstorm risks be on the up just about anywhere in the forecast area, minus the shaft-zones.  The mountains/deserts will have strong wind gusts starting this evening and going through Tuesday, where Tuesday will have Hurricane Force Winds in the upper mountain community regions so keep an eye on future updates for that one in the micro-climate alerts for members and/or the micro-climate alert Facebook groups listed below.
This system will bring with it a round of snowfall above 6,000 FT.  Snow models here at Southern California Weather Force, which can be seen on the MAIN webpage in the links below, do show that a couple of inches will be possible in the Big Bear zones, a Dusting in East Big Bear Lake to Wrightwood due to rain-shadowing effects, four to eight inches at the Snow Valley Ski Resort, and over a foot at the top of Mt. Baldy, Mt. San Gorgonio, and Mt. San Jacinto, so expecting the mountains to have a photographic opportunity to them for this time of year.

Idyllwild may see a couple of inches as well, with more in the northeast valley sections in the upper elevations.  Off and on snow showers will be possible in these areas through the entire day on Sunday even after the 'main-frontal zone swath of precipitation' has passed, which should easily be by 12 pm.

Thundersnow is possible at times with this event, mainly over the day and night on Sunday with any pop-up convective cells within the advancing cold core and deeper-layer moisture influxing in.  Any cells forming on Sunday afternoon/night will have a snow-level of 5,700 FT with wet non-sticking snow down to 4,700 FT and a mix below that to at least 4200 FT …
Ocean:  Gusty west winds will be in the Island Regions and along the coast.  Waves out of the west starting later Sunday and lasting through Wednesday night will be ranging from 8-12 FT with individual waves up to 15+ feet possible.  Embedded in this article is a Marine Weather Warning for the recreational island and coastal areas.
Longer range is showing a wrenching scenario.  These storm systems that otherwise should not have formed in the Pacific at this time of year is putting a wrench in my forecast for the long range and a heatwave is no longer expected for Memorial Weekend.  Going to push the heat back into June and even so, it looks like we are remaining with an odd end of Spring pattern in the long term.  I'll have to look more into that as the end of the month comes along.
This Week In Weather Episode 3 will feature what happened this past week and what will happen this next week, including touching up on that Hurricane Force Wind Gust Event in the upper mountain regions on Tuesday so stay tuned for that.  It should be released sometime on Monday at noon because on Sunday evening I will be busy in the office doing updates on the convective band I expect to transverse the metro areas.
As always, stay tuned to official forecasts from Southern California Weather Force for updates …
For The Main Weather Facebook Page Click Here and Join.
End Article
---
OPTIONAL:  Southern California Weather Force main page now has models, agendas, the alert map, and other things updated during storm events.  You can bookmark the main site and check back during an event for the latest updates.
Click here to view the main page
EMAIL ALERTS AND ASK THE WEATHER OFFICE A QUESTION:  It pays for itself in one storm system.  A very affordable e-mail alert system that only gives you SCWF weather alerts in YOUR micro-climate area.  Also, you can ask the weather office a question at any time if you get that add-on.
Click here to join
MICRO-CLIMATE ALERT FACEBOOK GROUPS:  Find yours today!
Click here to join
FACEBOOK PAGES TO JOIN!
SOUTHERN CALIFORNIA WEATHER FORCE MAIN:  if it does not say "Liked"  LIKE The Page Below and join thousands of informed weather forecast viewers in our region for more of the updates! noticeable
BEHIND THE SCENES FORECASTS/UPDATE PAGE:  if it does not say "Liked"  LIKE The Page Below and join thousands of informed weather forecast viewers in our region for more of the updates! noticeable
FOR THE CALIFORNIA FAULT STRESS MODEL PAGE: if it does not say "Liked"  LIKE The Page Below and join the official page to the California Fault Stress Model